Fox News Host Says It's 'Just Sad' That People Don't Want Trump to Visit Dayton and El Paso
Fox News host Howard Kurtz lamented on Wednesday that many were protesting President Donald Trump's visits to El Paso and Dayton following weekend mass shootings in the cities, saying it was "just sad" that some had said they did not want him to come.
Blaming "intense political polarization," Kurtz pointed out that the trip had been "deemed controversial." He said that politicians in each of the cities had argued that the president should not come in the aftermath of the attacks.
"The president's sometimes divisive rhetoric is fair game for criticism," Kurtz said. "But at the same time, to hold him responsible for the violence of these two crazed shooters," he continued, "and then to suggest further that he shouldn't show up at a time when the nation is trying to heal, to offer condolences, I think is just sad."
Trump traveled to Dayton, Ohio on Wednesday morning to meet with local officials and survivors of the deadly mass shooting that took place in the city on Sunday morning. The president will also travel to the Texas border city of El Paso later in the day.
The two mass shootings led to the death of more than 30 people, with 22 dead in El Paso and 9 killed in Dayton, over the weekend. Dozens more were injured in the unconnected attacks. In El Paso, the alleged shooter, 21-year-old Patrick Crusius, has been linked by investigators to an online manifestor railing against a "Hispanic invasion of Texas" and advocating that Latin American migrants should be killed. The motive for the Dayton shooter, who was killed and identified by police as Connor Betts, remains unclear. FBI officials have said that they are investigating whether he was influenced by various violent ideologies that he was researching prior to the attack. Betts' sister, Megan Betts, was also among the victims during his Sunday rampage.
Trump critics have slammed the president following the shootings, particularly due to the similarity in rhetoric used by the El Paso shooter's manifesto to that of the president. Trump has repeatedly called the influx of Central American migrants into the U.S. an "invasion," labeling migrants broadly as "criminals." Although the Dayton shooting does not appear to be motivated by racial hatred, critics have also slammed the president and Republicans for blocking serious reforms to address gun violence nationwide.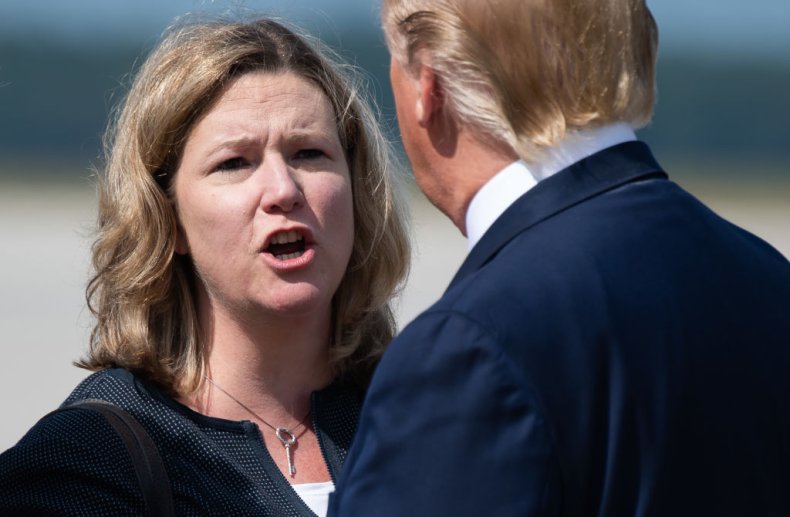 Rep. Veronica Escobar, a Texas Democrat, told MSNBC on Tuesday after visiting a hospital treating victims of the El Paso shooting, many of whom were Hispanic, that they had a message for the president.
"This community is full of hope and resilience and beauty. But the other thing that I heard, totally unsolicited, from victims still in the hospital as they'd grab my arm and tell me, 'Tell him not to come here,'" Escobar said. The congresswoman said that a Vietnam veteran named Ralph told her: "I am being made to feel like I'm not American."
"The words that he's used to dehumanize us, to dehumanize communities like mine, to dehumanize immigrants, they have a consequence, and they provide fuel for people who already are bigoted," Escobar warned.
Dayton's Mayor Nan Whaley, a Democrat, told reporters on Tuesday ahead of the president's visit that she was "glad" people in her city would be protesting Trump's visit to make him aware of their anger.
"I know that he, you know, he's made this bed and he's gotta lie in it," Whaley said. "His rhetoric has been painful for many in our community and I think the people should stand up and say they're not happy if they're not happy he's coming." She also said that his response to the attack was not helpful, and that she would tell him directly "how unhelpful he's been."