Fox Host Lou Dobbs Slams Republicans, Says They Should 'Roar' in Support of Trump, Not 'Whine and Whimper'
Fox Business Network host Lou Dobbs this week slammed Republicans for not showing enough support for President Donald Trump during the ongoing impeachment inquiry.
During an interview with Republican National Committee Chair Ronna McDaniel on Tuesday, Dobbs expressed his annoyance at the lack of vocal GOP support for the president.
"With everything that he has done, whether in foreign policy, domestic policy, economic policy, is to still hear RINOs in the Republican Party whine and wring their hands," he said, "and annoyingly not step up and say they're behind this president, his successful policies. Yes, he is the disruptor, but he's also set a foundation for the country to achieve its destiny and he is including every American, looking at unemployment rates by any metric whatsoever."
"It is exasperating to many Republicans to see the party not loudly, passionately, and fully standing up for this president as the damn fools in Washington try to overthrow him, and by the way, your party at the same time," Dobbs added.
McDaniel then began explaining that the base is behind this president.
"What base? Why not the entire party?" Dobbs interjected.
"The whole country should be," McDaniel continued, before noting that zero Republicans voted in favor of the Democrat-led impeachment inquiry.
"There should be the same level of energy, same level of passion and commitment from every member of this party, in support of this president, who has done so much for this country and the American people," Dobbs said. "I mean, I don't understand the little tea drinkers on the fringe who simply can't bring them selling to absolutely acknowledge the reality that has been altered by this president, and the direction in which he is moving this country, which scares the hell out of the radical [Democrats]."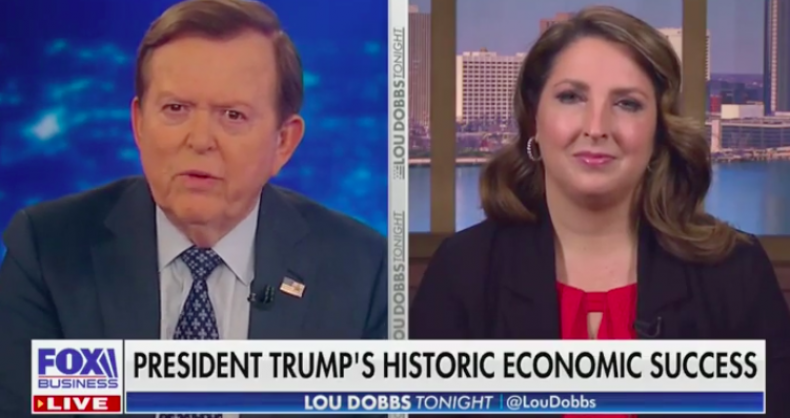 Democrats this week will take their formal impeachment inquiry against Trump public with three witnesses set to testify. State Department official George Kent and top U.S. Ukraine diplomat Bill Taylor are both set to appear on Wednesday, while former U.S. Ambassador to Ukraine Marie Yovanovitch will testify on Friday.
"When we see how Republicans respond tomorrow as the House Intel Committee begins hearings," Dobbs said. "Are we going to hear a roar or are we going to hear another whine and whimper from the party broadly?"
"We're going to hear a roar. We need to hear a roar," McDaniel responded. "We need to defend this president. He has gone out and fought for the American people. He has galvanized our party in a way no other Republican has."
The public impeachment hearings come after House Speaker Nancy Pelosi announced a formal impeachment inquiry into Trump in late September after a whistleblower filed a formal complaint alleging that the president had asked Ukrainian President Volodymyr Zelenskiy to investigate the son of former Vice President Joe Biden during a phone call in July.