Fox Host Speculates Trump Administration May Place California's Homeless in 'Camps': 'I Hesitate to Use The Word'
Fox Business Network host Stuart Varney this week suggested that the Trump administration may tackle California's homelessness crisis by rounding up those living on the streets and placing them into "camps" or "government facilities."
During a segment on Varney & Co. on Wednesday morning, Varney and correspondent Ash Webster discussed the government's plans to address homelessness in California.
"What's the Trump administration planning to do to help homelessness in California? They've sent a delegation — there's a delegation out there, looking at the problem. So what's the plan?" Varney asked.
"They're seeing lots of homeless, as they do that. But there's no specific plan as yet, although we are told that President Trump, quote, 'has taken notice of the homelessness crisis,'" Webster responded.
"There has been talk of taking them, literally taking them off the streets, and putting them into some kind of government — I hesitate to use the word 'camps' — but government facilities," Varney said, before adding that these locations would be "clean and fresh."
The host went on to ask whether the Trump administration would have "legal authority to just take them off the streets?"
"That is a question that's being debated right now," Webster explained, "but I think we'll see some sort of action from the administration in the near future, because clearly it's out of control."
"And California is doing nothing," Varney concluded.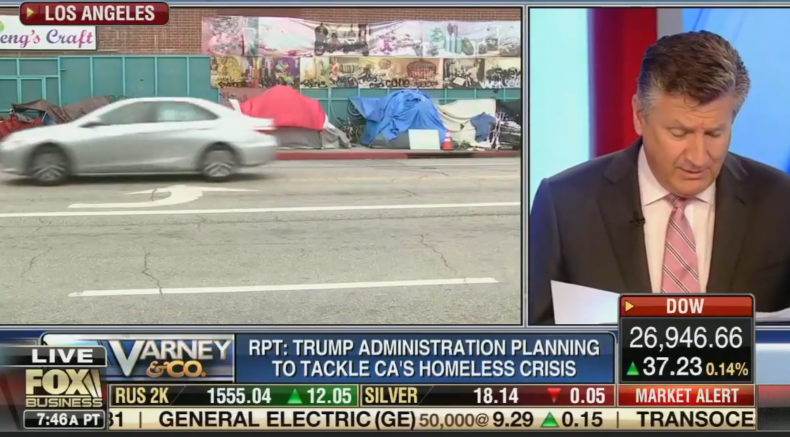 The segment came after a delegation from the Trump administration on Tuesday visited Los Angeles' homeless communities on "Skid Row," which Trump has called "disgusting" and a "disgrace to our country." That same day, two government officials told the Washington Post that the president's administration has "discussed using the federal government to get homeless people off the streets of Los Angeles and other cities and into new government backed facilities."
The officials, who were not named, also described a looming crackdown on homelessness in the state, especially in Los Angeles and San Francisco, cities that contain some of the country's largest homeless communities.
San Francisco Mayor London Breed and other elected officials in the state have pushed back against the rumored plans. "We need federal support and resources to build more housing for people living on the streets," Breed said in a statement. "But simply cracking down on homelessness without providing the housing people need is not a real solution."
Nathan Click, a spokesperson for California Governor Gavin Newsom, echoed Breed's sentiments. "If the president is willing to put serious solutions, with real investment, on the table, California stands ready to talk," he said. "He could start by ending his plans to cut food stamps, gut health care for low-income people and scare immigrant families from accessing government services."