Fox Host Trolled for Trying to Defend Trump's Praise of Putin
Social media put Fox News host Pete Hegseth on blast after his defense of former President Donald Trump's recent praise of Russian President Vladimir Putin.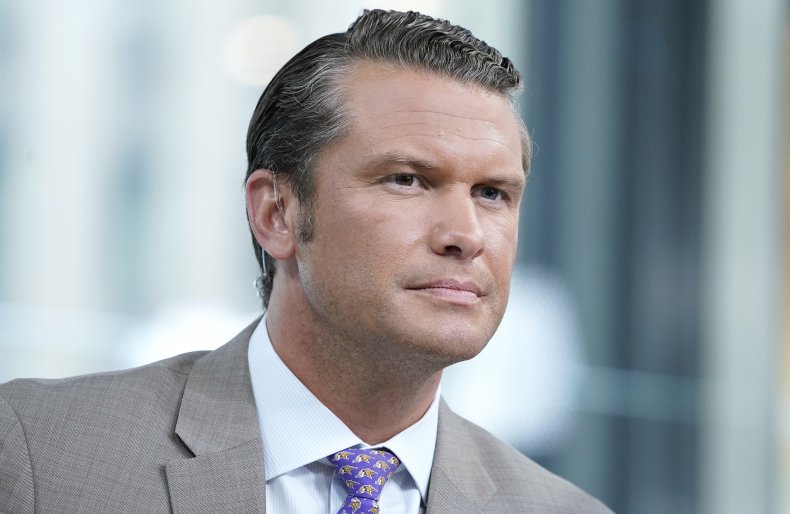 On Tuesday evening, Hegseth, co-host of the channel's Fox & Friends Weekend, appeared on Jesse Watters Primetime where he called out the media while defending Trump, who earlier this week was complimentary of the Russian president.
In the video that later appeared on social media, Hegseth accused the U.S. media of spreading Russian propaganda, claiming that Trump was trolling the media when he described Putin's latest military moves as "savvy" and "genius."
"Vladimir Putin lives rent-free in the minds of our media, of the American media. No, no organism, no entity has done more to spread Russian propaganda and to prop up the strongman that is Vladimir Putin than our very own media. And Donald Trump was happy to troll them on it as he continues to do to this moment because they can't resist it and they'll obsess over it," Hegseth said.
However, many weren't buying Hegseth's defense of Trump. Actress Morgan Fairchild recalled Trump and Putin's meeting in Helsinki, Finland, in her response. "Pretending" to be subservient to Putin? Right! I remember Helsinki ... most embarrassing moment ever for a US president," she wrote.
Tennis legend Martina Navratilova also took a swipe at Hegseth's response and the former president. "Wow—that's a new one. So Trump is pretending? Who knew?" she posted.
Senior advisor to the Lincoln Project and a former GOP communications director Tara Setmayer responded, by posting "FFS ... Trump kissed Putin's ass for years and still is ... let's go to the video tape shall we??"
Antiracism educator Tim Wise also took a shot at Hegseth. "Noted idiot Pete Hegseth (who thinks germs aren't real bc he can't see them) says Putin lives "rent-free" in the minds of the media. Imagine if any "reporter" or commentator has said Breshnev or Kruschev lived rent-free in the minds of the right," he replied.
In response to the segment, one Twitter user accused Fox News of spreading filth, poison and treason. "Fox "News" is an open sewer spreading filth, poison & treason throughout American society. Fox must be shut down ASAP. Rupert Murdoch should be sued into bankruptcy and prosecuted for aiding and abetting an enemy of the United States."
Another person on social media replied, "this is taking propaganda to a new level. Absolutely asinine stuff."
Someone else wrote that "there are people who believe this crap, many people."
One other person said, "Now they are weaving more webs of lies and deceit to force down their viewers throats. Weaponized mass hysteria at a touch of a button (so to speak) Pull the plug. This is now an absolute national security threat to us all."
On a podcast Tuesday afternoon, the former president referred to Putin's military strategy, after he announced the mobilization of forces after recognizing two rebel regions in Ukraine as independent, "pretty savvy." Trump also said while watching the news coverage of Putin's latest moves that "this is genius."
Trump went on to place blame for the current Russian-Ukraine situation on President Joe Biden, saying this "never would have happened" if he were still in the Oval Office.
Newsweek reached out to Fox News for comment, but did not hear back before publication.