Fox Hosts Blame House Democrats' 'Tone,' Maxine Waters for Stock Market Plunge
A pair of Fox hosts on Tuesday blamed Democrats in the House of Representatives and their "tone" after winning control of the chamber of Congress for a recent dip in the stock market.
Fox Business host Charles Payne did not solely blame Democrats for the stock market taking a dip. He said there was a whole host of reasons for the dip and for "the emotions of the market" being negative—the Dow was down more than 400 points on Tuesday and has been plunging all week.
But then Fox News host Sandra Smith interjected.
"Let me just throw this out here," she said, via a clip posted online by the liberal group Media Matters for America. "How much of this is—is this Republican—is Democrats winning control of the House? I mean, since Election Day—midterm Election Day—the Dow's lost four percent alone."
"I think it's the tone," Payne responded. "You know, the very next day the market was up. But since then, the tone of Democrats, who have declared war on President Trump, I think have been a real negative wave for the market. Particularly, I think Americans want to see legislation, not more investigations. You know, I don't think they want to see Maxine Waters spending a whole lot of time digging up dirt on Deutsche Bank when people are trying to, you know, live their lives."
"Fair enough," Smith concluded.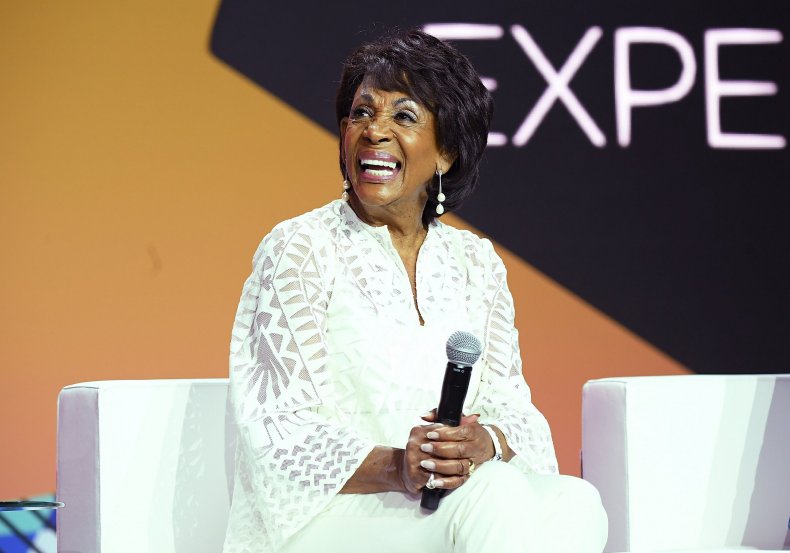 Representative Maxine Waters (California - Democrat) will likely soon head-up the House Financial Services Committee and has promised to look into Deutsche Bank and potential ties with Trump.
"That's simply one piece of the business that we have to do. You know that we have requested information from the Treasury about everything from sanctions to Deutsche Bank, and we know that Deutsche Bank is identified as one of the biggest money laundering banks in the world, perhaps, and that they're the only ones who were amenable to providing loans to this president," she said this month, via CNBC, before adding, "We have the power to deal with subpoenas, but I want you to know we're not just focused on that alone."
As Payne noted before the conversation about Democrats, tech stocks have put a damper on the market, with Facebook shares, for instance, tumbling nearly 9 percent over the past five days (as of Tuesday afternoon). Some noted trade tensions between the U.S. and China could be a cause for the stock market's dip as well.
"Tech continues to be caught in the crosshairs of the triple threat of rising interest rates, global growth fears and trade tensions with China," Chris Zaccarelli, chief investment officer at Independent Advisor Alliance wrote in a research note, via Market Watch. "Trade war concerns with China weigh on the global supply chain for large technology companies while global growth fears worry many that future earnings will be lower."