Laura Ingraham Walks Back False Claim That Whistleblower's Attorney Represented Hillary Clinton, Chuck Schumer
Fox News host Laura Ingraham made a correction on her show Thursday night after she told viewers one of the Ukraine whistleblower's lawyers, Mark Zaid, previously worked for former Secretary of State Hillary Clinton and U.S. Senate Minority Leader Chuck Schumer.
Ingraham was likely thinking of another lawyer on the whistleblower's team. Andrew Bakaj worked for Schumer and Clinton––as an intern nearly 20 years ago.
"Last night I made a comment about the whistleblower lawyer Mark Zaid," Ingraham said, "and saying he previously represented Chuck Schumer and Hillary Clinton. That was incorrect. I was mistaking Mark for another attorney representing the whistleblower named Andrew Bakaj, who just worked for Clinton and Schumer. It was a different lawyer. I apologize for that mixup."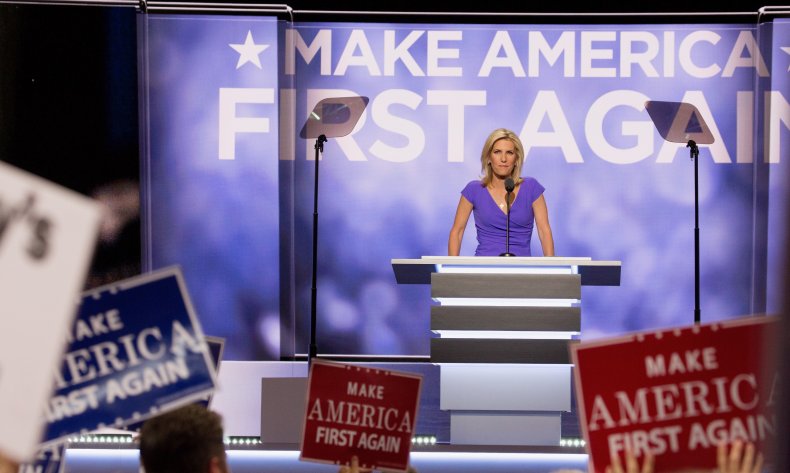 Following the segment, Zaid joked that Ingraham's statements were "fake news."
"To be clear, at no time have I ever represented Senator Schumer or Secretary Clinton. Ever. Never," Zaid wrote in a tweet. "The partisans are trying to smear the legal team as some liberal opposition. We are anything but that."
Zaid, a registered Independent, has represented GOP bigwig cases involving Hillary Clinton's emails as well as Benghazi, according to the whistleblower attorney. The whistleblower is reportedly a registered Democrat, which critics say could constitute "bias" against President Donald Trump.
Still, the bulk of the whistleblower's complaint has been corroborated by other sources and the president himself. Yesterday, a text exchange between U.S. diplomats hinted at the existence of the hotly debated quid pro quo allegations. The president is accused of withholding aid from Ukraine until they launched investigations in former Vice President Joe Biden.
"As I said on the phone, I think it's crazy to withhold security assistance for help with a political campaign," wrote the top U.S. diplomat to Ukraine, Bill Taylor.
"Bill, I believe you are incorrect about the President Donald Trump's intentions," replied the United States Ambassador to the European Union Gordon Sondland. "The President has been crystal clear no quid pro quo's of any kind. The President is trying to evaluate whether Ukraine is truly going to adopt the transparency and reforms that President Zelensky promised during his campaign," said Sondland.
"I suggest we stop the back and forth by text," he said.
Shortly thereafter, MSNBC host Chris Hayes joked that Sonland's texts sounded like White House talking points, pointing out the ambassador took five hours to respond
They "settled on the 'no quid pro quo' defense before it ever became public," wrote Hayes. "I'm still laughing at the sheer guilty desperation of Sondland's texts. Basically, I want to be very clear we are not doing crimes here. Call me to discuss further," Hayes tweeted Friday in a different post.
Fox News is known for being the most conservative-friendly major news network, but the recent deluge of breaking news regarding the extent of Trump's alleged abuse of power has the newsroom divided on how to cover it. While management debates strategy behind the scenes, according to reporting by Vanity Fair, hosts and guests argue regularly on air.