Fox Nation Host Suggests Trump Hasn't Done Anything Worse Than Nancy Pelosi Tearing Up SOTU Speech: 'Including That Tape of Him From NBC'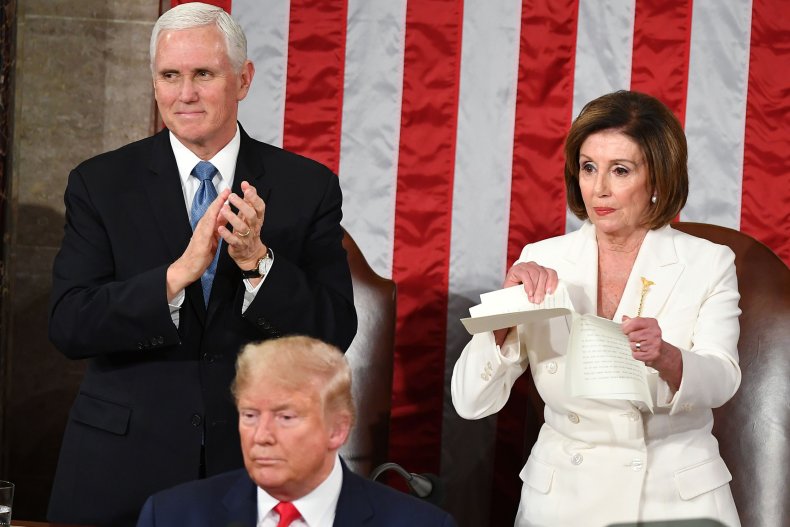 Fox Nation host Tom Shillue suggested that President Donald Trump has never done anything as bad as when Speaker of the House Nancy Pelosi tore up his State of the Union speech Tuesday.
"Is there anything – I'm trying to think, because the idea – I don't think people should clutch their pearls over it," Shillue said Friday. "But the idea you should bring attention to it because all people seem to talk about is Donald Trump and his lack of decorum. Has he ever done anything in the ballpark of ripping up a speech like that on TV? I'm trying to think of the worst thing Trump has ever done, including the tape of him from NBC. What has he done that is lacking in decorum more than that?"
The comments from the Fox Nation host came days after Pelosi was seen ripping up Trump's speech at the end of his State of the Union address. The House Speaker's gesture generated much reaction, including from Trump and Pelosi. In a video posted to Twitter by ABC News, Pelosi stated that she tore the speech because "it was a manifesto of mistruths," while Trump thought it was a "terrible thing," and described it as "very disrespectful to the chamber."
Shillue's mention of "the tape of him from NBC" was a reference to the controversial Access Hollywood recording of a 2005 conversation between Trump and the show's host Billy Bush. In that conversation, Trump bragged about his sexual behavior towards women.
"You know I'm automatically attracted to beautiful--I just start kissing them, it's like a magnet, just kiss, I don't even wait," Trump said in the clip. "And when you're a star they let you do it. You can do anything. Grab them by the p****."
The footage later surfaced in 2016, just prior to the presidential election in which Trump defeated Democratic candidate Hillary Clinton. NBC fired Bush in the wake of the news about the recording; he is now the host of Extra.
Following Shillue's comments, co-host Britt McHenry gave her take on one instance in which she thought Trump lacked decorum. She brought up a 2017 White House meeting where Pelosi and Senate Minority Leader Chuck Schumer refused to attend, but Trump left their name tags in front of their empty seats.
"He [Trump] did have the stunt with the name cards, when he knew Chuck Schumer and Nancy Pelosi were not going to come," McHenry said. "It's not as bad, but I would say probably that's my closest."