Hosts for Fox Nation have been participating in campaign rallies and campaign videos for Republican groups and fundraisers, despite Fox News previously stating that its talent should not participate in such activities.
As Media Matters reported Thursday, Lynnette Hardaway, Rochelle Richardson, Gregg Jarrett, Todd Starnes and David Webb – who are hosts on Fox News' online streaming service Fox Nation – have recently been part of GOP campaign activities, with more events slated in the coming months. Fox News has previously stated that it "does not condone any talent participating in campaign events."
Newsweek reached out to Fox News for comment on the Media Matters report, but the network did not immediately respond.
Eric Hananoki, an investigative reporter at Media Matters, pointed out in a statement emailed to Newsweek that Fox News has a history of its talent participating in Republican campaign activities, while also stating that such actions are prohibited.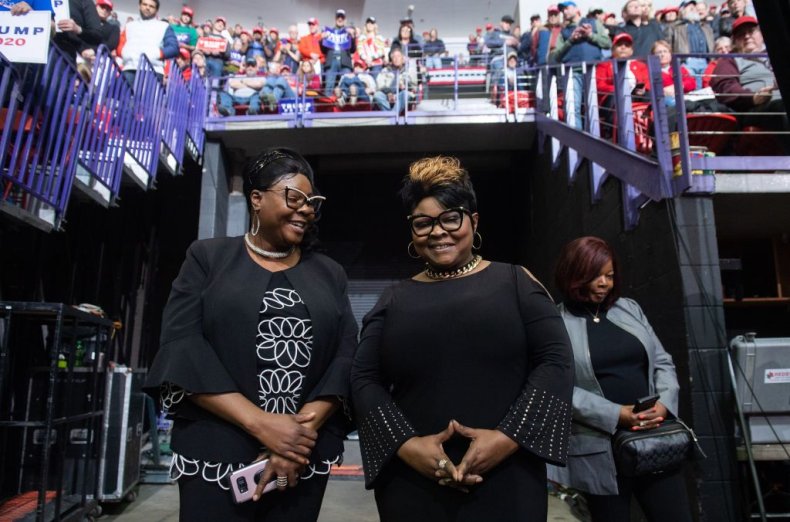 "In November, after Fox News hosts Sean Hannity and Jeanine Pirro appeared at a campaign rally with Trump, the network told the media that it 'does not condone any talent participating in campaign events,'" Hananoki explained. "That statement was a lie then, and the Fox Nation personalities' work for Republicans is only further confirmation of the network's duplicity to reporters."
As Media Matters highlighted, Hardaway and Richardson – known as Diamond and Silk – have appeared in multiple videos campaigning for Trump's reelection. The most recent such video aired on June 2, as The Hollywood Reporter reported. "They are beloved and appreciated volunteers and supporters," a Trump campaign official told the publication when asked for comment.
The duo, who officially joined Fox Nation in November of last year, participated in a similar March campaign video. They also warmed up the crowd at one of the president's Make America Great Again rallies during the same month. Hardaway and Richardson were guests at a Bush Legacy Republican Women fundraising dinner, and are scheduled to attend events later this year for Republican groups as well.
Fox News previously attempted to explain the women's participation in such activities, saying "they are not Fox News contributors or employees." However, the network had previously referred to Hardaway and Richardson as "Fox News Channel contributors," "Fox Nation contributors" and "Fox Nation hosts." The women continue to upload videos to Fox Nation, with their most recent post at the time of publication being June 4.
Gregg Jarret, who hosts Gregg Jarrett's: The Russia Hoax on Fox Nation and works as a Fox News legal analyst, headlined an April fundraiser for the Columbiana County Republican Party in Ohio. Similarly David Webb, who hosts Reality Check and is a Fox News contributor, appeared as the emcee of a May fundraising event for the Belknap County Republican Committee in New Hampshire. Todd Starnes, host of Starnes Country and a Fox News Radio program, was the keynote speaker for a fundraiser for the Wilson County Republican Party in Tennessee in May.
Relatedly, Fox News host Laura Ingraham announced at the end of May that her podcast, The Laura Ingraham Show Podcast, was now sponsored directly by the Make America Great Committee. That committee is a joint fundraising effort between the Republican National Committee and Trump campaign to support the president's reelection.
Fox News has faced mounting criticism for being overtly biased in support of Republicans and Trump. The Democratic National Committee has chosen to boycott hosting any debates on the network. 2020 Democratic presidential candidate Elizabeth Warren also said she will not hold a town hall broadcast on the network, arguing that she does not want to give the network legitimacy or provide programming for its ratings.