'Fox Never-Trumper Network': Limbaugh Slams Fox News for Siding With Liberal 'Nincompoops' Over Trump-Ukraine Call
Conservative radio host Rush Limbaugh slammed Fox News on Wednesday afternoon over the network's alleged inability to defend President Donald Trump amid the recently-announced impeachment inquiry.
During a segment on The Rush Limbaugh Show earlier today, the show's host railed against House Intelligence Committee chairman Adam Schiff remarks he has previously made about Trump's phone call with Ukraine.
"The [House] Intelligence committee [is] openly lying about the president's phone call with the president of Ukraine. [Schiff] lied about it again today in his joint press conference with Pelosi," Limbaugh said, claiming that the Democrat "literally said that the president told the Ukrainian president to create dirt, to make it up, as much as you can."
Schiff faced backlash from Republicans after he offered an embellished account of Trump's July phone call with Ukraine president Volodymyr Zelensky at a hearing last Thursday. During his statement, Schiff claimed that Trump's call "reads like a criminal shakedown" and said that the president asked his foreign counterpart to "make up dirt on [his] political opponent." After GOP criticism, Schiff later clarified that his summary "was meant to be, at least part, in parody."
"When the Republicans finally called him on it, Schiff said, 'Well, I was just engaging in parody,'" Limbaugh continued. "You have the sense of humor of a snail. Nobody thinks anything about you is funny. It wasn't parody anyway... it was an attempt to purposefully misstate and mischaracterize the words and the actions of the President of the United States."
"They're trying to create the illusion that Trump is a mob boss and he was ordering somebody to make up dirt or else we're not going to give you money," he added.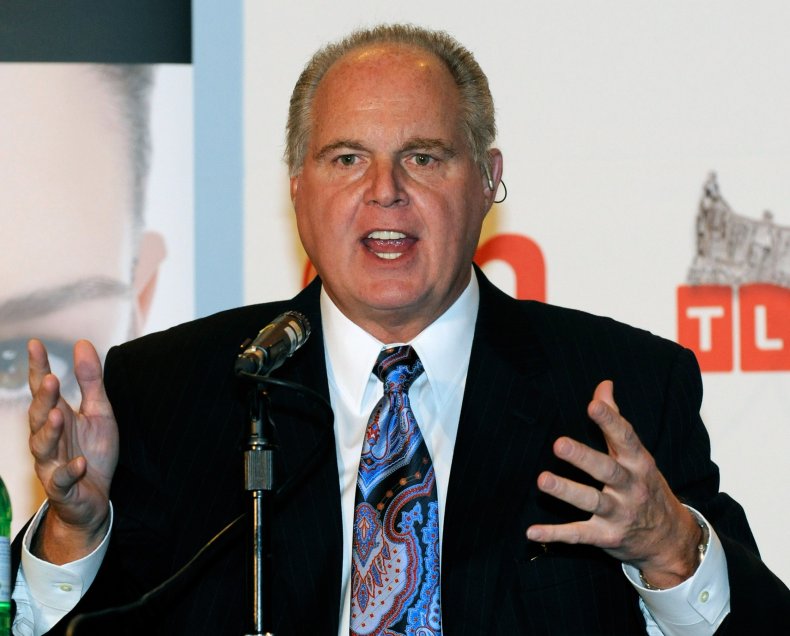 The conservative host, now shouting, then turned his attention to Fox News, who he claims have been covering Trump unfavorably since the impeachment inquiry was announced.
"We've even got never-Trumpers now, all over Fox News," he said, before then mocking the network for finding the president's call with Zelensky "hard to defend." "There's nothing hard to defend about the phone call, you just don't want to defend it," Limbaugh asserted.
He went on to suggest Fox should change the name of their network from "the Fox News Channel to the Fox Never-Trumper Network."
"If Trump is hard to defend, what about conservatism you never-Trumpers? Can you defend that? Do you not understand that conservatism is under assault?," Limbaugh added. "You may not be because you're renouncing conservatism by siding off with these guys that you don't want to be criticized by. You'd rather be friends with these nincompoops on the left than have to defend your own side and defend your own beliefs."
Trump's controversial call with Zelensky is at the heart of the impeachment inquiry. It was highlighted to the public after a whistleblower filed a formal complaint alleging that the U.S. president attempted to solicit foreign assistance in probing his political rival former Vice President Joe Biden.
A partial transcript of their conversation, released by the White House last week, proved that the president did ask Ukraine for assistance in investigating Biden and that he offered his own administration's Attorney General to help in the probe.
Trump has repeatedly asserted that he has not committed any wrongdoing.