Fox News Celebrates 25 Years With its Ratings Crushing the Competition
It has been 25 years since Fox News launched onto the televisions screens of America and the network is celebrating the milestones on a ratings high.
In fact, recent ratings figures show that the controversial Rupert Murdoch outlet is crushing its competition.
According to Nielsen Media Research, the channel enjoys an average prime time audience of 2.372 million viewers—beating CNN and MSNBC combined in total day and primetime total viewers and the 25-54 demo for both the quarter and month of September.
Fox News launched on October 7, 1996, and became rated on March 31, 1997.
Since the launch quarter, in primetime, the channel is up 6,346 percent in total viewers and 1,900 percent in the younger A25-54 demographic.
Tucker Carlson Tonight, Hannity, The Five, and The Ingraham Angle comprise the top four highest-rated programs for the quarter in total viewers, according to Nielsen.
In the third quarter of 2021 Carlson's show brought in a staggering 3.2 million viewers with The Five drawing in 3 million viewers and Hannity 2.9 million viewers.
For comparison, MSNBC's most popular program, The Rachel Maddow Show, brought in 2.2 million viewers.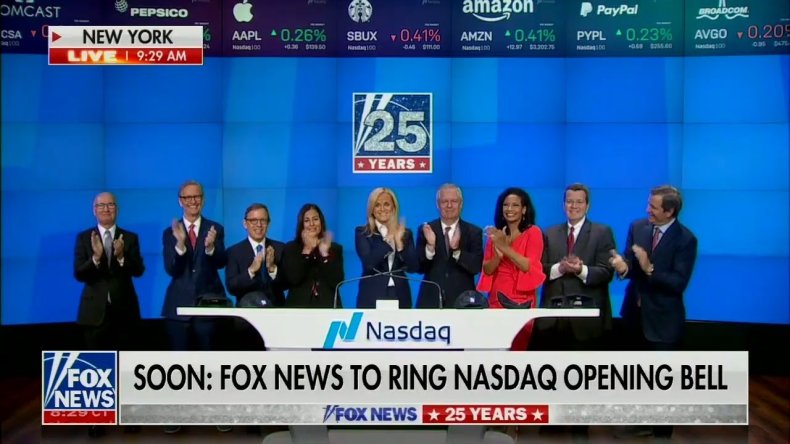 In total day, Fox News averaged 1.4 million, down 22 percent from this time last year. MSNBC's ratings meanwhile have fallen by 39 percent to 738,000, and CNN's have dropped down 38 percent to 598,000.
When it comes to the valuable primetime ratings, Fox News continues to dominate. 2.4 million people watched Fox News during this period, a 32 percent drop on last year, but still nearly double its biggest rival MSNBC pulled in, with 1.3 million viewers.
Now the channel is on a trajectory to finish 2021 as the most-watched network across all of basic cable for the sixth straight year.
When reached for comment on the network delivering high ratings as it marks its 25th anniversary, a Fox News spokesperson pointed to recent comments from on-air personalities about what it means to celebrate 25 years at the station.
"Fox News is dominant because Fox is different," Tucker Carlson said of the milestone anniversary.
"Fox is serving an audience that is not served by any other channel. But Fox is mostly different because it's authentic. It's real."
The host of Tucker Carlson Tonight added: "I came to Fox having been fired for low-ratings so I had failed. I was almost forty. I had been given more chances than most people get and I had blown it. And Fox hired me and then kept promoting me. Being kind to me. Giving me chances....nobody has a more loyal audience than Fox."
Meanwhile, Sean Hannity said that working at the network changed his life in "every way imaginable."
"My father died six months after I started at Fox and the one thing my father would say to me, 'where did this come from?'. And I said 'I don't know. It's in there somewhere.' My message to the people is thank-you," he continued. "This is an honor to do what I do every day and what I can do in return is just my very, very best. That effort and passion from day one has never left me."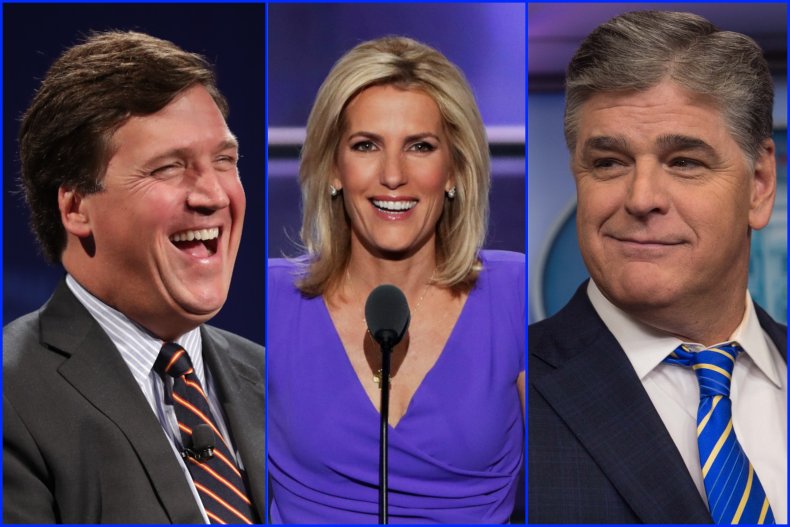 Host Laura Ingram described Fox as "fearless" and said praised the network's strong identity.
"It became apparent to me pretty quickly that it did not have an identity crisis which a lot of other outlets had," she said.
"Fox knew what it wanted to be and stayed true to its mission. That's the key. Fearlessness is an underrated quality. Fox is fearless."