Fox News Host Fact Checks Trump Adviser Stephen Miller During Interview, Pushes Back Against National Emergency
Fox News host Chris Wallace pushed back against President Donald Trump's national emergency declaration in a Sunday interview with White House senior policy adviser Stephen Miller.
Wallace pointed out that the number of undocumented migrants crossing into the United States from the southern border with Mexico has actually declined significantly over the past couple decades. "Let's look at the facts," Wallace said. Displaying statics on the screen, the Fox News host read them out for Miller and the audience.
"One point six million people were stopped crossing the border illegally in back in 2000," he explained, "less than a quarter that many were caught last year." Wallace then turned to the Trump administration's persistent argument that a border wall would stop the flow of drugs into the country.
"Eighty to 90 percent of the cocaine, heroin and fentanyl seized at the border is seized at ports of entry, not along unfenced areas," Wallace said. "And in 2017, twice as many of the new people in the country illegally were from visa overstays as were from crossing the border," he also pointed out, asking: "Again, where's the emergency?"
Miller tried to respond by criticizing George W. Bush for allowing illegal immigration to grow. He also tried to shift the conversation to what he referred to as the problem of "mass release of illegal aliens." But Wallace cut Miller off, asking him to respond directly to his question.
"Four times as many people were coming across the border in 2000 as now," the Fox News host asked. "So why is that a national emergency?"
"You cannot conceive of a nation without a strong, secure border," Miller said. "It is essential to sovereignty and national survival to have control over who does and who doesn't enter the country."
"There's been a huge increase in drug deaths since George W. Bush and Barack Obama were president," he added.
Wallace again came back to his earlier fact check, pointing out that drug overdoses wouldn't be reduced by a border wall. "But 80 to 90 percent of those drugs don't come across in unfenced areas," the host said. "They come across from ports of entry. Those are your own Customs and Border Patrol numbers."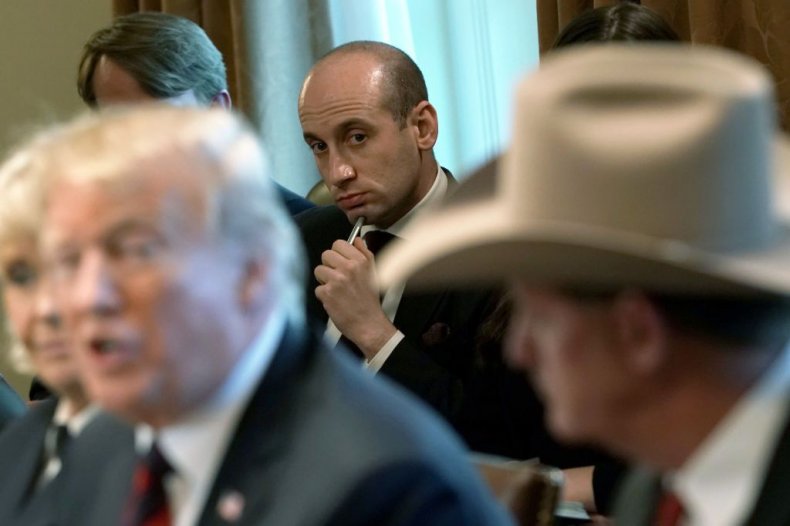 Trump formally declared a national emergency along the southern border of the U.S. with Mexico on Friday, leading many analysts to argue the move was the start of a "constitutional crisis." The decision aims to reappropriate funds approved by Congress for other purposes to construct the president's long promised border wall. The White House made the decision after failing to secure funding for the structure from lawmakers, despite two years of Republican control of Congress until January of this year, when Democrats took control of the House of Representatives.
Experts and critics have long made similar points to those of Wallace, explaining that Trump's border wall would be an entirely ineffective and exorbitantly costly solution to address undocumented immigration and the national drug problem. Trump has also routinely said that his wall would cut down on crime, but several studies have shown that documented and undocumented migrants commit crimes at lower rates than native born U.S. citizens.
Trump has dismissed these facts, which are based on official government statistics, as "wrong" and "just a lie."