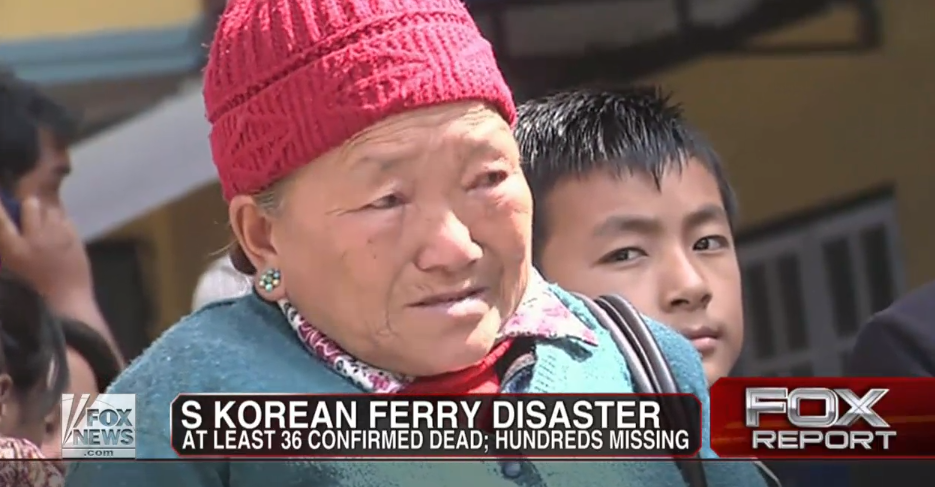 Media producers and editors in 2014 have hundreds—thousands, really—of news and stock photos at their fingertips: war photos, smiling teens, women laughing alone with salads. That's a blessing and a curse.
But when an international news network uses photos of Asian people who are clearly not Korean, or anywhere near Korea, in its coverage of a South Korean ferry disaster, it's mostly a curse.
Fox News, the network at fault, appeared to have "used footage of random sad Asians instead of going to Korea" in a segment about the April 16 sinking of the ferry Sewol, Rick Phillips of the Korean Cultural Center in Los Angeles told The Washington Post. That segment was about relatives mourning the dead, who numbered more than 200. It looked like this:
But that isn't a "random sad Asian." It's an image of a woman mourning an entirely different tragedy, thousands of miles away: the Mount Everest avalanche that killed more than a dozen guides last month. You can spot a Reuters image of what appears to be the same woman, the grieving mother of one of the Nepali mountaineering guides, here.
Phillips reportedly sent three letters to the network about the segment. This week Fox acknowledged its error, which it says was caused by a network error.
"The wrong video was mistakenly pulled from the international feed," David Clark, executive producer of weekend news and programming, said in a statement. "We regret this error and have corrected the footage online and will address it on air as well."