Fox & Friends Co-Host Says Alexandria Ocasio-Cortez Is Right to Call Out CBP For Verbal Abuse of Migrants
Although Fox News pundits and particularly Fox & Friends hosts usually have nothing but criticism for Democratic Representative Alexandria Ocasio-Cortez, one of the morning show's co-hosts, Ainsley Earhardt, spoke in agreement with the progressive congresswoman on Wednesday morning.
Earhardt's comment came as the Fox & Friends panel discussed migrant detention centers, which Ocasio-Cortez has strongly criticized. While co-host Brian Kilmeade suggested that the New York congresswoman's stance toward migrants was hypocritical, as she had voted against a bill to provide additional funding to the Department of Homeland Security, Earhardt pointed out that Ocasio-Cortez had raised some valid issues of concern.
"I don't like to hear AOC [the congresswoman's initials] talk about how people are being made fun of. The women are called names down there. Of course that is unacceptable and that needs to be fixed," the Fox & Friends co-host said. But she also suggested that was a "different issue" that needed to be addressed separately.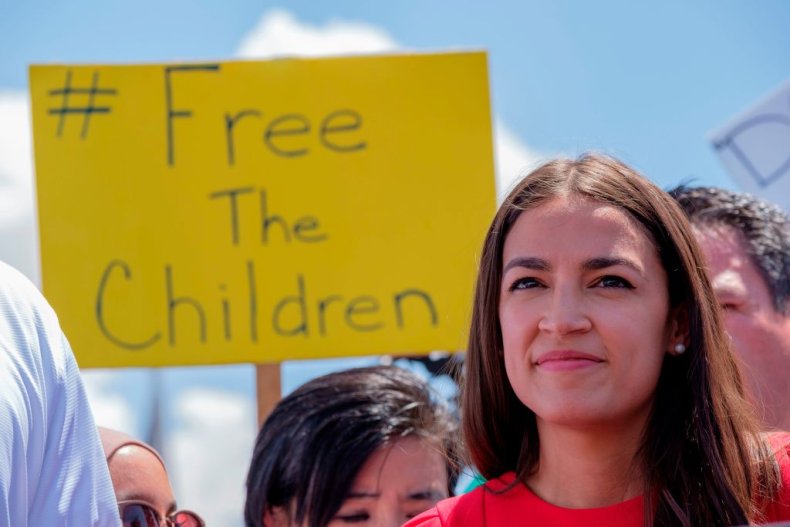 "Democrats need to work with Republicans so that we can have more money to help these individuals and to come through our country the right way," Earhardt said.
Previously, the co-host also said: "It's a tough situation. It really is. Yes, we all have hearts. We look at this video of people behind the fences and they are sleeping on top of each other. We need more facilities."
"These are God's children. We want to do the best thing," Earhardt added.
After visiting migrant detention centers this week, Ocasio-Cortez has described in detail the poor conditions she and other members of Congress witnessed.
"After I forced myself into a cell w/ women&began speaking to them, one of them described their treatment at the hands of officers as 'psychological warfare' - waking them at odd hours for no reason, calling them wh*res, etc. [sic]," the representative wrote in a Monday tweet. "Tell me what about that is due to a 'lack of funding?'"
The congresswoman has also defended the decision of her and other Democratic progressives to not support a bill that provided additional funding to DHS, which Kilmeade and others have criticized.
"The $4.6 billion wasn't humanitarian at all. It had NO accountability measures for facilities that abuse children and families. It didn't fix the problem, just funded abuse," she wrote in another tweet this week.
A report from the Office of the Inspector General of the DHS published Tuesday has corroborated many of the details about migrant detention center conditions laid out by Ocasio-Cortez and other members of Congress. It reported severe overcrowding in the facilities and a lack of basic necessities, such as beds, hygiene products and adequate food. A veteran CBP officer also did an anonymous interview with CNN, describing the detention centers as filthy and alleging that his supervisor had joked about "running over illegals."