Fox News Analyst Calls Trump Handshake With 'Thug' Kim Jong Un 'Disconcerting'
Brit Hume, a Fox News senior political analyst, said Monday it was "disconcerting" to see President Donald Trump shake hands with North Korean leader Kim Jong Un, whom he called a "thug."
"Disconcerting to say the lease to see POTUS shaking hands with the thug Kim Jong Un and saying he's 'honored.' Will only be worth it if Mike Pompeo is right about what he sensed in his NK meetings," he said. "We'll know soon enough."
Trump and Kim's historic meeting in Singapore Monday, which was cancelled and rescheduled multiple times, concluded with a document signed by both leaders that outlined North Korea's "unwavering commitment to compete denuclearization of the Korean Peninsula" moving forward in exchange for "security guarantees" from the United States.
"President Donald J. Trump of the United States of America and Chairman Kim Jong Un of the State Affairs Commission of the Democratic People's Republic of Korea have committed to cooperate for the development of new US-DPRK relations and for the promotion of peace, prosperity, and the security of the Korean Peninsula and of the world," the statement said.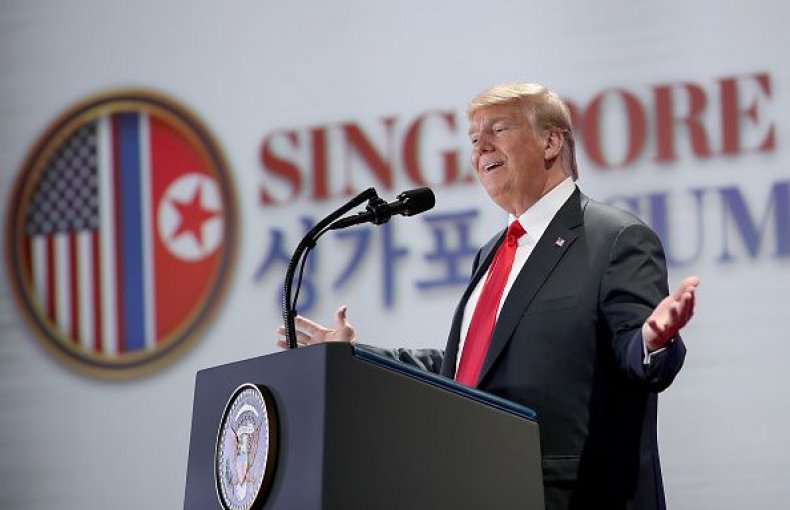 Trump praised Kim in an interview with ABC News after the summit where he stated, "His country does love him. His people, you see the fervor. They have a great fervor." Kim became the leader of North Korea in 2011 and is often described as a "brutal dictator." Kim said the meeting was a chance to "leave the past behind," and that "the world will see major change."
Reactions to the summit drew mixed reactions. Laura Ingraham, who, like Hume, is also on Fox News, said half of "the elites on the left" would rather go to nuclear war with North Korea than see Trump succeed.
"This where they are. The elites on the left want this president to fail," she said. "To hell with nuclear war. If you have to have nuclear war to get Trump to fail, I think half of them are okay with that. I'm not exaggerating."
Chris Hahn, a guest on Ingraham's show, pushed back on her claim when he stated, "most people hope that this summit goes well."
Hume has criticized Trump, and his critics, at different points during his time in office. "The problem with Trump is that he thinks everything is about him," he tweeted in May. "The problem with his too many of his critics is that they do too."