Fox News Analyst Says Trump Needs African-American Turnout to Be Low in Pennsylvania to Win
Fox News political contributor and Republican consultant Karl Rove suggested that President Donald Trump needs African-American voter turnout to be low in Philadelphia if he hopes to win the state in the upcoming presidential election against Democratic rival Joe Biden.
The polling average compiled by RealClearPolitics for Pennsylvania currently suggests that Biden is favored to win the state, with less than a week to Election Day on November 3. Analysts have pointed to a dip in Black voters in the key swing state—and across the country—in 2016 compared to 2012, saying this helped Trump pull off a narrow win. Former President Barack Obama carried Pennsylvania in 2008 and 2012.
Black voters are viewed as a crucial base of support for the Democratic Party, with Biden's victory in the Democratic primaries buoyed by the community. Rove said that turnout in the Black community in Philadelphia would need to remain at "the 2016 level" if Trump wanted to pull off another victory in Pennsylvania.
The Quote
Trump's "gotta hope for three things to happen. That turnout in Philadelphia remains at the 2016 level, particularly in the African-American community. And that he keeps those counties that he flipped last time around and continues to grow his margin in the balance of the state. You gotta do all three to keep Pennsylvania in his column," Rove said during an interview with Fox News program America's Newsroom on Wednesday.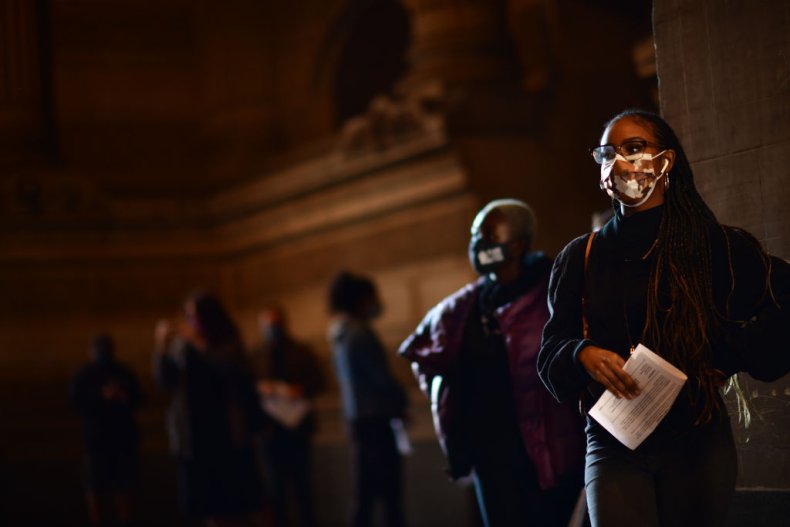 Why It Matters
Since 2000, an average of 91 percent of Black voters have backed Democratic presidential nominees, according to a compilation of voting data from the Roper Center for Public Opinion Research. Only an average of 8 percent voted for Republican presidential candidates.
Analyses have shown that lower Black voter turnout was part of the reason why Trump won in 2016.
"In Ohio, Pennsylvania, North Carolina and especially Wisconsin, a 2012 black turnout advantage either reversed or was eliminated in 2016 due to declines in black turnout and, in most cases, a rise in the turnout of white Americans," a 2017 report from the Brookings Institution, which cited Census Bureau data, said. The Pew Research Center found that national Black voter turnout dropped from 67 percent in 2012 to just 60 percent in 2016.
A 2017 report by FiveThirtyEight, which cited polling data by SurveyMonkey, explained that "of all voters who cast a ballot in the general election, 25 percent were black, Hispanic, Asian, or a member of another minority group. But those voters were 42 percent of those who didn't vote. Drilling down a little further, black voters made up 11 percent of voters who cast a ballot and 19 percent who didn't."
Considering Trump narrowly won Pennsylvania by just 0.7 percent of the state's vote, even a relatively minor dip or increase in turnout from any segment of voters could potentially be the difference between victory for the president or Biden.
Meanwhile, Trump has repeatedly claimed that he has been the best president for Black Americans besides Abraham Lincoln—who put an end to slavery through the Emancipation Proclamation of 1863. Trump's claim has been widely panned and mocked by his critics, as he is viewed as overtly racist by many Democrats. According to Pew Research polling released earlier this month, 89 percent of Black voters were leaning toward or strongly supporting Biden. Just 8 percent were leaning toward or strongly supporting Trump.
Opposing View
In December 2018, Trump signed the bipartisan First Step Act, which worked to reduce the federal prison population and reform federal prisons and sentencing guidelines. The legislation has been lauded as a significant reform that will particularly benefit the Black American community—which is significantly overrepresented in the U.S. prison population.
Although only 13.4 percent of the U.S. population is Black, some 33 percent of the inmates detained in U.S. prisons are Black. Pew Research Center reported in May that Black Americans are imprisoned at a rate five times higher than white Americans.
Newsweek reached out to the Trump campaign for comment, but it did not immediately respond.