Fox News Anchor Chris Wallace Calls Biden's Inauguration Speech 'Best' He's Ever Heard
Fox News anchor Chris Wallace had some high praise for President Joe Biden's inaugural address on Wednesday, calling it the best he's ever heard.
"I thought it was a great speech," Wallace said during a Fox News segment shortly after Biden was sworn in and delivered the address. "I've been listening to these inaugural addresses since 1961—John F. Kennedy: 'Ask not....' I thought this was the best inaugural address I ever heard."
Wallace described Biden's speech as a combined sermon and pep talk. "It was a call to our better angels, it was a call saying, Look, we've got tremendous challenges—COVID, the economy, racial injustice, climate change—but there's nothing we can't do if we come together," he said.
During his inaugural address, Biden repeatedly called for unity across the country and reiterated his promise to be a president for all Americans, those who voted for him and those who did not.
"To all those who supported our campaign, I'm humbled by the faith you've placed in us. To all of those who did not support us, let me say this: Hear me out as we move forward. Take a measure of me and my heart," Biden said.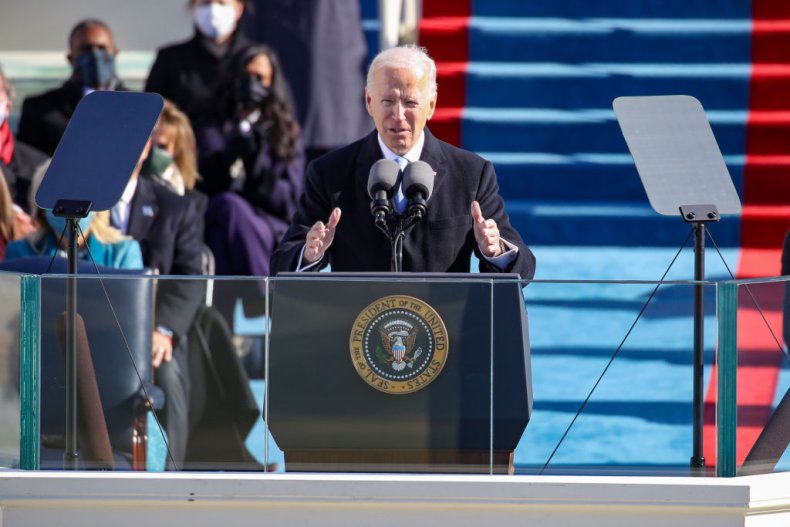 "If you still disagree, so be it. That's democracy. That's American. The right to dissent peaceably. Within the guardrails of our republic, it's perhaps this nation's greatest strength. Yet hear me clearly: Disagreement must not lead to disunion. And I pledge this to you: I will be a president for all Americans, all Americans."
The newly sworn-in president pointed out the serious challenges facing the country and the world, highlighting the coronavirus pandemic, climate change and political tensions.
"My fellow Americans, in the work ahead of us, we're going to need each other. We need all our strength to persevere through this dark winter. We're entering what may be the toughest and deadliest period of the virus," the president said. "We must set aside politics and finally face this pandemic as one nation. One nation."
Biden's call for unity came just two weeks after former President Donald Trump helped incite his supporters to storm the U.S. Capitol in an attempt to prevent Congress from certifying Biden's win in the Electoral College. At a demonstration on January 6, Trump told his supporters that they needed to "fight like hell," urging them to march to the legislative building where lawmakers had convened to count the electoral votes. Rioting and violence ensued at the Capitol, leaving five dead.
In response to the insurrection, Trump was impeached for a second time by the House of Representatives last Wednesday. Ten Republican House members joined their Democratic colleagues to impeach Trump. A number of other GOP representatives declined to back the measure but condemned the president and called for other forms of accountability.
Trump and Republican allies have convinced many of the former president's supporters that Biden won through widespread voter fraud. The claim is false, and Trump and his allies have never provided evidence to corroborate it. The allegations have been thoroughly litigated, with the more than 50 lawsuits brought by Trump and his supporters failing in state and federal courts. Even judges appointed by Trump and other Republicans have noted in their rulings that lawyers did not provide evidence of widespread fraud.
Wallace brought up the former president's misinformation and lies as he discussed Biden's inauguration on Wednesday. Notably, Fox News hosts have been key conduits in Trump's disinformation campaign.
"There's one other thing he said, that I think, especially us in the media must note," the Fox News anchor said. "He [Biden] said that there is truth and there are lies, lies that are told for power and lies that are told for profit. And I think it was a call to all of us, whether it's us on the air, on cable or broadcast, whether it's us in social media, on our Twitter accounts, understanding that we have to deal from facts, from the truth, to hear each other out, as he said."
This story was updated at 2:34 p.m. with additional information and background.