Fox News Anchor Confronts Kellyanne Conway Over Trump's Position on Andrew McCabe Case: 'Please Answer My Question'
Fox News anchor Chris Wallace pushed back as Kellyanne Conway attempted to deflect when asked about President Donald Trump's position on the Justice Department's decision to not pursue criminal charges against former acting director of the FBI Andrew McCabe.
Trump has long viewed McCabe as an adversary due to his involvement with the FBI's investigation into the president's 2016 campaign and Russian interference in that election. An inspector general report, which was released under the tenure of Trump's former Attorney General Jeff Sessions, alleged that McCabe "lacked candor — including under oath — on multiple occasions." But the Justice Department announced Friday that it would not pursue criminal charges against him.
"Let's get to the bottom line, does the president think the McCabe case should be reopened and he should be prosecuted?" Wallace asked Conway during an interview on Fox News Sunday.
Conway answered by saying Trump appreciates the cooperation of the Justice Department, currently led by Attorney General William Barr, on a number of important issues. But she did not address the McCabe case directly. This led Wallace to cut her off, and interject by saying: "Please answer my question."
After continuing to deflect, Conway described the McCabe case as "small potatoes."
"The McCabe case is small potatoes?" Wallace asked.
"He's small potatoes. He will always be seen as a serial liar and a leaker, as are those who covered for him," she said.
Conway continued to criticize McCabe, but Wallace again interjected with his original question.
"Does the president think the McCabe case should be reopened?" he asked again.
"The president thinks Andy McCabe should have been punished because he lied, and he lied several times," Conway asserted.
Speaking to CNN on Friday, McCabe said: "I don't think I'll ever be free of this president and his maniacal rage that he's directed towards me and my wife since October of 2016 for absolutely no reason whatsoever."
Concerns have circulated over the past week about Trump's potential interference in high-profile Justice Department cases. The president tweeted last week about the sentencing recommendation from federal prosecutors in the case of his longtime associate Roger Stone, who was convicted on multiple counts for false testimony he gave in relation to the investigation of Russian interference in the 2016 election.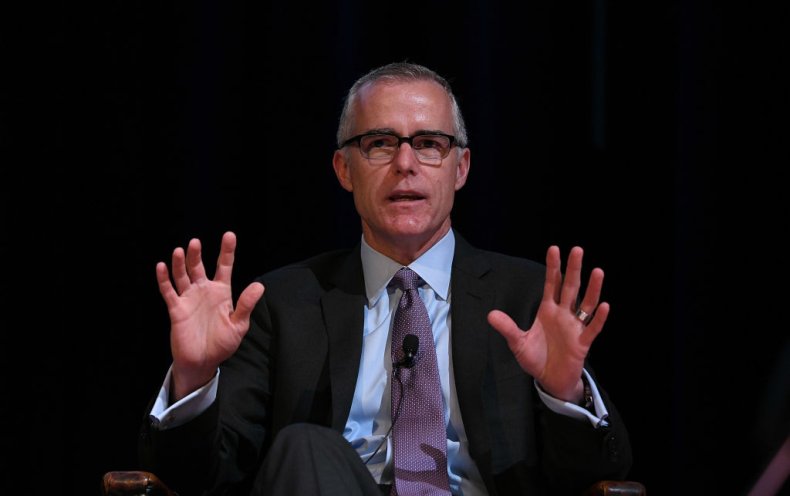 Trump argued that the sentencing recommendation from prosecutors was too severe, and top officials at the Justice Department later said the same, announcing that the recommendation would be adjusted. This led several prosecutors to resign from Stone's case and drew rampant speculation that Attorney General Barr was not acting independently, but was instead doing the president's bidding.
But Barr later gave an interview with ABC News in which he criticized the president, arguing that his tweets made his job "impossible." Meanwhile, some analysts argued that Barr had long acted at the president's behest, suggesting that his criticism of Trump was orchestrated.
Conway said on Fox News Sunday that Trump has "not interfered in any criminal case." She complained that people are trying to "bully" Barr out of his job.
Fox News Anchor Confronts Kellyanne Conway Over Trump's Position on Andrew McCabe Case: 'Please Answer My Question' | U.S.