Fox News Anchor Confronts Lindsey Graham With His Statement Calling for Impeachment Witnesses Ahead of Clinton Trial
Fox News anchor Chris Wallace confronted Republican Senator Lindsey Graham, who represents South Carolina, with remarks he made ahead of former President Bill Clinton's impeachment trial, noting that they appeared to "contradict" his statements ahead of President Donald Trump's Senate trial.
Putting Graham's previous statement from 1999 on the screen, Wallace pointed out during a Fox News Sunday interview that the GOP senator (who was then in the House of Representatives) had argued that witnesses may need to be called in the Senate trial of Clinton. Meanwhile, Graham has dismissed the possibility when it comes to Trump's case.
"There may be some conflict that has to be resolved by presenting live witnesses," Graham had said ahead of Clinton's trial. "That's what happens every day in court and I think the Senate can stand that."
Wallace said: "That directly contradicts what you said as a Republican House impeachment manager in 1999 during the Clinton impeachment trial." After reading Graham's previous quote, the Fox News host asked: "Why were witnesses okay then, but they're over the line now?"
Graham argued that the House of Representatives should have called the witnesses that Democrats have now urged the Senate to bring to testify. He pointed out, as well, that Trump would likely assert "executive privilege" over the witnesses, attempting to block them from appearing before the Senate.
Following up on that comment, Wallace pointed to Supreme Court precedent from the Watergate scandal--which inevitably led to then-President Richard Nixon's resignation--that had ruled that executive privilege "must yield to the demonstrated, specific need for evidence in a pending criminal trial." Wallace then asked Graham why that precedent didn't apply, in his opinion, in the case of Trump's impeachment case.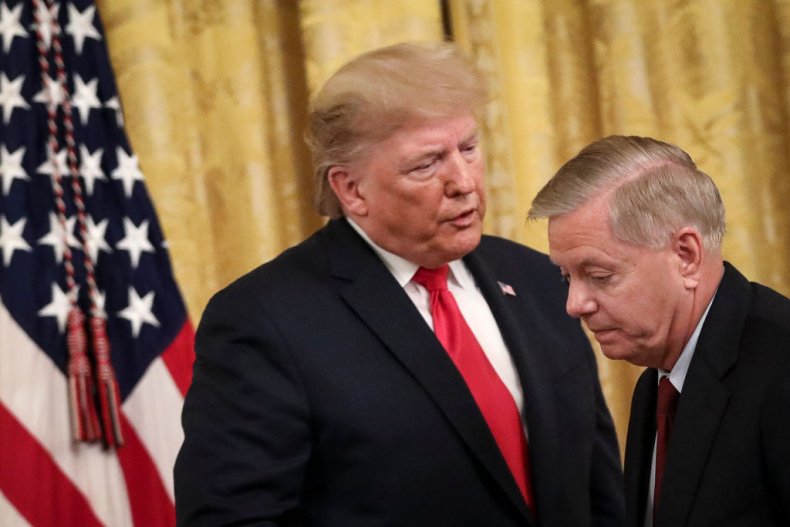 The senator responded by insisting Trump "can invoke executive privilege." He then pointed to another Supreme Court ruling that differentiates executive privilege claims when it comes to matters of national security.
Along with some other staunch Trump supporters in the Senate, Graham had advocated for dismissing the articles of impeachment from the outset without even holding a full trial. But it has since become clear, which Graham also admitted, that Republicans in the Senate don't have the votes required to dismiss the allegations outright. It remains unclear whether witnesses and additional evidence will be called as Democrats have urged.
Several GOP senators have voiced their willingness to listen to testimony from other witnesses--most notably former national security adviser John Bolton--who did not testify before House investigators ahead of the impeachment vote. Bolton has already stated publicly that he is willing to testify before the Senate, adding pressure to GOP lawmakers.