Fox News Anchor Confronts Trump Official With Economic 'Warning Signs,' Says There's 'Uncertainty' About Policies
Fox News anchor Chris Wallace confronted President Donald Trump's Treasury Secretary Steve Mnuchin with troubling economic data on Sunday, pointing out that financial experts and investors have raised concerns about "uncertainty" surrounding the administration's policies.
Although Wallace explained during a Fox News Sunday interview with Mnuchin that there are positive economic signs, he put data on the screen under the headline: "Economic trouble warning signs."
"There are some concerns, so I want to ask you about those" the Fox News anchor said, before reading the information on the screen. "Growth of business investment dropped from 9 percent last year to 1.4 percent now. And the manufacturing sector has contracted for the first time since 2009," Wallace added.
The anchor then pointed out that "many financial experts say one of the biggest headwinds" to investment and stock market growth is "uncertainty about administration policies." Wallace said that they say that "uncertainty is a much bigger problem than whether or not the fed should drop interest rates 100 basis points or 1 percent," as the Trump administration has argued.
Mnuchin pushed back, claiming that G-7 partners were praising the U.S. economy at the organization's ongoing leaders' summit in France, where the Treasury Secretary is currently with the president, and attempting to emulate Trump's economic policies. He also insisted that the "consumer is very, very strong." Discussing the specific statistics cited by Wallace, Mnuchin said they should be looked at "quarterly," instead of in the way that the Fox News anchor had displayed them.
The president and top administration officials have publicly insisted that the economy is doing very well, despite a dip in the stock market and warnings from financial experts about a possible recession. Meanwhile, the administration has taken steps to address growing economic concerns, particularly in regards to the ongoing trade war with China. The White House said this month it would hold off on increasing some tariffs on Chinese imports, framing it as a gift to American consumers ahead of the Christmas holiday.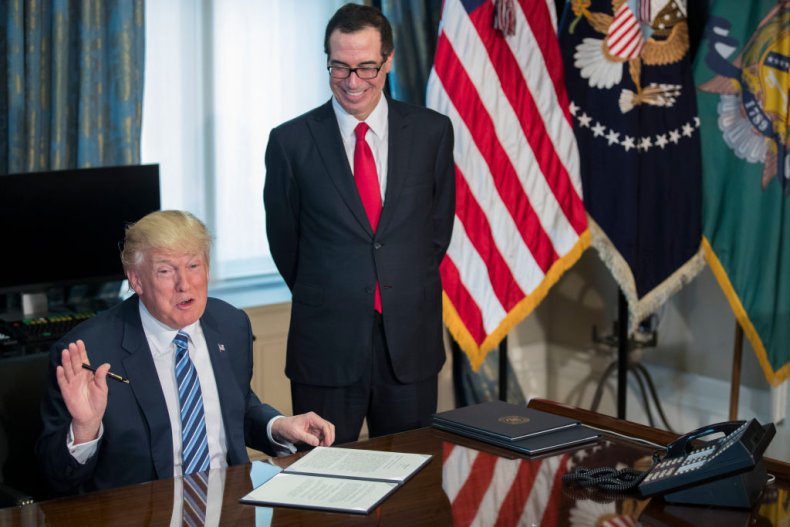 Many critics quickly pointed out that this characterization also contradicted Trump's insistence that American consumers were not feeling the impact of the trade war. Despite the president's repeated assertions that China is paying the tariffs in the trade dispute, that assessment is inaccurate. Economists and financial institutions have released numerous reports contradicting Trump over the issue.
The National Bureau of Economic Research published a report in March that concluded that the costs of the additional tariffs were nearly entirely paid by American consumers and importers.