Fox News Anchor Predicts Trump's Border Wall 'Is Never Going Up': 'Mark My Words... It's Not Happening'
On the fifth day of the partial government shutdown, a Fox News host predicted that Donald Trump will fail in having the border wall up by 2020.
During Outnumbered on Wednesday, Fox News anchor Julie Banderas launched a discussion into the possible outcomes of the third government shutdown of 2018, which occurred because Democrats refused Trump's demand for $5 billion worth of funding for a border wall the president promised during his campaign trial.
"If the Republicans don't give what the Democrats want, the shutdown is going to continue until January, then the Democrats take over, then Republicans have no chance of getting the border wall," Banderas said.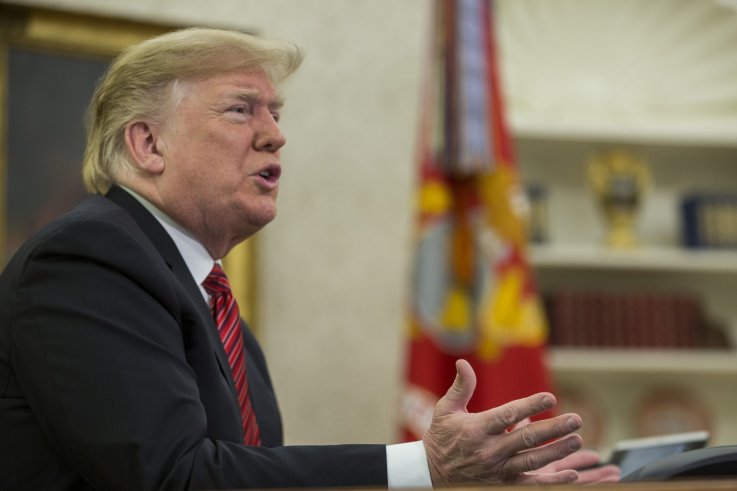 "That's what my question is, what happens next?" Fox Business host Lisa "Kennedy" Montgomery added. "If this is the hill that the president is going to die on politically, he's in for a rough ride."
Later in the segment, Banderas predicted Trump will fail in having the border wall completed by 2020. "Let me make a prediction... I'm going to make a 2020 prediction," she said. "The wall is never going up. Mark my words."
"First of all, there will not be the money. The $5.7 billion, even if it actually is passed, that's a penny compared to what the ultimate cost would be, not to mention the logistics. It would cost over $20 billion to put up the wall," Banderas explained. "There are thousands of miles, many of which is ruled by eminent domain. There are over 30 cases going on since the Obama administration… the courts are fighting against farmers who won't give up their land so it's going to cost some $20 million per farm just to get that land alone."
"I don't care if you call it a slat, a fence, a wall — it's not happening," Banderas concluded.
The partial government shutdown began at midnight on Friday after Trump refused to sign a stop-gap measure to keep the government running through the New Year because it didn't include funding for his border wall. The move came after prominent far-right figures — including Ann Coulter and Rush Limbaugh — urged the president to deliver on the border wall promise he made during his campaign.
Although it is unclear when or how the shutdown — which has affected around a quarter of U.S. government departments — will end, Democrats will control the House of Representatives in the new year, which will provide additional barriers for Trump.
On Tuesday, the president — who remained in the White House over Christmas due to the shutdown — staunchly doubled down on his border wall demand. "I can't tell you when the government is going to be open. I can tell you it's not going to be open until we have a wall, a fence, whatever they would like to call it," he said in the Oval Office.
In a joint statement on Saturday, House Minority Leader Nancy Pelosi (D-Calif.) and Senate Minority Leader Charles Schumer (D-N.Y.) blamed the president for the shutdown. "Republicans control the House, the Senate, and the White House. But instead of honoring his responsibility to the American people, President Trump threw a temper tantrum and convinced House Republicans to push our nation into a destructive Trump Shutdown in the middle of the holiday season," they said.
Fox News Anchor Predicts Trump's Border Wall 'Is Never Going Up': 'Mark My Words... It's Not Happening' | U.S.