Fox News Anchor Questions Trump Official Over 'Maximum Pressure' Strategy, Noting Iran Has Become 'More Aggressive'
Fox News anchor Chris Wallace questioned the effectiveness of President Donald Trump's "maximum pressure" strategy against Iran in an interview with national security adviser Robert O'Brien, noting that the Islamic Republic has actually become "more aggressive" since Trump reimposed sanctions.
Trump withdrew from the 2015 Joint Comprehensive Plan of Action (JCPOA), known commonly as the Iran nuclear deal, in May 2018. The international agreement--which was signed by the administration of former President Barack Obama, the European Union, the United Kingdom, France, Germany, Russia and China--offered Iran sanctions relief and international investment in exchange for curbing its nuclear program.
Despite consistent reports from U.N. nuclear inspectors showing that Iran was abiding by the pact's requirements, Trump withdrew and chose to reimplement harsh sanctions targeting the country. Since then, tensions have steadily escalated with Iran, culminating in military confrontations over the past couple of weeks and the country's leadership announcing that they will no longer abide by their commitments laid out in the JCPOA.
"Let's look at the record so far," Wallace said in his interview with O'Brien on Fox News Sunday, as he brought up the Trump strategy of targeting Iran with sanctions. The anchor noted that more than 1,000 Iranian companies, organizations and individuals now faced sanctions, but Iran has not shown any willingness to even talk with Trump, let alone capitulate to his demands.
"Instead of caving, Iran is moving step by step out of the nuclear deal and in recent months it hit six ships, attacked Saudi oil facilities and set fire to the U.S. embassy in Baghdad," Wallace pointed out. "You said this weekend in an interview with Axios that you think Iran is now more likely to negotiate, but the maximum pressure campaign, at least if you look at the last six months has made Iran...more aggressive, not less aggressive."
O'Brien insisted, despite the points laid out by Wallace, that he believes the "maximum pressure" campaign is working. "The Iranian economy has contracted by at least 10 percent," he noted.
Later in the segment, Wallace expressed skepticism that Iranian leaders were growing more willing to negotiate with the Trump administration, referring to a previous interview he'd done with Iranian President Hassan Rouhani. "The president and the French President [Emmanuel] Macron were trying to get him [Rouhani], even to get him on the phone to talk and he refused to do so," the journalist explained.
"So, I will tell you, he said at that time to me, there is no chance we're going to negotiate unless and until the U.S. lifts sanctions," Wallace said.
But O'Brien insisted that the "pressure on their economy" will inevitably bring Iran to the negotiation table. He noted that student protesters in the country had chanted "death to the dictator" in the streets, criticizing the Iranian Supreme Leader Ayatollah Ali Khamenei. The national security official argued that these demonstrations from the people would force the Iranian regime to dialogue with the U.S.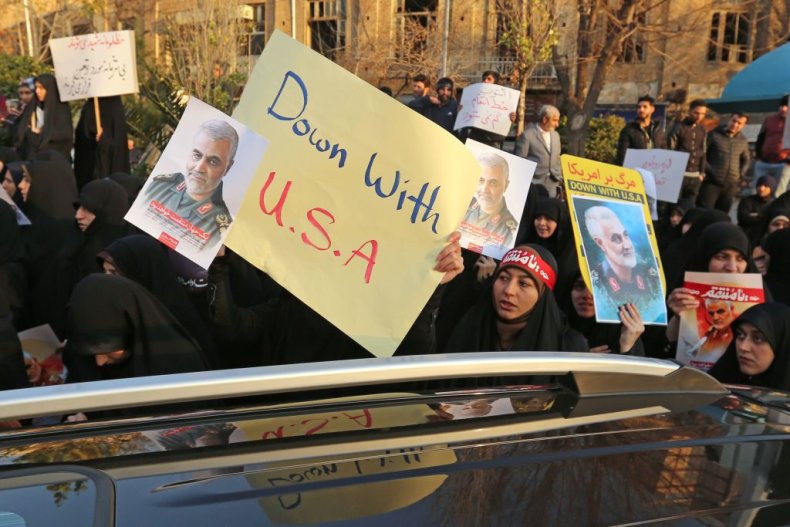 Trump's actions towards Iran have drawn significant criticism, particularly in the wake of the killing of Iranian military leader Qassem Soleimani by a U.S. drone strike on January 3. Democrats and some Republicans have strongly condemned the president's decision, arguing that it was illegal under international law and could lead to a war with the Persian Gulf nation.
Senator Rand Paul, a Republican from Kentucky, repeatedly criticized Trump's decision last week. In an interview with Fox News, he noted that the situation had been better between Tehran and Washington under the JCPOA.
"The Iran agreement wasn't perfect, and I was a critic of the Iran agreement," Paul said. "However, I think it was a big mistake to pull out of the Iran agreement. We should have tried to build upon the Iran agreement."
He continued: "I hate this. I hate that this is where we are going...There was much less killing, much less violence after the Iran agreement."
Robert Malley, who advised President Barack Obama on Middle East policy, made a similar argument during an interview with CNN.
"A series of decisions from walking away from the [Iran] nuclear deal, to imposing maximum sanctions and now killing Qassem Soleimani, all of those have made the lives of Americans, certainly in the region, more at risk than they were before," Malley said
The majority of Americans appear to agree with Paul's and Malley's assessment. A poll released by ABC News and Ipsos on Sunday showed that 56 percent of respondents disapproved of Trump's actions toward Iran, while 52 percent said Trump's decision to kill Soleimani had made the U.S. less safe.