Fox News Anchor Says Trump 'Throwing' Mnuchin 'Under the Bus' With Stimulus Criticism
Fox News chief political anchor Bret Baier said President Donald Trump was "throwing" Treasury Secretary Steven Mnuchin "under the bus" with his criticism of the bipartisan COVID-19 stimulus package passed by Congress this week.
Trump attacked the legislation in a video message uploaded to social media on Tuesday evening, calling out funding for foreign countries and asking Congress to raise the $600 stimulus checks for most Americans to $2,000. Mnuchin has functioned as the Trump administration's point person on stimulus negotiations for months.
On Monday, the Treasury secretary touted the legislation in an interview with CNBC, saying that Americans were "going to see this money at the beginning of next week."
"President Trump is throwing his treasury secretary, Steven Mnuchin, under the bus," Bret Baier said Wednesday during a segment of Fox News show America's Newsroom. "Mnuchin has been in the conversation for months with [congressional] leadership about how this was going to go and what compromise they could agree to, and finally getting to this compromise that was passed through both chambers and now the president's saying, 'It's not good enough for me.'"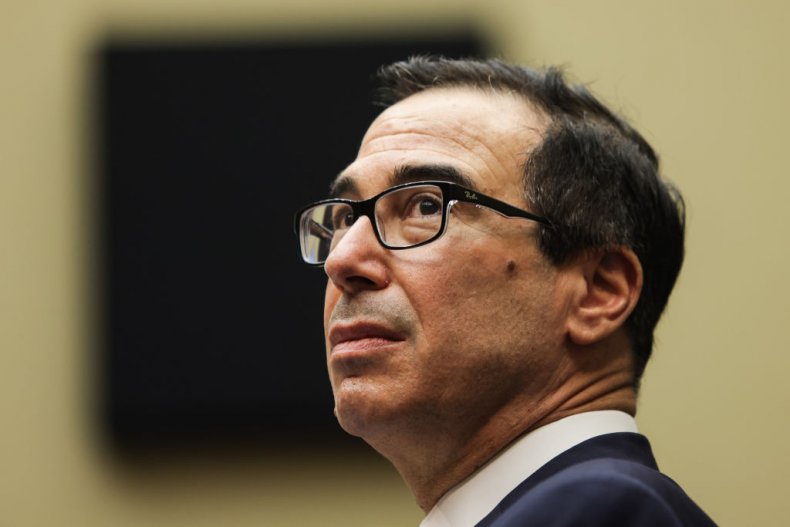 Baier pointed out that Trump is misrepresenting the foreign aid included in the package as well. While the COVID-19 economic stimulus package is a key portion of the legislation, it was included with an omnibus funding bill that will keep the government running in the coming year.
"They were put together for speed," Baier explained. "But the reason that a lot of the foreign aid is in there, is because his State Department requested that in a budget request."
Newsweek reached out to the Treasury Department and the White House for comment on the bill, but they did not immediately respond.
The future of the relief bill and the overall omnibus funding legislation are now uncertain. Democrats have come out largely in favor of the president's demands to increase the $600 direct payments to $2,000. But a number of prominent Republican lawmakers were already staunchly against sending stimulus checks at all.
"It's a really foolish, eggheaded, left-wing, socialist idea to pass out free money to people," Senator Rand Paul, a Kentucky Republican, told Fox News morning show Fox & Friends on Wednesday. "So I part ways with the president on giving people free money."
Speaker of the House Nancy Pelosi tweeted on Tuesday evening, saying that Democrats were ready to pass a package including $2,000 stimulus checks through a unanimous consent vote. But on Wednesday morning she urged the president to sign the current legislation and then pressure Republican leaders to provide more aid to Americans.
"Mr. President, sign the bill to keep government open! Urge [Senate Majority Leader Mitch] McConnell and [House Minority Leader Kevin] McCarthy to agree with the Democratic unanimous consent request for $2,000 direct payments! This can be done by noon on Christmas Eve!" the top Democrat tweeted.