Fox News Anchor Called Women 'Sluts' and 'Whores,' New Lawsuit Claims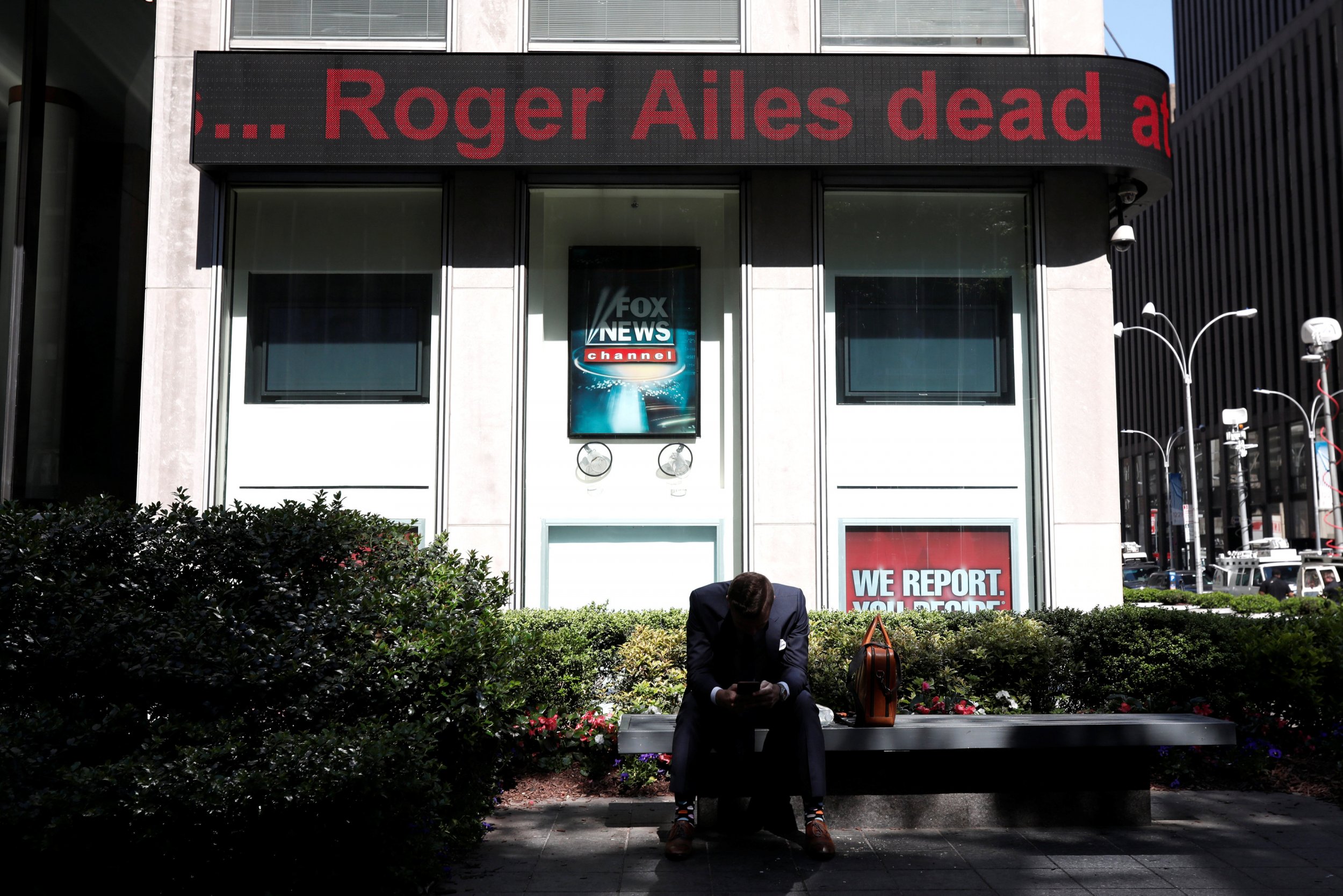 Updated | Fox News is being sued by three more current and former employees—pushing the total to 23—alleging racial and gender discrimination, as well as pregnancy-related termination from the network.
In a new complaint, Kathleen Lee alleges she was subjected to "sexist and sexually harassing conduct" and "unrelenting seuxal harassment" by radio anchor Ron Flatter after his hiring in 2012. According to the complaint, Flatter referred to women employees as "sluts" and "whores" and to Hillary Clinton and Hillary "Clit-on." Flatter was fired in 2015, according to the complaint, after he twice physically threatened Lee, a shift editor at Fox News Radio. Lee also alleges that Flatter discriminated against her disability, mocking her "special chair" and calling her an "invalid."
Two Fox News Radio executives, Mitch Davis and Bernie Pigott, allegedly told her to "deal with it," and Lee says she was also ignored by Dianne Brandi, general counsel for Fox News, who has been named in multiple lawsuits. Lee says she has faced continued retaliation for speaking out.
Related: Fox News' black employees claim the network is run 'plantation-style'
All three women are represented by Douglas Wigdor, a New York-based lawyer representing 23 current and former Fox employees in various suits against the company. Wigdor represents Lidia Curanaj, a Fox 5 reporter, one of a number of women who accused the late Roger Ailes, former CEO and chairman of Fox News, of sexual harassment. Ailes, who was 77, died last week. Wigdor says Ailes's death, and the fact that he did not provide a sworn testimony, makes it difficult for the network to refute claims against him.
In another new complaint, Naima Farrow says that she was terminated less than 72 hours after telling supervisor she was pregnant, and that she was "subjected to a racially hostile work environment" at the hands of a former Fox News controller, Judith Slater. Slater, who was fired by Fox, is named in several complaints against the company. Farrow, who worked as an accounts payable coordinator from July 2014 to November 2015, alleges Slater referred to the area of the building where she and other minority employees worked as the "ethnic floor."
The third new complaint comes from a Guyanese woman who worked as an accounts receivable specialist in 2009. Vidya Mann, who was initially hired as a temporary employee before transitioning into a more stable role, says she did not receive health insurance or other benefits, despite doing the same work as permanent employees. When she became pregnant, Mann says she urged her supervisors to try to get Slater to make her a permanent employee. Slater had recently hired a young, white woman as an intern before promoting her to a full-time position with benefits, the complaint says. "Ms. Mann worked until the last possible day she could physically withstand full time work before giving birth," the complaint says. Then she was fired.
Wigdor also sent a letter to Ofcom, the British media regulator, with updates and summaries of the complaints. Ofcom is currently investigating 21st Century Fox's potential takeover of Sky TV. Wigdor met with representatives from Ofcom earlier this month to discuss the lawsuits against the company.
In addition to the three new complaints, Wigdor is representing an unidentified Fox employee who was allegedly on the receiving end of racist comments made by Fox host Bob Beckel.
Beckel, a former co-host on the Fox News show The Five, was fired by the network last week after he allegedly told the unidentified man he was leaving his office because the man, who had arrived to work on his computer, is black. According to the complaint, Beckel "repeatedly pressured" the man to withdraw the complaint against him.
"We have consistently demonstrated that the Company is committed to a diverse workplace that is free from all forms of discrimination, takes any complaint of discrimination seriously, and in these particular matters took prompt, effective and, where necessary, strong remedial action," a Fox News spokesperson said in a statement sent to Newsweek.
"We believe these latest claims are without legal basis and look forward to proving that the Company at all times has acted appropriately, and lawfully, in connection with these matters."
Catherine M. Foti, attorney for Slater, said in a statement: "I have not yet had an opportunity to review the new complaints. But all claims of racial discrimination against Ms. Slater are completely false."
This article to be updated to include a statement from Catherine Foti.