Fox News and Donald Trump: Watch All the Advice the Network Gave the President in 2018
President Donald Trump's favorite news network, Fox News, has given him a great deal of advice on-air this year.
Fox News host Laura Ingraham advised Trump on a variety of matters, as shown in a compilation made by the nonprofit Media Matters for America on Wednesday. Ingraham told Trump that every time he comments on the latest tape featuring his former lawyer Michael Cohen or "lowlifes" like lawyer Michael Avenatti, "you end up giving oxygen to the stories advanced by your political opponents."
Ingraham also told Trump, "your inclination is right, this wall must be built," referring to the border wall.
On other occasions, she offered the president more general counsel. "We're already on the right track, Mr. President. All you have to do now is not let the wrong track get you sidetracked," Ingraham said. In another clip, she said, "Mr. President, your agenda is working, so sell it everywhere."
Ingraham also told Trump not to fret over the House investigations around him and bashed leading Democrats.
"Mr. President, we all know that [Jerrold] Nadler, Maxine [Waters], [Adam] Schiff, etc., will all take it a step too far in their fervor for payback and the voters won't like that at all," she said.
Several Fox News hosts and commentators advised Trump not to have a sit-down interview with special counsel Robert Mueller, who is investigating Russian interference and possible collusion with the Trump campaign during the 2016 presidential election.
"Mr. President, do not speak with special counsel Robert Mueller," Jesse Watters said.
Steve Doocy, a co-host of Trump's favorite show Fox & Friends, said, "Mr. President, whatever you do, don't meet with him face to face."
Similarly, former Superior Court Judge Andrew Napolitano, an analyst on Fox News, told Trump to "stay away" because "that interview environment is extremely dangerous."
"Mr. President, don't sit down and to talk to him, you can only help him and hurt yourself," Napolitano said in another clip.
Bassam Rifai of the Syrian American Council advised Trump on the situation in Syria.
"President Trump, I'm speaking to you directly, do not take the same mistakes that President (Barack) Obama made. What we need to do now is to take out the Assad's air force."
While the network's hosts and pundits have made a habit of addressing the president directly, Trump does not take all the advice he sees on Fox News, The Washington Post's national correspondent Philip Bump noted.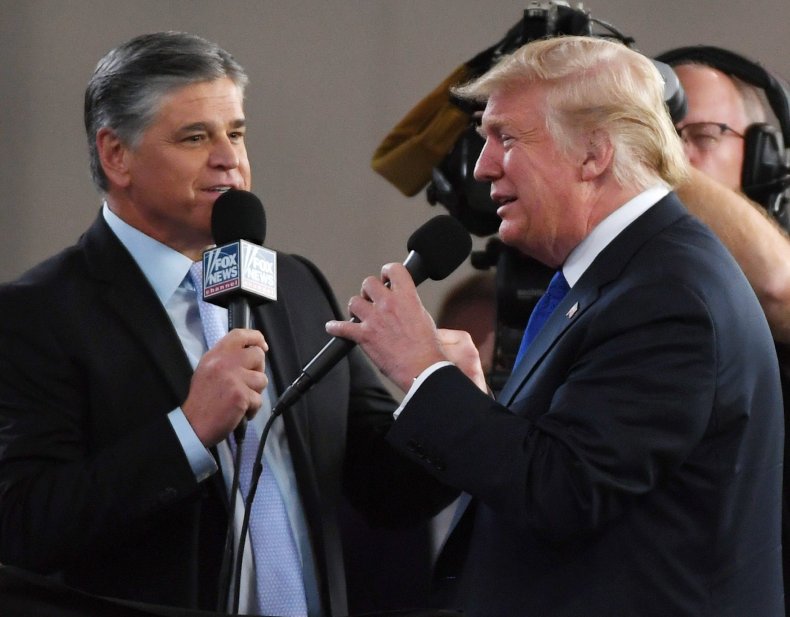 The president reportedly spends hours watching television each day, particularly when developments emerge around the various investigations surrounding him. During his time in the Oval Office, he has adopted the frequent habit of live-tweeting to Fox News programming, particularly Fox & Friends.
Trump also has close relationships with several Fox News personalities. Fox News host Sean Hannity has Trump's direct phone line and the two talk several times a day, New York magazine reported in May. Trump also invited Hannity and fellow Fox News host Jeanine Pirro to join him on stage at a campaign rally he held in Missouri in November.