Fox News and GOP in Bed Again As Jason Chaffetz Considers Move to TV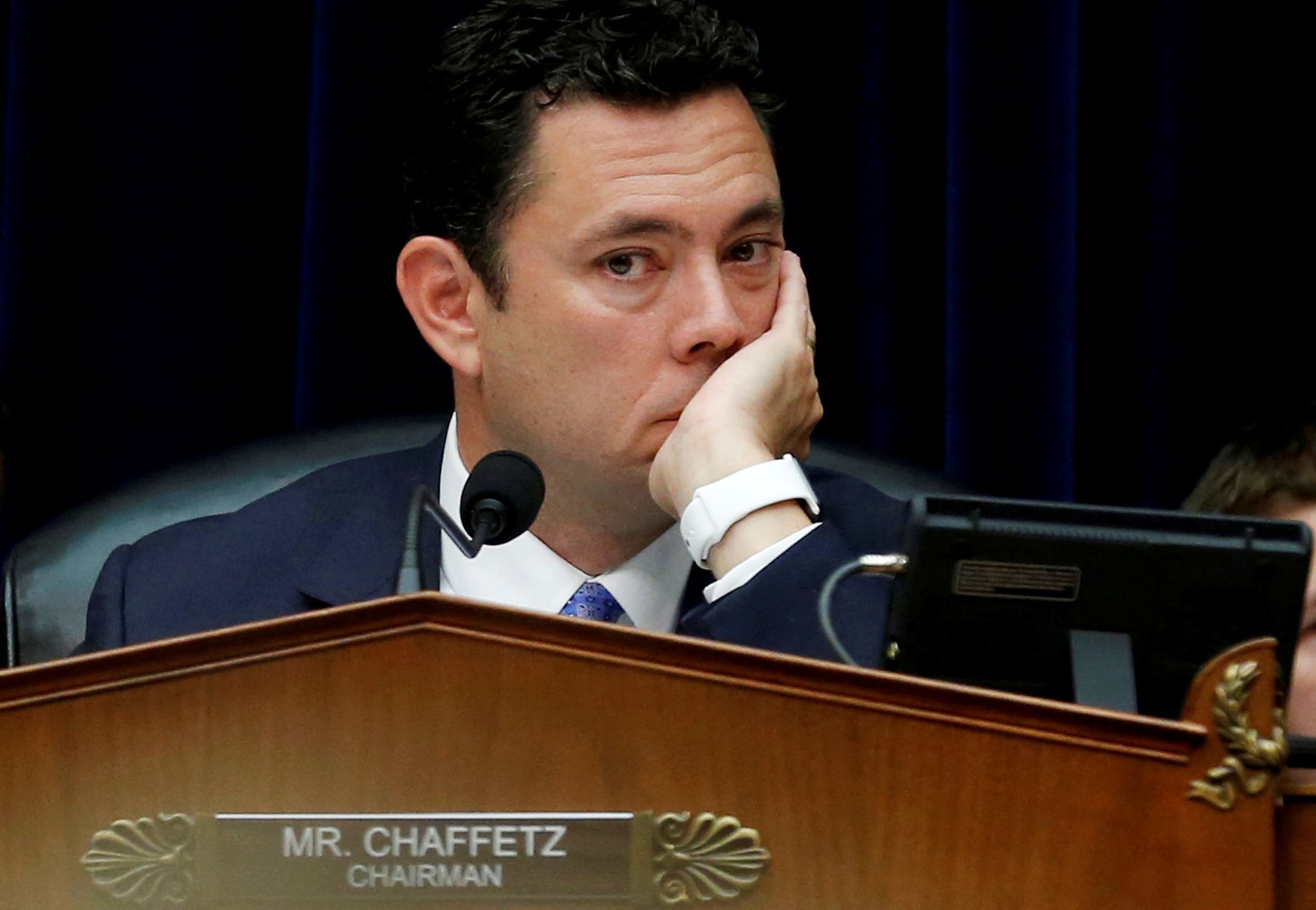 The revolving door between Fox News and the Republican Party will take one more spin if and when outgoing U.S. Representative Jason Chaffetz of Utah joins its depleted roster of right-wing commentators, weakened by a seemingly unending slew of sexual misconduct allegations.
The ambitious, relatively young Republican announced in April that he would not seek re-election in 2018, despite having served as chairman of the House Oversight and Government Reform Committee. His next move appeared unclear until this weekend, when The Washingtonian reported: "Chaffetz has been telling people he'll take on what one source calls a 'substantial role' in on-air talent at Fox News Channel, possibly as early as July, amplifying whispers that Chaffetz will not finish out his current term."
Fox News is in need of fresh talent. Ever since the dismissal last year of its founder, former CEO Roger Ailes, the mouthpiece of the Republican Party has been floundering, despite having helped elect Donald Trump as president of the United States. Bill O'Reilly has been deposed by the lurid allegations against him, while star-in-training Megyn Kelly left for NBC. O'Reilly acolyte Jesse B. Watters could also be on the outs after a crude sexual joke about Ivanka Trump last month. Sean Hannity has reportedly contemplated leaving.
Chaffetz would hardly be the first Republican to trade Capitol Hill for Midtown Manhattan. Former Alaska Governor Sarah Palin and former Arkansas Governor Mike Huckabee were two of the more prominent Republicans to be featured on the channel. But the politician whom Chaffetz might most closely be following is Ohio governor and former Republican presidential candidate John Kasich, a relative unknown on the national stage until a few years ago.
As Media Matters, a left-leaning advocacy group, pointed out in a 2015 article, "Fox built up Kasich during his years as an employee and politician, and Kasich has pointed to his time at Fox to enhance his resumé." Kasich was first elected governor in 2010 after hosting Heartland with John Kasich on Fox News from 2001 to 2007.
Chaffetz, who is only 50 years old, is certainly not retiring. But he does understand that the unpredictable and unpopular Trump presidency could imperil the careers of Republicans like himself, who have spent the last four months either defending Trump's unpopular decisions or ducking questions about them.
Expecting a Hillary Clinton win in November, Chaffetz was prepared to continue Republican investigations of her activities as secretary of state. Those investigations began with questions about her response to the 2012 attack on an American embassy in Benghazi, Libya, which left four Americans dead. The investigation also dealt with her use of a private email server, set up in her house in suburban New York. It was unclear where such an investigation would have headed next.
The Trump presidency presented Chaffetz with the unwelcome task of almost certainly investigating the head of his own party, which was unlikely to yield political gains with a Republican base that remains loyal to Trump, at least for now. But a headlining position with Fox News would afford him national prominence while removing the kinds of consequences that come with holding a congressional seat and having to answer constituents, reporters and, most likely, protesters.
Chaffetz is doubtlessly animated by ambition. Joining Fox News could be part of a savvy political strategy that positions him for a gubernatorial run in Utah in 2020. Of course, there will also be a presidential election that year.