Fox News Calls for 'Respectful, Inclusive National Conversation' After Antifa Tucker Carlson Protests
Fox News has called Antifa protesters gathering and chanting outside the home of Fox News host Tucker Carlson, vandalizing his driveway, "reprehensible" and called for a "more civil, respectful, and inclusive national conversation."
Video of the protest, during which Carlson said his wife was at home and called the police in fear while hiding in the pantry, was posted to Twitter and Facebook by "Smash Racism D.C.," which describes itself as an anti-racist, or Antifa, group.
"The incident that took place at Tucker's home last night was reprehensible," Fox News CEO Suzanne Scott and President Jay Wallace said in a joint statement following the incident. "The violent threats and intimidation tactics toward him and his family are completely unacceptable. We as a nation have become far too intolerant of different points of view.
"Recent events across our country clearly highlight the need for a more civil, respectful, and inclusive national conversation. Those of us in the media and in politics bear a special obligation to all Americans, to find common ground."
Carlson, who has been a loyal supporter of President Donald Trump, has faced frequent criticism for parroting white nationalist talking points and has often been cheered by prominent white nationalists and white supremacist websites.
"Tucker Carlson, we are outside your home to protest. ... Your policies promote hate, and we want you to know we know where you sleep at night," someone int he group yelled into a bullhorn during the protest.
"We know where you sleep at night," the group, which according to police numbered around 20, chanted.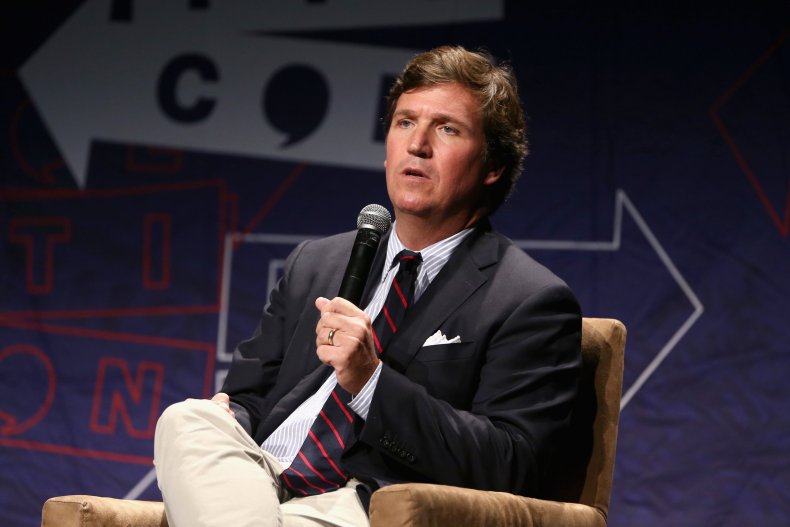 Carlson said afterward that he did not consider the incident a protest but, rather, a "threat."
"They weren't protesting anything specific that I had said. They weren't asking me to change anything. They weren't protesting a policy or advocating for legislation. ... They were threatening me and my family and telling me to leave my own neighborhood in the city that I grew up in," he told The Washington Post.
Smash Racism D.C. accused Carlson on Twitter of spreading "fear into our home" every night. Carlson hosts the nightly Fox News show Tucker Carlson Tonight.
"Tonight you're reminded that we have a voice," a tweet read. "Tonight, we remind you that you are not safe either."
The group's Twitter page was later suspended.
Carlson has attracted particular scrutiny for disparaging remarks about a caravan of Central America migrants making its way through Mexico, referring to it an "invasion" when it was still more than a thousand miles away from the United States border.