Conservatives and the Trump administration have railed against Fox News after the network called Arizona for Joe Biden.
While speaking on election night, Fox News Decision Desk Director Arnon Mishkin was asked about his call in Arizona and if he was 100 percent sure of his call, to which he responded by saying, "absolutely."
Fox was the first news organization to declare a winner in Arizona and make it the first red-to-blue flip on the electoral map. AP has since also called Arizona for Biden.
"It's been clear for a while that the former vice president is in the lead in Arizona and was most likely to win the state," Mishkin said. "I think we've heard from the White House is that they are expecting to get that they need just to get 61 percent of the outstanding vote and their 870,000 outstanding votes and they'll be getting that. That's not true.
"The reality is that they're likely to get only about 44 percent of the outstanding votes there. We're right now sitting on a race that is Biden at 53 percent, Trump at 46 percent."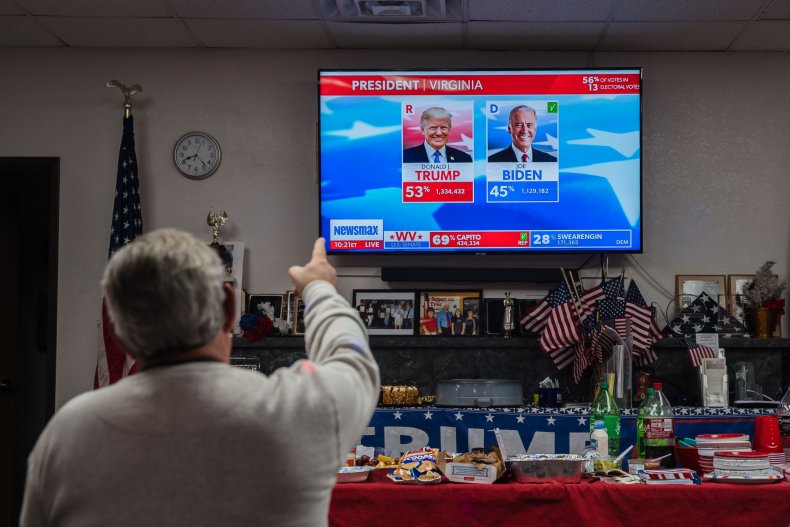 Mishkin continued: "I'm sorry, the president is not going to be able to take over and win enough votes to eliminate that seven-point lead that the former vice president has."
Trump campaign senior adviser Jason Miller shot back on Twitter, calling Fox a "complete outlier" in its decision.
"FoxNews is a complete outlier in calling Arizona, and other media outlets should not follow suit," Miller tweeted. "There are still 1M+ Election Day votes out there waiting to be counted - we pushed our people to vote on Election Day, but now Fox News is trying to invalidate their votes!"
He added: "We only need 61 percent of the outstanding, uncounted Election Day votes in Arizona to win. These votes are coming from 'our counties,' and the 61 percent figure is very doable based on what our other Election Day votes are looking like. Fox News should retract their call immediately."
Fox's tally had Biden at 53 percent and Trump at 46 percent.
Republican National Committee spokesperson Liz Harrington also reacted angrily to Fox's call on Arizona.
"Call GA, NC, and TX, you HACKS!" she tweeted bluntly. "Retract AZ!"
In 2016, Trump won Arizona by a margin of 3.5 percent.
Country singer and fervent Trump supporter Travis Tritt said he would switch over channels to Newsmax due to his disappointment with Fox's reporting.
"No matter what the final results are tonight, one thing is extremely clear," he wrote. "@FoxNews can no longer claim to be the fair and balanced network they once were. There are a lot of biased hacks there now and a ton of folks are noticing. It's now @newsmax for me for election results."
Actress Alana Stewart agreed, adding: "I just changed the channel from @FoxNews to @newsmax. #FoxNews #ElectionNight."
Co-founder of conservative publication The Federalist, Sean Davies was equally disgusted by Fox's call on Arizona.
"Since Fox News made its utterly indefensible early call for Biden in Arizona (before upwards of a million Election Day votes were counted), Trump has cut Biden's lead by nearly a third," he tweeted. "And we're still only at 77% reporting (Fox called it at 73%)."
Trump aide Andrew Giuliani told Newsmax: "We have Newsmax on every single TV at the White House."