Fox News Audience Worries Instagram Hiding 'Likes' is Ploy to 'Silence Conservative Voices'
Fox News took on the social ramifications of Instagram hiding 'likes' in several countries, with a pair of live audience members fearing the move is "too politically correct" and "another way" to censor conservatives.
The hosts and guests of Fox & Friends weighed in Thursday morning on the news that Instagram was testing the concept of hiding post "likes" from public view on the picture-sharing app, with users in at least seven countries including Canada only having the ability to see their own likes.
Instagram has issued a statement saying the aim of this test was to "remove pressure" on users, particularly in an age of cyberbullying and studies tying social media anxieties to low self-esteem and feelings of inadequacy in young people.
Fox & Friends co-host Steve Doocy interviewed several live studio audience members Thursday morning and found both support and opposition to the potential format change by the Facebook-owned app.
Doocy first called on audience member, "Olivia in the pink dress," who expressed concern that this test could lead to a slippery slope: If users allow Instagram to take away "likes" today, what will they take away next?
"Um, I think that is absolutely ridiculous," she told Doocy. "When they start doing this I think it becomes too politically correct. And if they start getting rid of these 'likes', and people able to see these 'likes', soon they're going to take away comments. Soon they might just start getting, like monitoring, what you're going to be posting."
Doocy later called on "Johnny" in the studio audience, who latched onto repeated claims made by President Donald Trump, his son and dozens of other Republican leaders who claim Silicon Valley and big tech companies have been "biased" against conservatives.
"I think this is another way of social media trying to silence the conservative voices out there. It's become more and more evident that conservatives that have opinions, that are positive about the country, are all of a sudden — you can't see their pictures, they're not getting likes, etc.," the audience member said in a solemn tone.
"Well this is one of those things where they're just trying to take the pressure out so that you don't feel bad that great picture that you posted didn't wind up with 700 likes!" Doocy exclaimed.
Instagram initially rolled out the "like" reformatting in Canada, and on Wednesday expanded the change to users in Ireland, Italy, Japan, Brazil, Australia and New Zealand. A notification to users warning them of the update reads, "Only you can see the total number of likes on your post."
In addition to the two fearful Fox & Friends audience members, a third, "Rose," said she supports Instagram hiding "likes" as a means of improving mental health and confidence issues among young people. The audience member said it would not be a bad thing for all members of society to "dial it back a bit" in terms of phone and social media usage.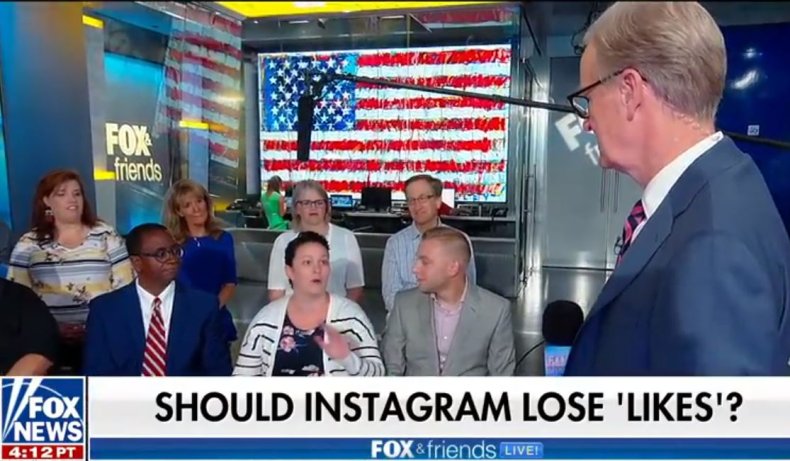 "I actually think it's a good idea, I think our society has become kind of addicted to that, it's instant gratification," she told Doocy Thursday. "It's 'oh my approval rating is higher because my picture got so many likes.' With school bullying and cyber bullying having become such a problem, I think this will be a way to kind of cut back on that and especially the up and coming generation can be proud of who they are and what they've accomplished and not worry about whether 'Aunt Mary' weighed in or not, so I like it."
Under the formatting change, one user name and the word "others" appears where formerly the names of every account which liked a post would be available for viewing under any post.
Never a network to miss a timely political angle, Fox News host Jillian Mele bragged that a picture of her holding up the Betsy Ross flag was her most liked picture in the wake of a controversial decision by Nike to pull a limited run of its sneakers with a similar design after learning that some white supremacist groups had adopted this flag as a symbol.
"You know what, though? It tells you a lot about how people are feeling about our country and about patriotism right now so for that, I like to see the 'likes.'"
Facebook Australia and New Zealand director of policy, Mia Garklick, issued a statement to The Guardian Wednesday: "We hope this test will remove the pressure of how many likes a post will receive, so you can focus on sharing the things you love. We are now rolling the test out to Australia so we can learn more about how this can benefit people's experiences on Instagram, and whether this change can help people focus less on likes and more on telling their story."