Fox News Hosts Join Donald Trump in Criticizing Network's Own Bernie Sanders Town Hall: 'Audience Was So Nice'
President Donald Trump joined Fox & Friends hosts Tuesday in taking shots at what they described as the cable news network's flattering Bernie Sanders town hall, suggesting the cheering audience was too supportive of the presidential candidate.
Fox & Friends co-host Brian Kilmeade lamented that there were "a lot of supporters" of Sanders in the audience Monday night during the Fox News event. The event's co-moderator, Fox News political anchor Bret Baier, had been keen to point out that the audience was evenly split with "a lot of Democrats. It has Republicans, independents, democratic socialists, conservatives."
Trump weighed in Tuesday on Twitter, criticizing his favorite news network by complaining that the "audience" and Baier were "so smiley and nice" as Sanders laid out his agenda and ridiculed Trump's job as president.
Most notably, Baier and co-moderator Martha MacCallum inadvertently created a glowing moment for Sanders after a question about Medicare for All backfired on the two Fox News anchors.
"Bernie Sanders for a complete hour with Martha MacCallum and Bret Baier, but most importantly a lot of supporters in the audience. But it was a true town hall," Kilmeade said Tuesday morning.
Although the Fox & Friends hosts applauded Sanders' controversial decision to appear on the network, they spent most of the program blasting Sanders as a "millionaire, 1 percenter, socialist," as Fox Business host Stuart Varney remarked. But even ardent critics of Sanders noted that the Vermont senator came off as gracious and informative and clearly held the support of the audience, which loudly cheered Sanders's Medicare for All plan as well as his demand to see Trump's tax returns.
"If you were watching Fox News last night, you saw something you probably were not expecting, although we were promoting it quite effectively," Kilmeade said.
Among those who were not expecting Sanders' favorable appearance was Trump, whose relationship with Fox News is widely derided for being too cozy. Taking to Twitter, he appeared to question the loyalty of his favorite cable news network and suggested the town hall audience was stacked with Sanders supporters. The president also seemingly embraced his close ties with the network, referring to himself and Fox News Channel as "we."
He also took a swipe at the network for hiring former Democratic National Committee Chairwoman Donna Brazile as a contributor last month.
"So weird to watch Crazy Bernie on @FoxNews. Not surprisingly, @BretBaier and the "audience" was so smiley and nice. Very strange, and now we have @donnabrazile?" Trump tweeted Tuesday.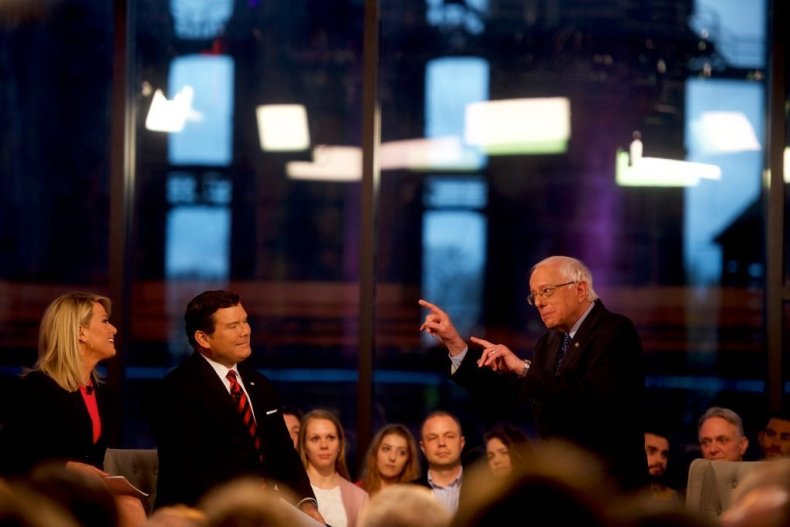 In the past, Trump has rarely criticized Fox News, which employs some of his most ardent supporters and defenders, including Sean Hannity and Laura Ingraham. Even rarer is the president's criticism of a specific Fox News anchor, such as Baier. But Trump's power over the network became clear last month after he went after three separate Fox News figures—Arthel Neville, Leland Vittert and Shepard Smith—for offering even the slightest objective criticism of the president.
"Were @FoxNews weekend anchors, @ArthelNeville and @LelandVittert, trained by CNN prior to their ratings collapse? In any event, that's where they should be working, along with their lowest rated anchor, Shepard Smith!" Trump tweeted last month.
In March, the president's eldest son, Donald Trump Jr., even retweeted a story about sexual harassment accusations against Smith.
During the town hall, Sanders released his tax returns and drew widespread condemnation on Tuesday from several Fox News shows, which mocked his "hypocrisy" for criticizing millionaires while counting himself among them because of his book sales. But Sanders spent much of the one-hour town hall touting his Medicare for All and economic platform.
According to Nielsen Media Research, the Sanders town hall marked the most-watched event of its kind this season. The Monday evening program pulled in 2.6 million viewers and 489,000 people from the highly coveted 25-to-54 demographic. The time slot saw a 24 percent boost in total viewers, compared with the 2019 average.