Watch: Fox News Contributor Says Beto O'Rourke 'Couldn't Take My Girl' So He Can't 'Take My Guns'
A Fox News contributor on Friday mocked 2020 presidential candidate Beto O'Rourke's Democratic debate call to confiscate assault-style weapons by implying the former Texas congressman is a beta boy.
Fox & Friends played a clip of O'Rourke saying, to cheers, "Hell, yes, we're going to take your AR-15, your AK-47."
Fox News contributor Johnny "Joey" Jones commented, "Uh, no, you won't, Beto. No you won't," followed by the insult.
"You can't, you couldn't take my girl and you haven't earned my respect," Jones said. "How are you going to take my guns? That's my response there."
Jones continued, uninterrupted by Fox News co-host Brian Kilmeade. Jones said that the epidemic in the United States is "that young people aren't respecting life and death" and are committing suicide.
"There is a gun violence problem but there isn't a piece of legislation Washington, D.C., could pass that would take the guns used in places like Chicago because they're already owned and used illegally," Jones said.
Jones called it a "red herring" and "an emotional talking point Democrats are using" that was working, to an extent, because people living in urbanized, coastal regions of the United States "don't know much about guns."
During the debate, O'Rourke used colorful language to illustrate the dangers of assault-style weapons and why he plans to ban them if elected president.
O'Rourke said he would prohibit a gun "if it's a weapon of design to kill people on a battlefield, if the high impact, high velocity round when it hits your body shreds everything inside of your body because it was designed to so that so you would bleed to death on a battlefield and not be able to get up and kill one of our soldiers."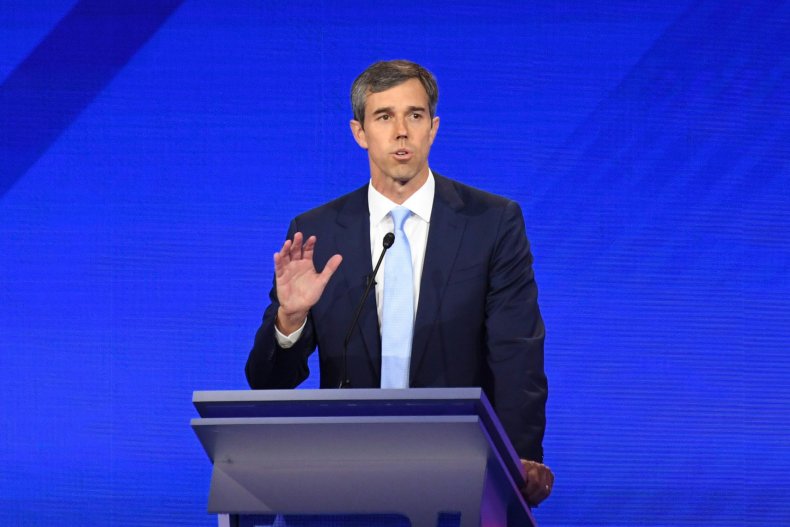 Jones argued that people must pass background checks to purchase guns and Kilmeade took his side and President Donald Trump's by saying that the "president is considering things like the FBI being notified if you fail a background check."
On Friday, O'Rourke continued to push for gun control by criticizing Republican Texas Governor Greg Abbott's mass shooting response, a proposal that calls for voluntary private sale background checks.
"Texas faced two mass shootings in a month—and the furthest Governor Abbott will go is 'voluntary' background checks," O'Rourke tweeted. "We need background checks on every sale—no loopholes, no exceptions. We need to buy back every assault weapon. And it's on all of us to get it done."