Fox & Friends joined several Republicans in blaming Hollywood celebrities and elite women of the media, dubbed "The Matriarchy," for stirring outrage against anti-abortion laws and inciting anti-Trump "hate."
The Tuesday Fox News morning crew went after several Hollywood celebrities including Alyssa Milano, Robert De Niro, Joy Behar, and Trevor Noah for making "nasty comments about our president" and stoking outrage against anti-abortion laws in several GOP states. One Fox & Friends guest said celebrities are joining forces with top female members of the news media she called "the matriarchy" to push young girls into supporting their right to an abortion.
Texas Republican Senator Ted Cruz echoed this sentiment on Twitter Monday, appearing shocked by a drawing actor Jim Carrey made ridiculing Alabama Governor Kay Ivey's recent signing of the nation's strictest anti-abortion law in the country.
"And you see the front covers of these magazines and the message to our little girls is pro-abortion, late-term abortion, Alyssa Milano," Fox & Friends co-host Ainsley Earhardt complained Tuesday in a segment entitled, "How Control of Pop Culture Affects Abortion Debate."
"Celebrities and the media [are] ramping up outrage over the so-called extreme restrictions being placed on abortion in several Republican states," Earhardt said. "But where are all the pro-life voices who agree with the latest moves?"
Author and The Federalist contributor Carrie Gress appeared on Fox & Friends to respond to Earhardt's pop culture complaints and warn that 'the matriarchy' and feminism are making women unhappy.
"It's certainly not limited to magazines if you look at all of our media it's generally controlled by this group of elite women I have termed 'the matriarchy,'" Gress said. "You usually hear them complaining about the patriarchy and they are kind of giving the same message we've heard for the last 50 years which is fundamentally that our children are really an impediment to our career goals and to our ultimate happiness."
"The sad reality is we're not seeing women get happier the more we see feminism implemented, all the metrics show that women are becoming less happy," Gress added on Fox & Friends. "We have so many incredible arguments from science, social sciences, logic and reason why we ought to be pro-life and yet those are not getting out there because of this 'matriarchy' and this control there is on a lot of the news and Hollywood and fashion and pop music and all these kinds of things in the West today."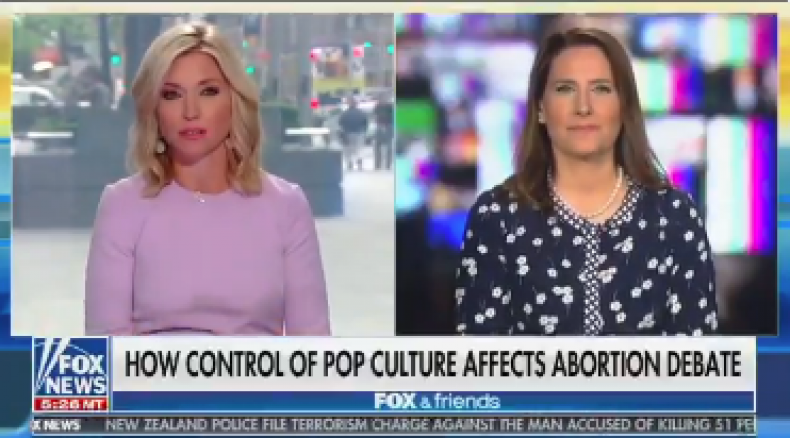 Host Brian Kilmeade went after male celebrities for stoking anti-Trump sentiment, complaining Tuesday about actor Robert De Niro's recent "nasty comments about our president" during the American Icon Awards. Kilmeade defended Trump and personally attacked De Niro as an alcoholic similar to his character in 1980's Raging Bull. He claimed people will only remember the legendary actor for a minor scuffle with a driver he had outside a courthouse earlier this year.
"Obviously he reads a script for a living, but what's with the language? If you have these feelings, can you actually make a statement, not that anybody wants those statements, without the language that we're bleeping every single time?" Kilmeade complained.
Author and columnist Mark Steyn chimed in to say De Niro "lives better than 99.99 percent of people in the entirety of human history have ever lived."
The Fox News segment then cut to a montage of celebrities ridiculing recent Republican laws against abortion. Alyssa Milano was shown in a May 14 interview with CNN's Chris Cuomo, Comedy Central's The Daily Show host Trevor Noah was shown saying "none of these men will ever be pregnant," and The View's Joy Behar appeared in a clip lashing out at the GOP's "War on Women."
Right-wing news outlets complained about actor Jeff Daniels appearing on MSNBC this week to say Republicans and the Trump campaign used racism to con middle American voters.
And on Twitter, Ted Cruz accused Jim Carrey of leading "dehumanizing" behavior from liberals.
"I think If you're going to terminate a pregnancy, it should be done sometime before the fetus becomes Governor of Alabama," Carrey tweeted Saturday, featuring a grotesque photo of Governor Ivey. This prompted Ted Cruz to write him and "today's Left" off as "vicious" and uncivil.
"This is not OK. Today's Left: vicious, angry & consumed by hate. Instead of insults & dehumanizing rage, we should return to civility. I disagree w/ Carrey's politics, but believe we should respect his humanity nonetheless. I wish he could reciprocate. #LoveIsStrongerThanHate," Cruz tweeted.
Several conservatives and anti-abortion activists replied to Twitter chief Jack Dorsey, claiming Carrey's drawing -- one of dozens he's posted in recent years -- is harassment and offensive.
"The extreme double standard of @jack & @Twitter on full, gross display here. @JimCarrey publicly wishes death on someone and posts a gory photo of them being killed. He explicitly promotes a very violence that kills almost 1M people a year in the United States. & zero response." responded Lila Rose, founder of Live Action, an anti-abortion group.
About the writer
Benjamin Fearnow is a reporter based out of Newsweek's New York City offices. He was previously at CBS and Mediaite after working as a news curator at Facebook. Fearnow has pieces published in The Atlantic as well as stories published about him in Wired and The New York Times. He attended the Columbia University School of Journalism after graduating from Indiana University-Bloomington. Email: b.fearnow @ newsweek [dot] com.