Fox News' Bret Baier Responds to Trump Attacking His Network's Polls and Pundits: 'Fox Has Not Changed'
Fox News host Bret Baier on Monday responded to President Donald Trump's criticisms of his network's polls and pundits, asserting that "Fox has not changed."
Trump lashed out at his favorite cable news channel on Sunday over the network's recent political polls and a few of their pundits. "Fox is a lot different than it used to be. I can tell you that," the president told reporters last night as he was preparing to leave New Jersey. "Fox has changed, and my worst polls have always been from Fox."
"There's something going on at Fox. I'll tell you right now. And I'm not happy with it," the president added.
Baier directly addressed the president's remarks during a segment on Fox News' Special Report on Monday evening. "Fox has not changed. We have a news side and an opinion side," the network's chief political anchor said. "Opinion folks express their opinions. We do polls."
The president's remarks came days after his disapproval rating jumped to 56 percent in a recent Fox News poll, published last Wednesday, which showed a five percent rise from last month's figures. Trump's disapproval rating has only been higher once on Fox, according to the network, in October 2017 when it hit 57 percent. A new Fox News polling graphic also showed several 2020 Democratic presidential candidates polling above Trump. The below chart from Statista shows the numbers that angered Trump so.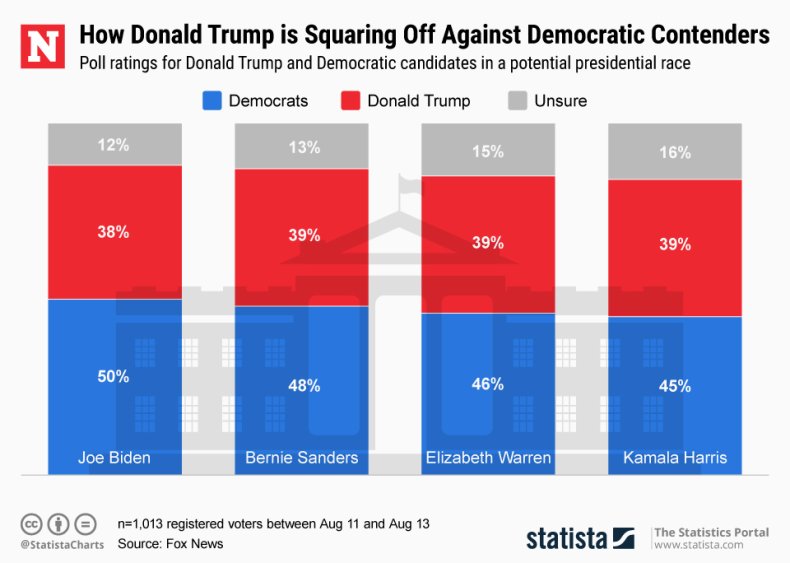 "Our latest poll had the Democratic candidates had to head, several of them ahead of President Trump," Baier explained, "and this poll tracks exactly what the Real Clear Politics average of polls—even a little the other way—and this poll matches what we are seeing out there."
The host then defended "news side" of the network as "fair, balanced and unafraid" and asked Trump to make an appearance on his show.
"Mr. President, we've invited you on Special Report many times," he said. "We'd love to have you back on. You've talked to George Stephanopoulos and Chuck Todd, come on back. Me, Chris Wallace, the news side cover it fair, balanced, and unafraid."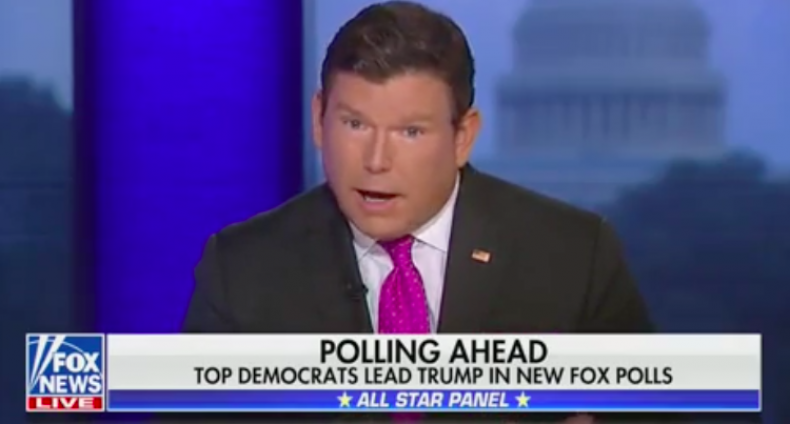 During his encounter with reporters on Sunday, Trump also criticized two specific Fox News personalities, analyst Juan Williams and former Democratic National Committee Chairwoman Donna Brazile. "They have the wonderful woman that gave Hillary Clinton the questions," the president said referring to Brazile. "That was a terrible thing. And all of a sudden, she's working for Fox. What's she doing working for Fox?"
"They have Juan Williams who never says a positive thing and yet when I show up at the Fox building, he's out there [saying], 'Oh sir, could I have a picture of you? Could I have a picture?' He was 100 percent nice," the president added.
Despite his criticisms of the network, Trump listed some Fox News opinion personalities that he still favors. "Sean Hannity and Lou Dobbs, Tucker Carlson and Laura [Ingraham]. Jesse Watters and Jeanine [Pirro]," the president said.
Following his remarks, Democratic pundit and strategist Joel Payne called Trump out for attacking only black Fox News personalities during an appearance on MSNBC. "We're three black men sitting here, and we watched this, and I heard that ad hominem attack on Juan Williams and Donna Brazile who I'm telling you..." Payne said.
"He couldn't even remember her name!" host Al Sharpton added.
Fox News' Bret Baier Responds to Trump Attacking His Network's Polls and Pundits: 'Fox Has Not Changed' | Politics