Fox & Friends demanded Congress approve additional funding and change asylum laws at the southern border as the co-hosts derided Alexandria Ocasio-Cortez's "explosive claims" about inhumane living conditions at a Texas migrant border facility.
The Tuesday morning Fox News crew joined Customs and Border Protection Deputy Commissioner Robert Perez in pushing back on Ocasio-Cortez's accusations of abuse and harassment after her Monday visit to a Clint, Texas, border facility with other Democratic members of Congress. While Perez said the agency is taking their investigation into Ocasio-Cortez's allegations "very seriously," co-hosts Brian Kilmeade and Ainsley Earhardt accused her and Democrats of putting politics before people.
"You can't win," Kilmeade told the CBP deputy commissioner as they both pleaded desperately for Congress to change border laws and approve more funding even after last week's House passage of a $4.6 billion emergency funding Senate bill.
"You mean the same AOC who voted twice down for humanitarian aid?" Kilmeade went on. "Who said Nancy Pelosi sold out? And got boxed in by the president because he got $4.5 billion worth of humanitarian aid? Which was about six months late. This same woman?"
On Monday, Ocasio-Cortez told reporters in Texas: "There's abuse in these facilities, this was them on their best behavior and they put them in a room with no running water and these women were being told by CBP officers to drink out of the toilet—they were drinking water out of the toilet. And that's them knowing a congressional visit was coming. This is CBP on their best behavior."
"In that last facility, I was not safe from the officers," added the New York Democratic congresswoman, who joined progressive House members in rejecting the emergency funding bill.
Speaking on Fox & Friends Tuesday, Perez responded to Ocasio-Cortez's accusations. "I've never heard in 26 years of being in this business have I ever heard that type of allegation being made...I've never heard anything like that before," he said.
"Why is that?" Kilmeade asked. "Why do you get this response?"
"Brian, I'm just stating the facts to you," Perez added. He noted migrants in the facilities "have ready access to fresh water and consumables."
"Well I'll say this, that person that says all that also denied you humanitarian aid to your facility. If she had her way, you would not be getting the $4.3 billion," Kilmeade continued.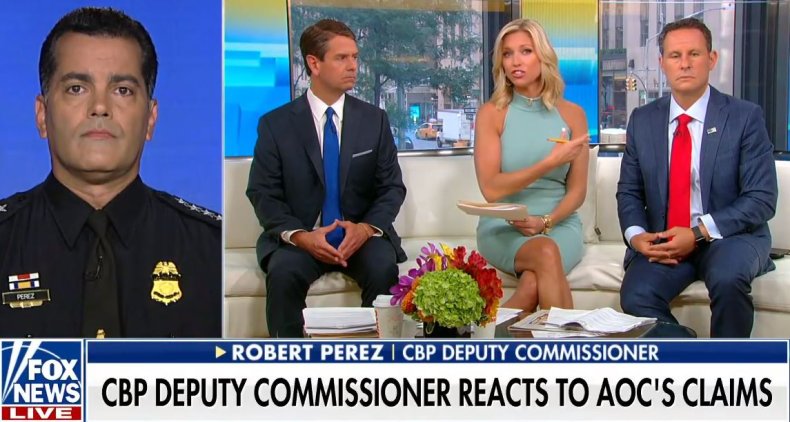 Earhardt chimed in, accusing Democrats of wanting to prolong the border crisis for political purposes. "What did you expect the reaction to be when you have 14 Democrats come through, who voted down to give you guys money," she said. "Who constantly got on television, on media outlets bashing you guys and saying they want to abolish ICE...what did you expect was going to happen?"
Speaking with CNN last week, Ocasio-Cortez remarked on her opposition to the $4.6 emergency funding bill, saying, "I do not believe we should be throwing more money to ICE."
Fox News correspondent Griff Jenkins posed the question: "If Alexandria Ocasio-Cortez and her other, uh, 535 members of Congress got together in a bipartisan manner, changed these asylum laws, would that alleviate this unprecedented crisis of family units showing up that have to be put in these centers?"
"Unquestionably so, Griff," Perez said. He noted the "overwhelming nature of this crisis" has led to border patrol housing 11,000 people when 4,000 was already a problem.
Throughout the Tuesday discussion, each of the Fox News hosts cast doubt on Ocasio-Cortez's accusations. "Well we'd like to tell both sides of that story," Jenkins noted at one point in the segment. Earhardt called Ocasio-Cortez's claims "really bothersome, especially as a female," and Kilmeade called it "pathetic" that President Donald Trump had to use tariffs
Perez reiterated throughout the interview that CBP is "as transparent as can be" and every week they invite congressional delegations to come visit "with pleasure." But he also said of Ocasio-Cortez's claims: "We've never heard anything unlike what came out of this last visit in any of the other visits that we've had."
"It's all politics. Put people before politics, please," Earhardt concluded.