Fox News host Chris Wallace said Thursday that Christine Blasey Ford's testimony before the Senate Judiciary Committee, in which she alleged that Supreme Court nominee Brett Kavanaugh sexually assaulted her at a high school party, was a "disaster for the Republicans."
Wallace said that Ford's testimony was "extremely emotional, extremely raw, and extremely credible," adding "this is a disaster for the Republicans."
Ford came before the committee saying that she was "terrified" before reading from her prepared remarks in which she said she feared Kavanaugh was going to rape her.
"Brett groped me and tried to take off my clothes," she said, with her voice breaking at times. "He had a hard time because he was so drunk, and because I was wearing a one-piece bathing suit under my clothes. I believed he was going to rape me. I tried to yell for help. When I did, Brett put his hand over my mouth to stop me from screaming. This was what terrified me the most, and has had the most lasting impact on my life."
Ford was then questioned by prosecutor Rachel Mitchell, who was chosen to ask questions on behalf of the 11 Republicans on the Senate Judiciary Committee, as well as 10 Democrats. After the questioning of Ford is concluded, Kavanaugh will come before the same committee.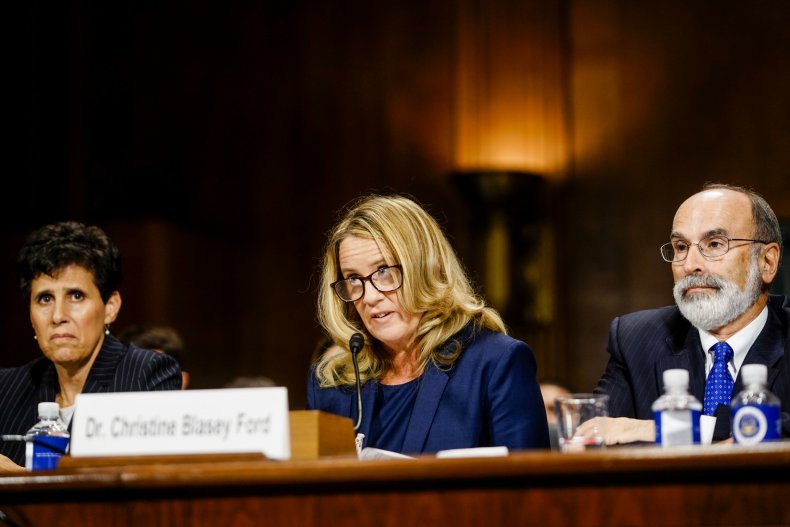 Reacting to Ford's testimony in real time, Wallace said his own daughters had raised their own experiences while their family was discussing the accusations against Kavanaugh.
"[They] hadn't told their parents, I don't know if they told their friends," Wallace said. "Certainly had never reported it to police.
"But the point is that there are teenage girls who don't tell stories to a lot of people, and then it comes up, and I don't think we can disregard that," Wallace continued. "I don't think we can disregard Christine Blasey Ford and the seriousness of this. I think that would be a big mistake."
Some of Wallace's colleagues on Fox News have sought to discredit Ford by questioning why she took more than three decades to come forward with her allegations against the Supreme Court nominee. President Donald Trump has made similar insinuations.
"I have no doubt that, if the attack on Dr. Ford was as bad as she says, charges would have been immediately filed with local Law Enforcement Authorities by either her or her loving parents. I ask that she bring those filings forward so that we can learn date, time, and place!" Trump tweeted last week.