Fox News' Chris Wallace Confronts Rep. Jim Banks on GOP Vote Against More Police Funding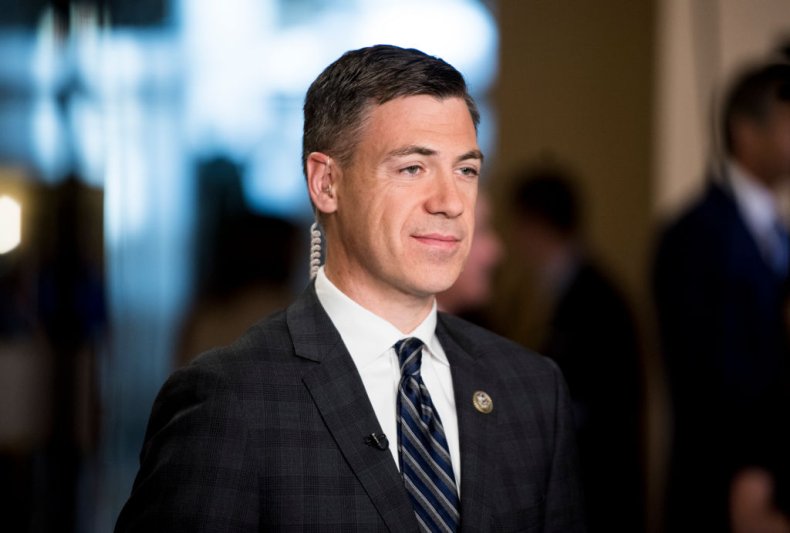 Fox News Sunday anchor Chris Wallace confronted GOP Indiana Congressman Jim Banks over the decision by Republicans to vote against President Joe Biden's $350 billion package that would help police funding—after Banks wrote an op-ed last week that blamed Democrats for less police leading to violent crime.
Last week, Biden announced new efforts to fight violent crime, which has been on the rise since plummeting during the first months of the COVID-19 pandemic, the Associated Press reported.
Part of Biden's plan was bringing attention to the fact that $350 billion of the $1.9 trillion COVID-19 relief package can be used by cities and states to hire more police officers, invest in new technologies, and develop summer job training and recreation programs for young people in an effort to curb crime.
In an op-ed posted on Fox News' website, Banks accused Democrats of being responsible for an increase in crime through their "dehumanization of law-enforcement" and claiming there is "overwhelming evidence connecting the rise in murders to the violent riots last summer and the Defund the Police movement."
In response to the piece, Wallace questioned Banks and the decision by Republicans in the House and Senate to vote against Biden's package meant to fund the police.
"Congressman Banks, you voted against that package, against that $350 billion, just like every other Republican in the House and Senate, so can't you make the argument that it's you and the Republicans who are defunding the police?" Wallace asked.
Wallace pointed out that while Banks' main argument was saying Democrats support defunding the police, the package put forth by Biden offers increased funding for cities and states to hire more police officers and take other measures to combat violent crime.
In response, Banks gave the same argument that was present in his op-ed, which blames Democrats, including Congresswomen Ilhan Omar and Rashida Tlaib, of "dehumanizing" the police and discouraging people from joining the force. Banks also said Biden was being "held hostage" by 'The Squad,' a group of progressive lawmakers that includes Omar and Tlaib.
"You can give them more funding, and that's good, but if they can't recruit people to become a police officer because we've stigmatized one of the most honorable professions in America, then we're at a dangerous point," Banks said.
Banks' statements were criticized on social media, with commenters accusing him of "deflecting" instead of properly answering the question and blaming Democrats for "the GOP's failure to be bipartisan and vote for a bill that could go to help law enforcement."
One Twitter user described Banks' argument as "nonsensical" and called it "gaslighting at its finest."
Though Banks addressed Biden's package plan in his op-ed, he stressed the same point as he did during his appearance on Fox News, saying that: "Officers are leaving because they've decided that their essential, honorable work is no longer worth the harassment and hostility from the Left."
Banks called the package the "best part" of the plan, but said it would not fix lower recruitment as a result of police being "stigmatized."
Newsweek reached out to Banks' office for additional comment.