Fox News's Chris Wallace Slams CNN's Jim Acosta: 'Behavior Was Shameful,' He 'Embarrassed Himself' at Trump Press Conference
Fox News journalist Chris Wallace was quick to criticize his colleague Jim Acosta on Wednesday after the CNN reporter and President Donald Trump got into a terse, off-the-rails exchange at a press conference.
Wallace claimed Acosta embarrassed himself in an exchange where the president called the CNN reporter a "terrible person."
"It was classic Trump, and you saw all the notes that he can play," Wallace said about the president's press conference on Wednesday. "He was combative, at times. He got into a fight with Jim Acosta of CNN. I have to say I thought Acosta's behavior was shameful."
Later, Wallace added: "Most of the people there were serious reporters asking serious questions. But Jim Acosta, I thought embarrassed himself today."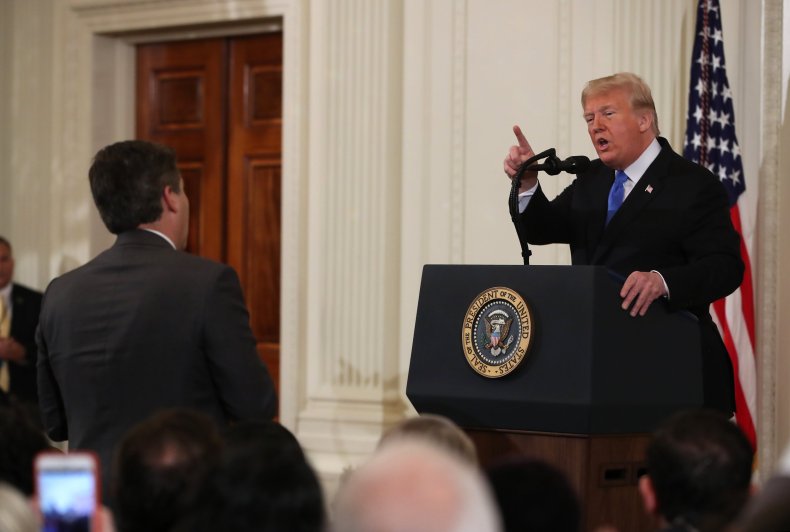 After asking a question about Trump's characterization of the migrant caravan, Acosta refused to hand over a microphone while attempting to ask another question about the Russia investigation. The president laid into Acosta.
"I think you should let me run the country and let you run CNN," Trump said. "CNN should be ashamed for itself having you work for them. You are a rude terrible person."
The press conference was full of odd, wide-ranging moments on Wednesday, the day after the midterm elections that saw Democrats take control of the House while the Senate remained controlled by the GOP.
At one point, for instance, the president claimed a question asked of him was racist. PBS's Yamiche Alcindor asked Trump about calling himself a "nationalist" and about some folks reading that as an embrace of white nationalism.
"I don't know why you'd say that. Such a racist question," Trump said to the reporter.
Later, he added: "You have nationalists. You have globalists. I also love the world. And I don't mind helping the world, but we have to straighten out our country first. We have a lot of problems. But to say that, what you say is so insulting to me, it's a very terrible thing you said."