A former federal prosecutor claimed on Fox News Sunday night that Christine Blasey Ford testified before the Senate Judiciary Committee against Supreme Court nominee Brett Kavanaugh "like an adolescent" with "clear emotional and psychological problems."
Ford, a California psychology professor, told the committee Thursday that she was "100 percent" sure that Kavanaugh sexually assaulted her in high school.
Even many of those who continue to support Kavanaugh's nomination, including President Donald Trump, remarked that Ford's testimony was credible. However, former U.S. Attorney Joe diGenova, who was close to joining the president's personal legal team earlier this year, offered a very different take on Fox News.
"Quite frankly, her testimony the other day was far from credible," diGenova said. "She's a very, very disturbed woman with clear emotional and psychological problems. This is a 55-year-old 'adult' who testified like an adolescent. Not a single corroborating detail."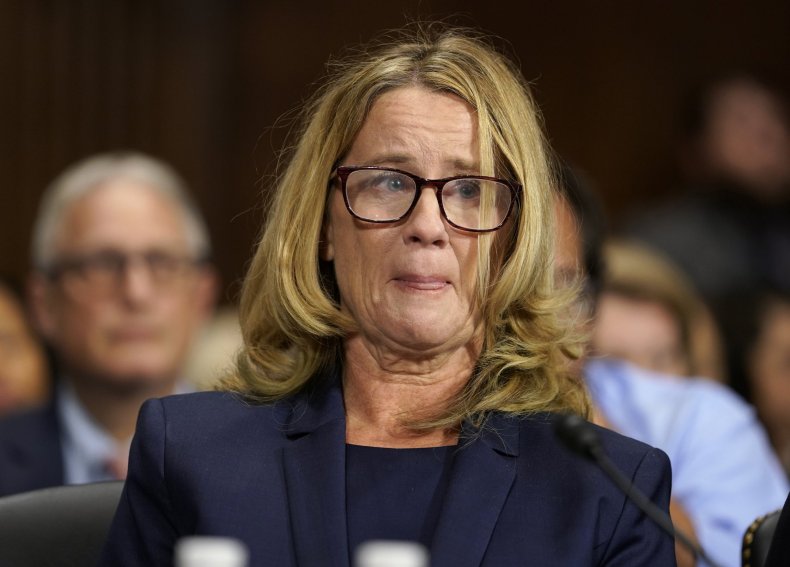 The former prosecutor also suggested that Ford lied when she said she did not know that the committee offered to visit her in California three times, but that her lawyers were aware of the offer.
"So that means she's either dumb as a post or she lied to the committee under oath," diGenova said.
"I think Christine Ford is a very sad woman and not a thing that she said should be believed and none of it has corroborated," he concluded.
Fox News host Steve Hilton called diGenova views "strong" and disagreed, saying that Ford conveyed she was disturbed by something bad that happened to her.
"There's no evidence that Brett Kavanaugh had anything to do with what happened to her," diGenova countered. "She may very well believe that something happened to her, but none of it relates to Brett Kavanaugh, and she presented no evidence other than her stark raving testimony that it was he."
Hilton replied that a lot of people were torn whether to believe Ford or Kavanaugh. "How can both be true?" Hilton asked.
Fox News contributor Lisa Boothe sided with diGenova.
"Joe is right. Look, the only thing that is consistent about Christine Ford is that she's inconsistent," Boothe said. "She had previously said that this event happened in her late teens. Now she's saying that it happened in 1982."
Trump on Friday called Ford a "very credible witness" and said her testimony was "very compelling." However, the president has stuck by his nominee.
"Judge Kavanaugh showed America exactly why I nominated him. His testimony was powerful, honest, and riveting," Trump tweeted on Thursday. "Democrats' search and destroy strategy is disgraceful and this process has been a total sham and effort to delay, obstruct, and resist. The Senate must vote!"
The committee on Friday voted to advance Kavanaugh's nomination to the Senate floor, but delay the vote for a week in order for the FBI to investigate allegations against Kavanaugh by Ford and another woman, Deborah Ramirez.