Fox News Christmas Tree Arson Suspect Craig Tamanaha Free on No Bail Hours After Arrest
The man accused of setting fire to the large Christmas tree outside of the Fox News headquarters in New York's Manhattan was released Wednesday night without bail due to criminal justice reforms implemented earlier this year.
Craig Tamanaha, 49, allegedly set on fire the 50-foot tree, which was adorned with 10,000 glass ornaments and 100,000 lights, in the early hours of Wednesday morning. The tree was located outside the midtown Manhattan building housing Fox News, The Wall Street Journal and the New York Post. About $500,000 in damages resulted from the blaze, according to the Post.
Under bail reforms implemented in January 2020, Tamanaha was not eligible to be held on bail. The suspect, who was known to police, was charged with several misdemeanors, such as arson, criminal mischief, reckless endangerment and criminal trespass.
For a suspect to be held on bail, he would have had to commit at least third-degree felony arson. Under New York State law, arson becomes a felony only if the perpetrator commits a hate crime or tries to harm, or harms, another person, criminal defense lawyer Mark Bederow told Fox News.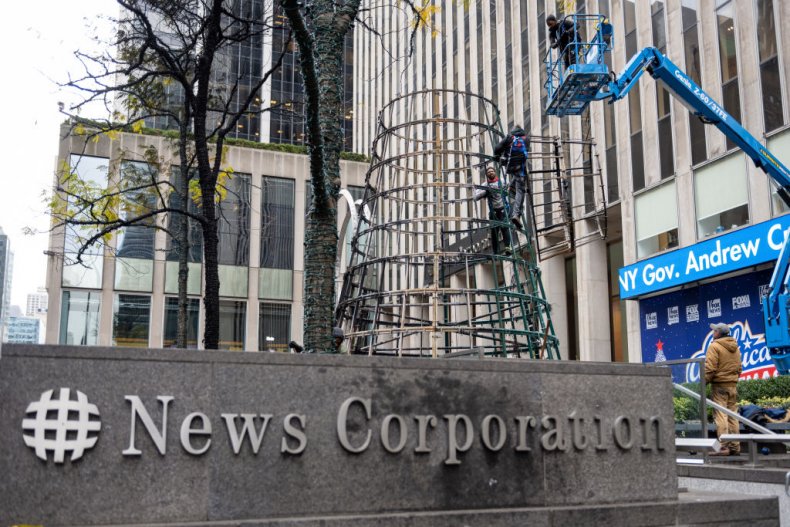 "For most misdemeanors and nonviolent felonies, cash bail is no longer permitted," the Brennan Center for Justice wrote in a report explaining the bail reform ahead of its implementation.
"Judges must release individuals charged with those crimes with no cash bail, either on their own recognizance or with release conditions designed to ensure that the individual returns to court, such as pretrial supervision and text message reminders for court dates," the center said.
Tamanaha, who is required to return to court on January 4 and is under supervised release, is homeless and has had a number of run-ins with law enforcement. His father, Richard Tamanaha of Hawaii, told the Post that his son has a history of destructive behavior, citing mental health problems and drug abuse.
"It's an individual that's known to us—he has a series of low-level arrests and drug arrests," New York Police Commissioner Dermot Shea told local TV station WPIX Wednesday.
"He was issued some earlier this year—some appearance tickets—and didn't come back to court, which unfortunately is something we see all too often. He also has some low-level arrests out of state—I believe it's Texas," Shea explained.
In a previous statement emailed to Newsweek, the NYPD said Tamanaha "was observed by Fox News Channel security climbing the Christmas tree decorated outside their office building near the corner of West 48 Street and Sixth Avenue, within the confines of the Midtown North Precinct."
The statement continued, "Upon arrival, officers observed the male running from the location and he was taken into custody without further incident. The fire within the tree was extinguished without further injury or incident by responding FDNY personnel."
Fox News responded to the incident by saying in a memo to employees that the tree would be rebuilt and relit by Thursday. "We will be lighting the new tree live on the air during the first block of The Five on Thursday," Fox News CEO Suzanne Scott's memo, which was forwarded to Newsweek, said.
"As a silver lining and an act of kindness during the holiday season, both Fox News Media and Fox Corporation have made a $100,000 donation to Answer the Call, which provides financial assistance to the families of fallen service members of the FDNY and NYPD, the two agencies who responded immediately to our very own emergency," the Scott added.