Climate Change Denier Tells Fox & Friends Carbon Dioxide 'Not A Pollution'
A former Republican aide who rejects the scientific community's consensus on climate change said carbon dioxide is not pollution, dredging up a decades-old defense of CO2 emissions in order to write off Beto O'Rourke's newly announced climate plan.
Speaking Tuesday morning with Fox & Friends, the longtime Fox News climate change denier Marc Morano joined host Jedediah Bila in ridiculing the former Texas congressman's $5 trillion climate change proposal, which seeks to provide a less ambitious alternative to the Democrats' Green New Deal. Morano, who has previously agreed that CO2 is nothing more than "plant food," immediately unearthed the longtime carbon claim among conservatives and labeled O'Rourke's climate plan a "boondoggle."
"First of all, pollution and carbon dioxide, humans, we inhale oxygen and we exhale carbon dioxide, so he's calling CO2 pollution, which it's not," Morano proclaimed Tuesday. "No, this plan is as pie-in-the-sky as the Green New Deal except it's a little bit more tepid."
In a December 2018 interview with Fox Business Network's Stuart Varney, Morano agreed with the host that excess CO2 in the atmosphere was not a negative result of human emissions, but rather a positive because it is just "plant food." In that interview, Morano bragged that several Nobel Prize-winning scientists have informed him "the earth is in a CO2 famine" and he attacked the United Nations position on climate change.
The Environmental Protection Agency classifies carbon dioxide emissions as a hazard to human health, although the EPA doesn't state that CO2 by itself is a pollutant given that humans and plants exhale it, but instead, they note increasing concentrations of the heat-trapping gas are deeply concerning. Carbon dioxide is widely considered to be a pollutant when it's put in context with the burning of fossil fuels such as gasoline, coal and natural gas.
The EPA previously ruled that modern concentrations of carbon dioxide are the "unambiguous result of human emissions," although CO2 levels have dramatically fluctuated in Earth's atmosphere for billions of years. Carbon dioxide levels are currently higher than they have been for more than 800,000 years, according to climate.gov.
O'Rourke's four-part climate framework announced this week seeks to start cutting pollution, mobilizing $5 trillion over ten years, guaranteeing net-zero emissions by 2050 and defending communities who are preparing for and fighting extreme weather.
Morano, who is author of the book, The Politically Incorrect Guide to Climate Change," dismissed O'Rourke's plan as a watered down version of the Democratic proposal first put forward by New York Rep. Alexandria Ocasio-Cortez and Massachusetts Sen. Ed Markey.
"The US is one the world's largest carbon pollution emitters. But a #GreenNewDeal holds the potential for us to be global clean energy leaders, w planet-saving technology being stamped 'Made in America'. Climate change is the economic and natl security issue of our time," Markey tweeted Tuesday.
Morano continued, "What's happened here is Beto O'Rourke is not satisfying the Democratic base, within minutes of him releasing this plan the Sunrise Movement, which was instrumental in the Green New Deal, is going after Beto O'Rourke for going back on his pledge for 2030 zero emissions to now 2050. They're saying Beto's plan could result in 100 million refugees and tens of million dead. So that's the thanks Beto O'Rourke gets for coming up with a lighter version of the Green New Deal."
Fox & Friends co-host Bila labeled O'Rourke's plan "very vague and very nice and very idealistic." But as she listed bullet points of the plan, she derisively dismissed the idea of starting to cut pollution, saying, "whatever that means."
She concluded Americans "won't be so excited" about fighting climate change once they see its effect on their pocketbooks.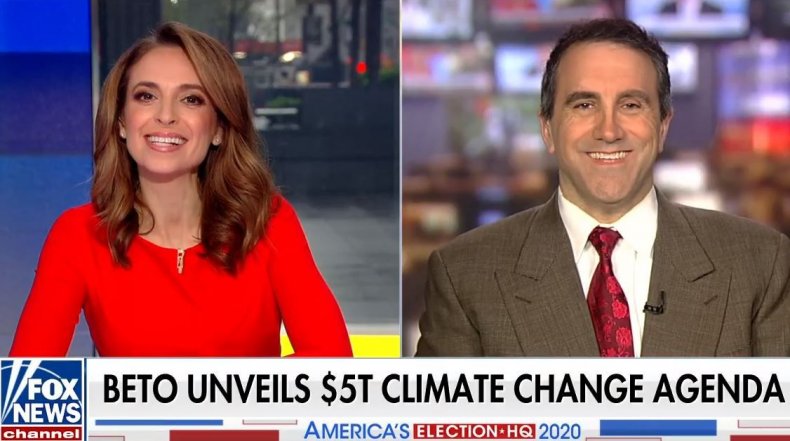 Morano, who has appeared on Fox News and other right-leaning international networks for years, frequently refers to climate change or the concept of global warming as "hysteria."