Fox News Condemns Tucker Carlson's Top Writer's Comments as 'Horrendous and Deeply Offensive'
Fox News condemned controversial host Tucker Carlson's former top writer Blake Neff in an internal Saturday memo, describing his social media comments as "horrendous and deeply offensive."
"Yesterday we learned that now former employee Blake Neff, a writer on Tucker Carlson Tonight, made horrendous and deeply offensive racist, sexist and homophobic comments under a pseudonym on the forum AutoAdmit," Fox News Media's CEO Suzanne Scott and President Jay Wallace wrote in the memo first reported by CNN.
Scott and Wallace said that Fox News was unaware of Neff's comments until Friday, when the network "swiftly" accepted his resignation. "We want to make abundantly clear that Fox News Media strongly condemns this horrific racist, misogynistic and homophobic behavior," the executives said in the memo.
"Make no mistake, actions such as his cannot and will not be tolerated at any time in any part of our work force," they warned.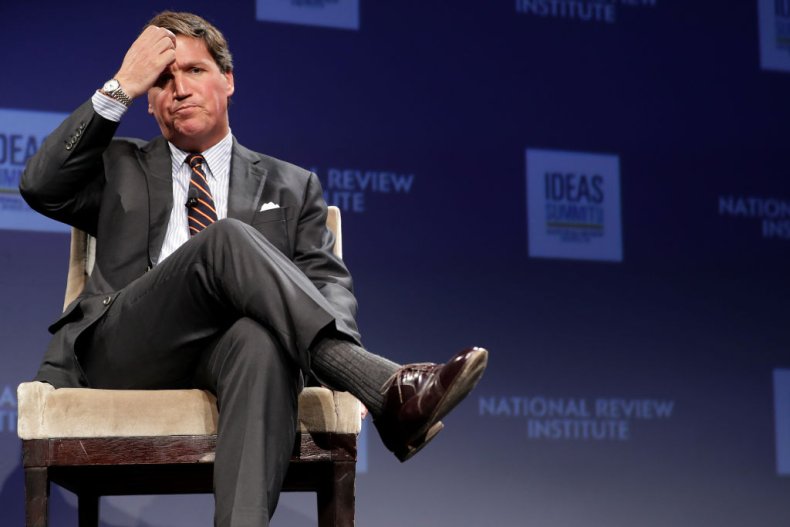 When reached for comment, Fox News did not comment further beyond the internal memo that was provided to Newsweek.
CNN Business first reported on Friday that Neff had for several years been posting racist, sexist and homophobic comments via a pseudonym on the form AutoAdmit, which is known as a hotbed for such content. Last week Neff wrote a post that said: "Would u let a JET BLACK congo n****er do lasik eye surgery on u for 50% off? ... I wouldn't get LASIK from an Asian for free, so no."
In a June 5 post, the former Fox News writer wrote: "Black doods staying inside playing Call of Duty is probably one of the biggest factors keeping crime down." CNN highlighted a series of other offensive posts in its reporting.
Neff had been a writer at Fox News for nearly four years and served as Carlson's top writer. In a 2018 interview with Fox News show The Five, Carlson specifically mentioned Neff by name, calling him a "wonderful writer."
The host has not publicly addressed the controversy, but reportedly will do so on his Monday evening show.
Carlson and his show have caused a series of controversies in recent years. In March of last year, liberal groups resurfaced radio recordings from 2008 in which Carlson described Iraqis as "semiliterate primitive monkeys." Then a few months later in July 2019, Carlson drew significant controversy after the Fox News host claimed that Democratic Representative Ilhan Omar of Minnesota "hates this country." Omar responded at the time by calling Carlson a "racist fool."
In August 2019, Carlson claimed falsely that concerns about white supremacy are "a hoax." Then last month, Carlson, who had already seen several advertisers boycott his show, saw more advertisers do so after he suggested the massive Black Lives Matter demonstrations were not actually about opposing racism. "This may be a lot of things, this moment we are living through," he said. "But it is definitely not about Black lives, and remember that when they come for you. And at this rate, they will."
Following those comments, Walt Disney Company, Papa John's, Poshmark and T-Mobile joined a slew of other advertisers that have already distanced themselves from Carlson's show.
Updated 10:46 AM ET: This article has been updated to show that Fox News provided the internal memo to Newsweek and did not comment further.