Fox News Contributor Defends Rashida Tlaib After Israel Ban: 'She Is Fighting for Her Family Who Is There'
Fox News contributor Leslie Marshall voiced support for Democratic Congresswomen Rashida Tlaib of Michigan and Ilhan Omar of Minnesota after they were barred from entering Israel, but faced significant pushback from other contributors during a Thursday panel discussion.
Marshall, a journalist who is Jewish-American, argued on the Fox News Outnumbered panel that Israel, where she personally lived back in 1996, should have allowed Tlaib and Omar to enter the country, despite their criticism of its policies toward Palestinians. She said letting them enter would have shown strength, stating that "freedom of speech" is important to Democracy.
"One of these congresswomen is Palestinian," Marshall continued, referring to Tlaib, who's parents emigrated to the U.S. and still has family members residing in the West Bank. "And I get tired, being of Jewish ancestry, of hearing people say [that people who defend Palestinians] are anti-Israel or anti-Jews. That is not true. I know many Jews that are in favor of a two-state solution or are pro-Palestinian and they're not against themselves, or anti-Semitic."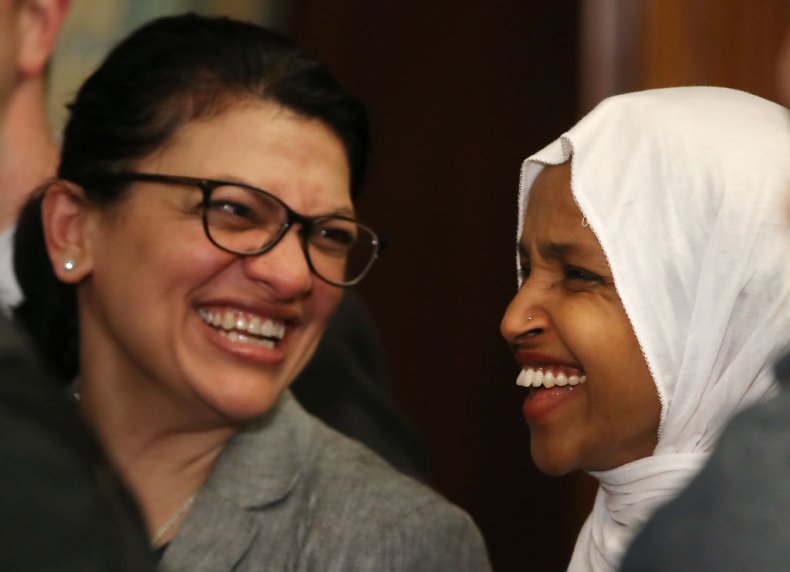 Marshall was then cut off by fellow panelist Megan Francis, who inaccurately claimed that Omar and Tlaib want to ban Israeli citizens from coming to the U.S, arguing that the Boycott, Divestment and Sanctions Movement, which the congresswomen support, aims to bar Israelis from traveling to the country.
"That is wrong," Marshall responded, but Francis persisted to push her point.
Later in the segment, Marshall pointed out that before she moved to Israel in the mid-1990s, she believed a simplistic narrative that Israelis are "good" and Palestinians are "bad."
"That's not what I saw when I lived there with my own eyes. I saw oppression [of the Palestinians by Israel]," she explained. "And I was upset that my people, if you will, were the oppressors. And the women, one of them being Palestinian, that is what she is fighting for, she's fighting for her family who is there."
Katie Pavlich, a conservative commentator who was also part of the Outnumbered panel, then cut in to argue that "a lot has happened" since Marshall lived in Israel since 1996, suggesting that her fellow panelist was unaware of what was actually going on.
The Israeli government announced on Thursday that it would not allow the congresswomen to enter the country on a planned trip, citing their support for the BDS Movement. President Donald Trump, prior to the news, encouraged the Israeli government to make the decision, claiming falsely that "they hate Israel & all Jewish people." The two representatives, who are also the only two Muslim women currently serving in the U.S. Congress, planned to meet with Israeli and Palestinian groups during their visit to the Mediterranean nation.
Despite the assertions made during the Outnumbered discussion, the BDS Movement does not aim to bar Israelis from entering the U.S. or deny Israel's right to exist. The movement points to Israeli government policies that deny Palestinians basic human rights and treat them like second-class citizens, pushing individuals and organizations to boycott the country economically in hopes of pressuring Israeli leaders to change their policies.
"Because those in power [in Israel] refuse to act to stop this injustice, Palestinian civil society has called for a global citizens' response of solidarity with the Palestinian struggle for freedom, justice and equality," the BDS Movement's website explains.
Many progressive Jewish groups and Jewish leaders have criticized the Israeli government's decision.
2020 presidential hopeful Senator Bernie Sanders of Vermont, who is Jewish and has been a frequent critic of Israeli Prime Minister Benjamin Netanyahu's policies, criticized the decision in a Twitter post. "Opposing Netanyahu's policies is not 'hating the Jewish people.' We must stand together against those who promote hatred and racism in Israel, Palestine, the U.S. and everywhere," he wrote.
"For Israel to bar the entry of members of Congress based on their political views is unconscionable–but also the perfect illustration of Israel's racist apartheid policies in practice," Rebecca Vilkomerson, executive director of Jewish Voice for Peace, said in a statement after the news broke.
"We offer our solidarity to Representative Rashida Tlaib who like too many other Palestinians will not be able to visit her family," she added.
Progressive American-Jewish group IfNotNow spokesperson Emily Mayer slammed the decision in a statement emailed to Newsweek.
"We unequivocally condemn Prime Minister Netanyahu's decision today to capitulate to President Trump's request to bar two democratically elected members of Congress from entering Israel," the spokesperson said. "Barring Congresswomen Tlaib and Omar because of their political views, despite the fact that they represent over a million American citizens, continues to expose the lie that Israel is a democracy."