Fox News Contributor Slammed for 'War Zone' Theatrics After Posing In Tactical Vest at the Border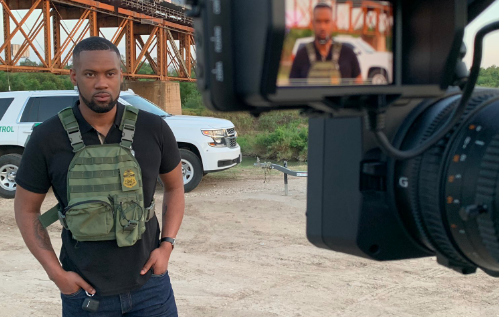 A Fox News contributor who appeared on Sean Hannity's program Wednesday night was widely derided for posing in a tactical vest at the southern U.S. border with Mexico.
Lawrence Jones III tweeted several photos of himself posing with U.S. Border Protection agents and appeared on Hannity's Wednesday show wearing what many mocked as a bulletproof vest. The ill-fitting vest doesn't appear to have anything in its pouches and other legitimate border patrol agents in the area were not seen in similar protective gear.
Critics immediately pounced on Jones for wearing the military-style jacket with a U.S. Customs and Border Protection federal government badge at the border, although he later claimed agents forced him to wear the tactical vest as a safety precaution. Jones and Fox News' relentless "border crisis" coverage was criticized for attempting to portray the region as a stateside "war zone."
A previous picture of Jones showed him wearing a black t-shirt, jeans and Vans sneakers while standing next to a pair of border agents.
Jones spent several hours defending himself on Twitter Thursday morning as veterans, war reporters and other notable journalists — including Roland Martin — weighed in on the matter of the tactical vest. While some social media critics edited Mexican ponchos and Elmo bookbags onto Jones, others defended journalists "playing dress-up" as a non-partisan problem at all cable news networks.
"I've previously criticized journos for playing dress-up in PPE," replied NBC News producer and U.S. Marine Corps veteran Mac William Bishop, referencing protective personal equipment. "Last time it was someone who worked for MSNBC. This time it's someone who works for Fox. Being a poseur with no respect for journalistic integrity & lacking common sense about how PPE works is a non-partisan flaw."
But while Jones received some passive defense from fellow members of the news media, he was overwhelmingly criticized for feeding into Fox News' potrayal of chaos, violence and urgent need for additional security.
"This is totally ridiculous," replied MSNBC correspondent Jacob Soboroff. "I have never once worn a bulletproof vest at the border, nor has CBP ever asked me to -- even while on a chase with Border Patrol to apprehend migrants in remote Arizona desert in the middle of the night. Because. The. Border. Is. Not. A. War. Zone."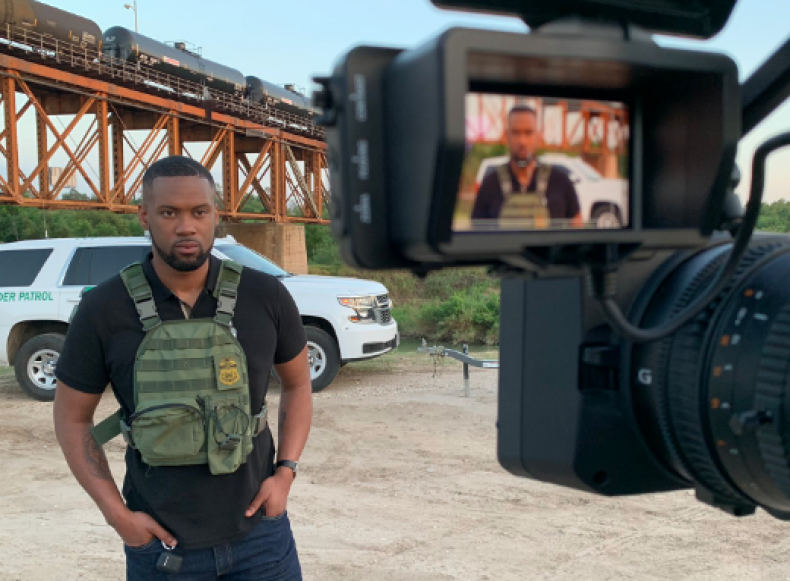 Journalist Roland Martin was less constructive in his criticism of Jones, simply mocking the Fox reporter's faux-soldier appearance.
"Y'all need a good laugh? Look at this. Lawrence thinks he's headed to a war zone. Is this gonna increase your speaking fees, Lawrence? Game recognize game. #AllAboutTheBenjamins," Martin tweeted Thursday morning, prompting Jones to repeat "border patrol made me wear it" in his reply. "Easy: You. Who would I trust about what's happening on the border: you or Republican @HurdOnTheHill, a former CIA operative whose district is impacted? You're there for show and tell. But go ahead and play TV. Carry on, Lawrence," Martin added.
Jones has gained notoriety at Fox News for posturing in suits and routinely floating provocative and often baseless conspiracy theories across the cable news network.
Last week, Jones told Fox Business host Stuart Varney that Michelle Obama called in "favors" to get Empire actor Jussie Smollett's Cook County charges dropped. He provided no evidence to back up this claim.