Fox News contributor Marc Thiessen has suggested that "anti-Catholic bigotry" is behind calls for two Supreme Court justices to recuse themselves from cases involving LGBT rights due to a photograph showing the pair posing with the leader of a homophobic hate group.
Thiessen made the claim on Fox News's The Story with Martha MacCallum on Wednesday. A photograph shared to social media showing Supreme Court Justices Brett Kavanaugh and Samuel Alito posing with hate group leader Brian Brown proved controversial, and resulted in a letter being sent to the justices demanding they recuse themselves in the upcoming LGBT Supreme Court cases expected to be decided in 2020.
Brown is the president of the World Congress of Families, which has been designated a hate group by the Southern Poverty Law Center. He is also the president of the National Organization for Marriage, which advocates in favor of taking marriage rights away from same sex couples and filed an amicus brief in at least one of the upcoming court cases. In 2018, Brown described LGBT rights as "invented concepts that not only are not rights, they also are not right."
Host Martha MacCallum asked Thiessen about criticism of the photo, and the letter written by judicial activist Aaron Belkin, which accused the justices of making a "mockery" of the impartiality of the court.
"Look, the fact is, this is a form of anti-Catholic bigotry that has gotten Democrats in trouble earlier," Thiessen told MacCallum.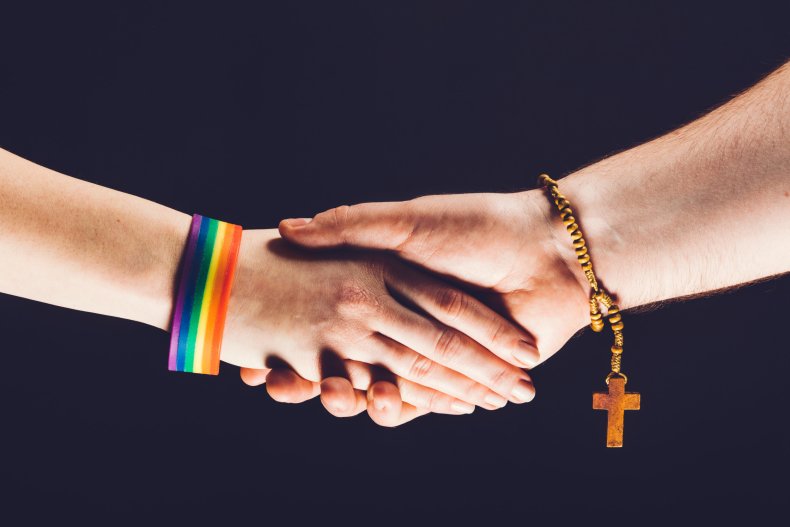 Thiessen suggested that criticism of the photo is due to anti-Catholic intolerance, rather than the potential conflict of interest posed by Supreme Court justices posing with someone who had filed a brief in the upcoming cases and is also the leader of a confirmed hate group. He suggests that Catholics in particular have the ability to disregard their belief systems when making court rulings, and compared the LGBT cases to death penalty cases that Catholic judges have ruled on.
"I think there is a Catholic majority on the court. And you had people like Catholic justice—like Anthony Kennedy, who was the deciding vote to create the right to same-sex marriage," said Thiessen. "The Pope has basically said that Catholics cannot support the death penalty. Yet, Catholic justices vote all the time to uphold capital cases. So the idea that these justices can't rule because they're Catholic is absurd."
An opinion poll by Pew Research suggests that 62 percent of religious Americans, including around 70 percent of Catholics, believe homosexuality "should be accepted."
The basis of Thiessen's claim of "anti-Catholic bigotry" appears to rely on the idea that criticizing anti-gay intolerance by religious people makes one an anti-religious bigot. Critics of similar claims argue that this line of reasoning is not grounded in logic, and that the concept of tolerance itself would be meaningless if it required one to uniformly tolerate intolerance.
In addition to contributing to Fox News, Thiessen writes an opinion column for The Washington Post and previously served as a speechwriter for Former President George W. Bush.
In 2010, Thiessen authored a book defending the CIA's use of torture, Courting Disaster: How the CIA Kept America Safe and How Barack Obama Is Inviting the Next Attack, which a former military interrogator later called "less a serious discussion of interrogation policy than a literary defense of war criminals."