Fox News Contributor Slams Pink for 'America Is A Gun' Poem: 'Read A Book'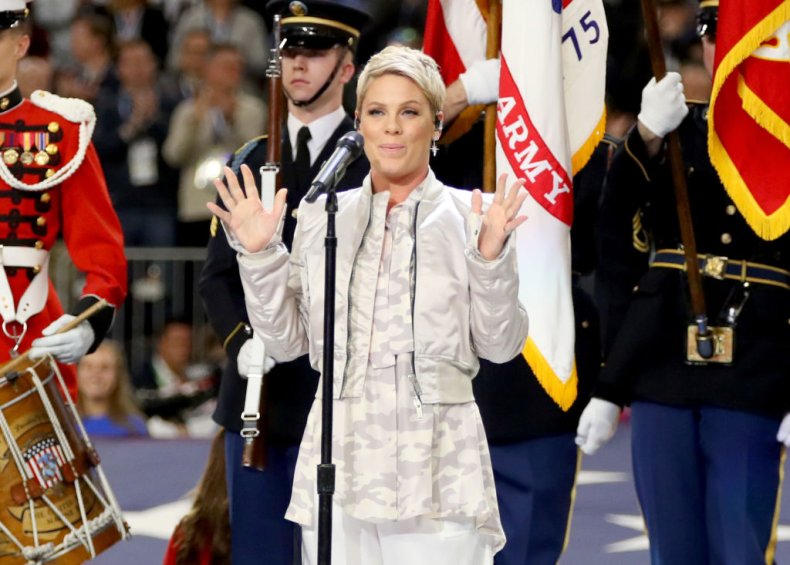 Recent mass shootings in the United States has sparked yet another conversation about gun violence in America. Singer Pink participated by posting a poem, titled "America is a Gun," by British poet Brian Bilston. It drew a quick backlash, including a response by Fox News contributor Britt McHenry.
The poem starts, "England is a cup of tea. / France, a wheel of ripened brie. / Greece, a short, squat olive tree. / America is gun." The poem continues on in the same manner, ending each stanza with "America is a gun."
McHenry was not pleased with Pink's post, writing on Twitter, "We have issues to work through, certainly. But um, Germany caused WW2; Japan once bombed us; France is in economic turmoil w/ protests. Good grief, read a book."
Replies to McHenry's response were mixed, with many calling her out for missing the point of the poem, while others called out Pink.
"World war 2 was almost 80 years ago. Japan bombed us 77 years ago. France is having money trouble. Americans are slaughtering each other at least once or twice a month in 2019. Come on Britt, you love to mention being a Northwestern alum, you can't be THIS dense," one Twitter user wrote.
"We don't have these shootings in Germany," another user wrote.
The poem, posted to Twitter by its author in February 2016, gained in popularity after the mass shootings in El Paso, Texas, on Saturday followed by another mass shooting in Dayton, Ohio just a few hours later.
Saturday's El Paso shooting in a shopping complex left 20 people dead and two dozen people injured. The 21-year-old shooter, identified as Patrick Crusius of Allen, Texas, was apprehended by police and was allegedly motivated by racist, anti-Hispanic beliefs. The shooter is believed to be the author of a four-page manifesto posted to the online message board 8chan 20 minutes before the shooting took place.
Late Saturday night another shooter opened fire outside a popular nightlife establishment in Dayton, Ohio. The gunman in that shooting, identified as 24-year-old Connor Betts of Bellbrook, Ohio, killed nine people and injured 34 more within 30 seconds of his shooting spree using a high capacity rifle. One of the deceased victims is the sister of the shooter.
"It is fundamentally problematic," Dayton Police Chief Richard Biehl said about the shooter's access to such a high powered assault weapon. "To have that level of weaponry in a civilian environment, unregulated, is problematic."
Pink is well known for being outspoken on a number of political issues. In recent days she has posted numerous political messages to her Instagram about the mass shootings. On Sunday she posted a screenshot of President Donald Trump's tweet about the shootings, criticizing the president for his lack of action on the issue.
"Um... Donald, you spelt 'terrorism' wrong," Pink wrote in the caption to her Instagram post. "Your country had 2 terrorist attacks back to back hours apart leaving almost 30 innocent people dead. This, just days after yet another terrorist attack in California, where a terrorist was able to LEGALLY purchase an assault rifle (AK-47) in Vegas, then drive hours to a food festival in Cali leaving 6 more people dead including a young infant baby boy!"

"Imagine a world where it's easier to get an AK-47 than a VISA!"

"Imagine a world where they build a wall to keep terrorists IN AMERICA!!!"

"My prayers and deepest condolences to the families and loved ones of all the victims from Texas, California, and Ohio! I'm so sorry for your loss! Nobody deserves to die like this! NOBODY!"
On Monday President Trump addressed the nation from the White House, saying "In one voice our nation must condemn racism, bigotry and white supremacy. These sinister ideologies must be defeated."