Fox News Can't Stop Literally Crying About Donald Trump's Worst Week Yet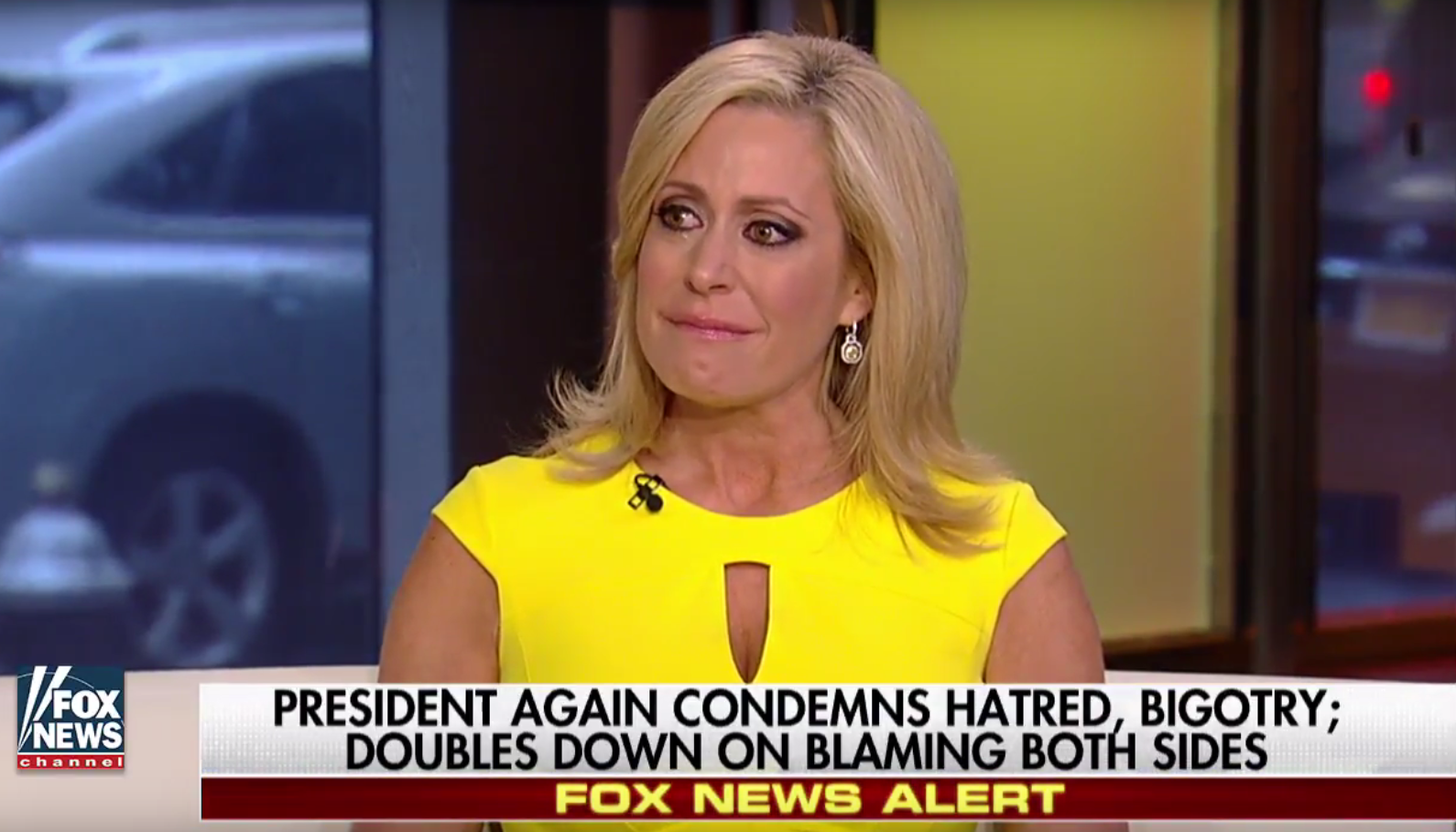 It's been a bizarre week for the folks at Fox News.
Donald Trump's right-wing TV mouthpiece has been finding it rather difficult to defend the president's dog-whistling comments made after violence erupted at an alt-right rally in Charlottesville, Virginia, over the weekend.
Some anchors have begun distancing themselves from Trump, slamming the commander in chief for claiming violence was coming from "many sides" on Saturday when, in fact, neo-Nazis and white supremacists were attacking counterprotestors. Others have found themselves placed in between pundits on either side of the aisle denouncing the president's controversial statements, awkwardly deflecting from human emotions and general reality.
Related: Fox News was attacking Obama for using Dijon mustard at this Point In His Presidency
For many of the network's personalities, it's been one of the most challenging weeks since Trump took office—and the tears have been steadily streaming on live television for its millions of viewers nationwide.
Fox News host Melissa Francis clashed with her colleagues on Thursday afternoon while supporting Trump's response to the rally, saying she felt "uncomfortable" and "judged" by her peers for sympathizing with the group of neo-Nazis and racists.
"I am so uncomfortable having this conversation," Francis said, bursting into tears. "I know what's in my heart, and I know that I don't think anyone is different, better or worse based on the color of their skin. But I feel like there is nothing any of us can say right now without being judged."
The tears arrived after Francis's fellow anchors, Juan Williams and Marie Harf, both rejected her support for the president's statements while noting she was misquoting what Trump actually said.
Francis was then comforted by Harris Faulkner, a black female anchor for the network's show Outnumbered, who said "there have been a lot of tears on our network, and across the country and around the world."
Kat Timpf, a Libertarian personality on the network, was appalled by Trump's "disgusting" press conference Monday afternoon, telling her colleagues "I'm wondering if it's actually real life what I just watched.
"I have too much eye makeup on right now to be crying, it's disgusting," Timpf continued.
Fox & Friends host Abby Huntsman was caught in an awkward position when she interviewed two black correspondents about the debate over Confederate statues and Trump's unending support to preserve them.
"It's beyond a monument. This is about hatred. This is about white supremacy," Democratic contributor Wendy Osefo said Wednesday. "As a mother, to hear the president of these United States not sit here and condemn what has happened. As a black woman of two black boys, my heart bleeds. This is not talking points. This is personal. We as a nation, as a country, have to do better."
"There are good people on both sides of this debate.…" Huntsman responded, seemingly attempting to pivot away from an emotional conversation.
But when she leaned on her Republican pundit Gianno Caldwell for support, she was met with more disdain for the president's behavior—and more tears.
"I come today with a very heavy heart," Caldwell said, wiping away tears. "Last night, I couldn't sleep at all because president Trump, our president, has literally betrayed the conscience of our country."
"No…" Huntsman interjected, trailing off.
"I'm sorry, no I believe that and I'm being very honest as someone who has been talking about these issues for a very long time, I'm sorry that this is where we are right now," Caldwell continued.
Amid all of the chaos and disorder directly from the White House, there was one Fox News host who went out on a limb to make a bold stand against Trump. That stinging rebuke of Trump's week came in the form of Eboni K. Williams's "docket" segment on The Specialists, where she regularly responds to some of the biggest news of the week.
"Mr. President, your initial remarks were cowardly and dangerous," Williams says, looking straight into the camera. "In a moment where you could have been crystal clear where you stand on the issue of inclusion, standing up against white supremacy and domestic terrorism, you very intentionally chose to be ambiguous and to equivocate."
Williams later told The New York Times she's faced "menacing messages" from viewers calling her a "disgrace" and anti-American.
"I've been on Fox News on and off for five years now," Williams said Wednesday. "Never in my life had I received the response that I received."