Fox News Cuts Off Guest Tying Rise in U.S. Anti-Semitism to Trump Rhetoric, Charlottesville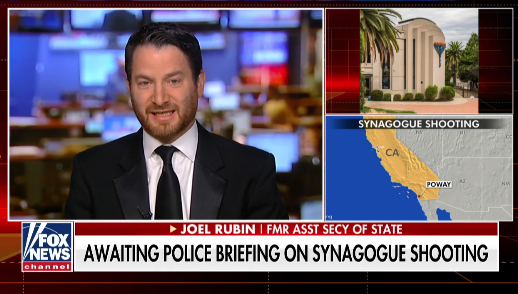 Fox News appeared to cut off a guest and cut to commercial as he suggested Saturday's San Diego-area tragic synagogue shooting — and the apparent rise in U.S. anti-Semitism in general — could be tied to President Donald Trump's election and what the president's critics have seen as his failure to condemn the far-right Charlottesville rallies that left one dead and several injured.
Update: A Fox News communications representative tells Newsweek Rubin was cut short to due to a hard commercial break at 6 p.m. and not due to any control room decision.
During Saturday's Fox Report with Jon Scott, former assistant secretary of state and a member of Pittsburgh's Tree of Life synagogue, Joel Rubin, had his commentary abruptly switched off after he suggested a rise in U.S. anti-Semitism was connected to Trump's election and the president's equivocating response when asked to condemn the fatal violence and white nationalism exhibited at the August 2017 "Unite the Right" rally in Charlottesville, Virginia.
The Fox News host later brought Rubin back on and defended Trump against claims of anti-Semitism by noting the president's daughter Ivanka Trump converted to Judaism and that Trump's son-in-law, Jared Kushner, is also Jewish.
Rubin appeared on a segment covering the Chabad of Poway shooting that left one person dead and several injured during a Passover celebration shooting Saturday morning in California.
Scott asked Rubin to address why there has been a recent spike in anti-Semitic attacks in the U.S., including the one six months prior at his Pittsburgh synagogue, which was the deadliest assault on Jews in U.S. history.
"We've seen the spike, quite frankly, since the election of President Trump," Rubin said. "And we have seen that largely because there has been sort of a freedom to say what one wants in public. 'Jews will not replace us' was the chant in Charlottesville in August 2017 and just the other day the president essentially said --"
At this point in the segment, you can hear the Fox News host attempting to cut Rubin off, repeatedly saying his first name: "Joel, Joel, Joel..."
Rubin continued for a few more seconds, ignoring the host's effort to interrupt him — "Those are the kinds of words we have to watch for," he noted, before the network's live feed abruptly cut to a commercial for the Salonpas Pain Relief patch.
Earlier in the segment, Rubin said a rise in U.S. anti-Semitism noted by both the FBI and the Anti-Defamation League can't be separated from the divisive political rhetoric from Trump and the media. "I don't think we can say it's divorced from the political rhetoric that we see right now, so it's very troubling," he said. Rubin also added that many "lone wolf" gunman figures believe they have a "license to kill" in 2019.
After his appearance, Rubin defended the cable news network on Twitter, responding to critics who accused Fox News of censoring his comments.
He said the commercial break was planned, but doubled down on his claim Trump's failure to condemn the Charlottesville attacks was partially responsible for a spike in anti-Semitic U.S. sentiment.
Rubin later noted on Twitter the Fox News program kept him on the show to talk after the advertisements. "It was a legitimate commercial break. They had me on again after the break," Rubin tweeted Saturday night.
After Rubin was brought back on, the host can be heard asking to "challenge" Rubin on his claim anti-Semitic rhetoric has "amped up" since Trump's election. Rubin clarified that while he's not accusing Trump of being personally anti-Semitic, he doubled down on saying the president should have strongly condemned the "Jews will not replace us" chants that came out of Charlottesville in 2017.
"'Jews will not replace us' chanters are not good people. Period. Fine people were not on both sides in Charlottesville. Not by a long shot," Rubin later added on Twitter. He also criticized several people who claimed Trump had in fact condemned the right-wing Charlottesville rallies, noting that "very fine people on both sides" is nowhere near a condemnation.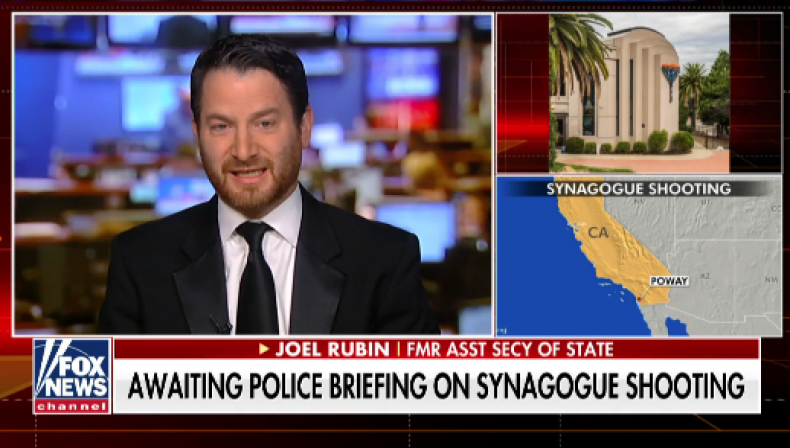 Correction: A previous version of this article noted that Rubin was brought back on the show after the commercial break, but did not detail the continued dicussion between himself and the Fox News hosts.