Fox News Contributor Suggests Democrats Use Religion to Pander to Voters, But Praises Trump for Saying What He Believes
Fox News religion contributor Jonathan Morris took aim at Democrats this weekend, suggesting that they use their religious beliefs in an effort to pander to voters, while praising President Donald Trump for impressing voters by saying what he believes.
"It's like, if you don't speak Spanish, don't speak Spanish," Morris, a theologian and former Catholic priest, said during a segment of Fox & Friends on Sunday morning. "And I would say the same thing if faith is not a big part of your life, if religion is not a big part of your life, don't fake it. Because people know it and just don't do it."
After Fox & Friends played a montage of Democratic 2020 presidential hopefuls talking about their Christian faith, Morris agreed with the show's co-host Pete Hegseth who suggested that the Democrats were pandering to voters.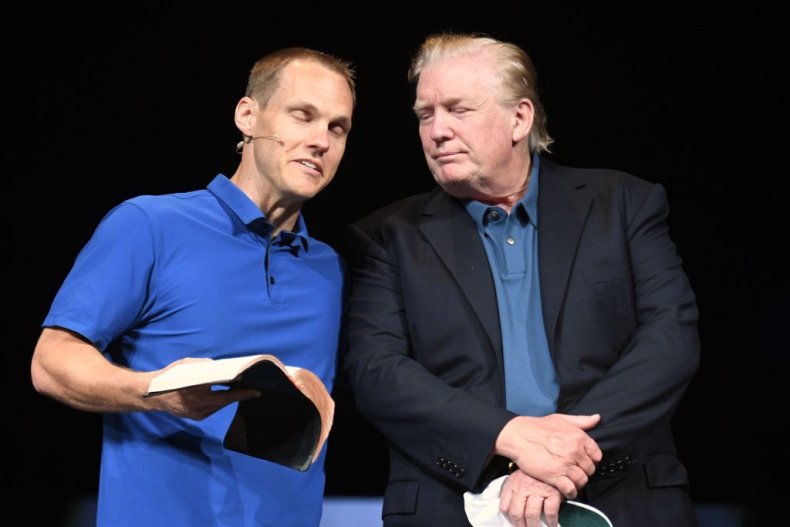 "Exactly," Morris responded. "And that's why Trump does such a great job of just getting through all that stuff and saying this is what I believe." The theologian argued that voters are impressed with Trump, even when he says "kind of crazy stuff," because they know what he believes. "When you're using faith just to tap into an audience, it doesn't work," Morris added.
Although he caveated that the Democrats may not necessarily be doing that, he said: "If you believe it, show it." He continued: "if you don't, don't even talk about it." The theologian went on to say that Republicans and Democrats should "learn from Donald Trump. Just be who you are."
Critics of the president have long accused him of pandering to evangelical Christian voters, despite having lived most of his life with seemingly little interest in religion. He has regularly talked about his Christian faith since he began campaigning for the White House and received the backing of prominent Christian leaders, who have defended him despite numerous allegations of sexual assault and other controversies. The president has signed Bibles, made appearances at churches and attempted to quote scripture in what many critics have seen as blatant pandering to conservative Christian voters.
The so-called religious right had long called for a moral Christian president representing strong family values to lead the nation, but generally has seemed to forget that desire with Trump as commander-in-chief. The president has been married and divorced multiple times and is known to have carried on several extramarital affairs. His 2016 presidential campaign also paid off porn star Stormy Daniels and Playboy model Karen McDougal to keep silent about alleged affairs. When a leaked Access Hollywood tape revealed that the president had previously bragged about inappropriately grabbing women's genitals without their consent, Christian leaders and voters seemed relatively unfazed.
2020 president hopeful Mayor Pete Buttigieg of South Bend, Indiana, who often talks about his personal Christian faith, has harshly criticized Vice President Mike Pence, a staunchly conservative Christian, and other Republican Christians for supporting Trump.
"How could Pence allow himself to become the cheerleader of the porn star presidency?" Buttigieg said back in March. "Is it that he stopped believing in scripture, when he started believing in Donald Trump? I don't know. I don't know."
Highly religious white Protestants have remained relatively firm in their support of Trump throughout his presidency. They were also an important voting block credited with helping him win the 2016 election. According to Pew Research and Gallup surveys published earlier this year, support for the president from white Protestant Christians was at 69 percent.