Fox News Correspondent Says Donald Trump Made 'Big Mistake' With Kavanaugh Tweets and 'Might Blow This Up'
After Donald Trump went after Christine Blasey Ford on Twitter Friday morning, questioning why she didn't come forward with her sexual assault allegations against Brett Kavanaugh 36 years ago, a Fox News correspondent says the president could "blow this up."
"If you had asked me an hour ago, I would have said that I think Judge Kavanaugh is in a strong position," Ed Henry, the network's chief national correspondent, said in an appearance on Fox News on Friday morning. "In the last hour, the president is tweeting, questioning Dr. Ford's account—why didn't she go to the police?"
Henry added that Kavanaugh's confirmation to the Supreme Court seemed incredibly likely, until the president got involved.
"I don't want to overreact, but it seems to be a big mistake to take a situation that has been calming down, there are negotiations over testimony," Henry said. Before Trump's accusations on Friday, Henry thought that Republicans had the "upper hand" on Ford's allegations.
"[Kavanaugh's] sailing to confirmation, but maybe not—there's a problem here—she needs to be heard, and the Republican said let's hear from her," Henry added. "I think the president intervening might blow this up."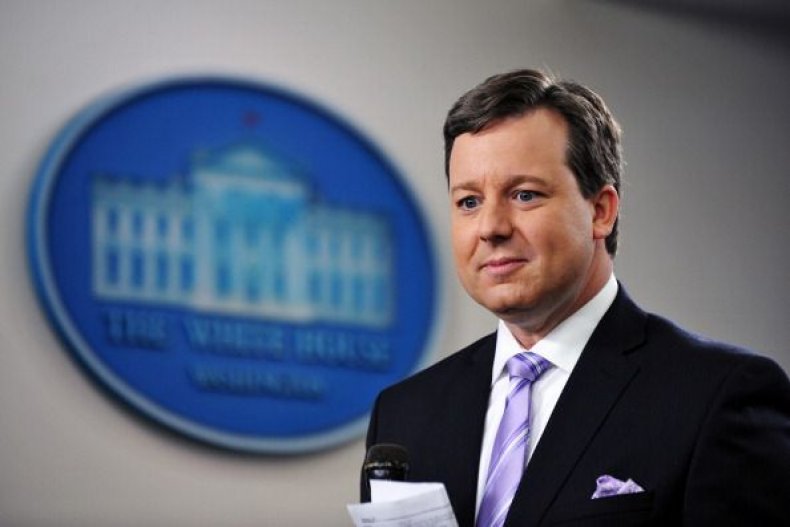 Trump had remained relatively quiet after Ford went public with her accusations that Kavanaugh sexually assaulted her at a high school party over three decades ago. She has alleged that the judge, then 17, pinned her down on a bed and groped her. At one point, she said, she was afraid for her life.
Since coming forward, Ford has taken and passed a polygraph test and provided notes from a 2012 therapy session in which she described the alleged assault. She had requested an FBI investigation be conducted before she testifies against Kavanagh on Capitol Hill, but Trump shot down the possibility of one taking place.
The president had repeatedly said that Ford had the right to be heard, but he still encouraged the Senate Judiciary Committee to move forward with the nomination process as quickly as possible. Then, on Friday morning, Trump directly questioned Ford, asking why no one contacted the authorities immediately after the alleged assault happened.
"I have no doubt that, if the attack on Dr. Ford was as bad as she says, charges would have been immediately filed with local Law Enforcement Authorities by either her or her loving parents. I ask that she bring those filings forward so that we can learn date, time, and place!" Trump wrote.
In another post soon after, Trump added that "the radical left lawyers want the FBI to get involved NOW. Why didn't someone call the FBI 36 years ago?"
The tweets have set off a firestorm of responses on social media, as women share their experiences of sexual harassment and assault with the hashtag "WhyIDidn'tReport" trending on Twitter.