Fox News Judge Says Donald Trump Is Guilty of 'Attempt to Obstruct Justice' If Whitaker Request Report Is True
President Donald Trump would be guilty of showing "corrupt intent" and of an attempt to obstruct justice if a New York Times report on Tuesday claiming the president had asked then-Acting Attorney General Matthew Whitaker whether he could put a Trump ally in charge of an investigation in New York, according to Fox News's legal analyst.
Whitaker reportedly told Trump that the U.S. attorney for the Southern District of New York, Geoffrey Berman, could not be put in charge of the probe into hush money payments made to women shortly before the 2016 election. But the report has again raised questions about the president's attempts to interfere in federal investigations, something special counsel Robert Mueller has been investigating.
Asked about the report by Shepard Smith on Fox News on Tuesday, Judge Andrew Napolitano said the allegations would be evidence of "corrupt intent," which is necessary to demonstrate obstruction of justice under the law.
"That is an effort to use the levers of power of the government for a corrupt purpose, to deflect an investigation into himself or his allies," Napolitano said.
On whether the alleged actions would be evidence of obstruction of justice, Napolitano said, "It would be attempted obstruction.
"It would only be obstruction if it succeeded. But if you try to interfere with a criminal prosecution that may knock at your own door by putting your ally in there, that is clearly an attempt to obstruct justice," he said.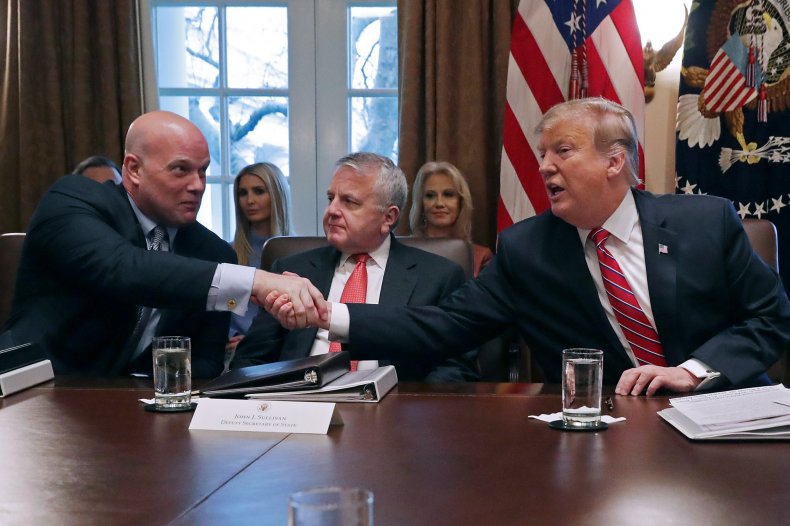 The analyst also commented on another explosive claim in The Times report—that Trump used Republican allies in Congress in an attempt to discredit Robert Mueller's special counsel investigation into Russian interference in the 2016 election and possible cooperation with the Trump campaign.
"Quite frankly, I've never seen anything like this before, a sitting president of the United States using his allies in the Congress to interfere with an ongoing investigation," Napolitano said. "This breaks new ground."
Napolitano wasn't alone among legal experts warning of trouble ahead for Trump. Paul Rosenzweig, who served as senior counsel to independent counsel Ken Starr's Whitewater investigation of President Bill Clinton, tweeted that the actions would constitute "impeachable activity."
Along with Trump, Whitaker, even though he rebuffed the president's request, could also find himself in legal peril. Testifying during a heated hearing before the House Judiciary Committee earlier this month, Whitaker, who has since been replaced as attorney general by William Barr, said that he had not ever been asked by Trump to interfere in the investigations.
"There's two potential crimes here for Matt Whitaker, one is actual perjury, lying to the Congress, the other is misleading," Napolitano said. "Remember, you can be truthful but still misleading."