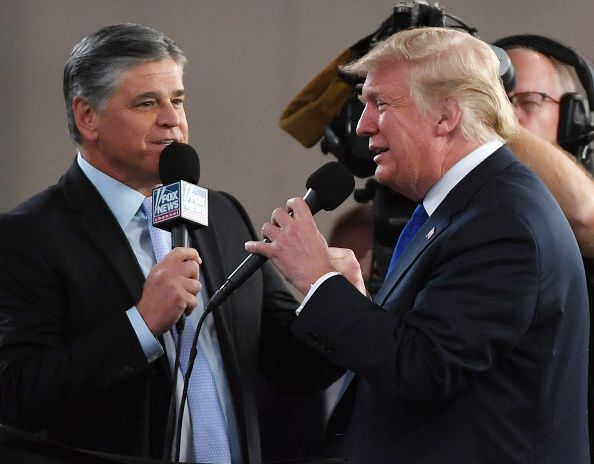 After the New York Times released a bombshell report on Friday alleging that Rod Rosenstein offered to wear a wire to secretly record Donald Trump Fox News hosts have different reactions on what the president should do with his deputy attorney general.
Laura Ingraham called on Trump to fire Rosenstein immediately, writing on Twitter just after the report was released that he "must be fired today."
"He needs to go. Today," Ingraham added in a separate post.
On her Fox News show later Friday evening, Ingraham doubled down on her position. She said that if the report is accurate then "the president tonight should seriously consider whether Rod Rosenstein should remain on the job.
"We just cannot have this plotting at the highest levels of our Justice Department against the chief executive of this executive branch," Ingraham added.
Sean Hannity, on the other hand, warned the president that firing Rosenstein right away could be a "trap."
In the opening monologue to his show on Friday night, Hannity urged Trump not to "fall into a trap" based on the Times article suggesting Rosenstein wanted to start a "silent coup." Hannity called Rosenstein's alleged betrayal of the president a "massive constitutional crisis."
"Under zero circumstances should the president fire anybody," Hannity said. "The president needs to know that this is all a setup. He needs to know that regardless of whether he steps in or not, and I would argue he should definitely not, the Deep State tonight is crumbling from within at this very hour. They are now turning against each other."
Trump has often heeded to the advice of his favorite news network. Earlier this week the president said he ordered the release of classified documents because "the great Sean Hannity" asked him to.
The Times report also said that Rosenstein thought he could convince members of Trump's Cabinet to invoke the 25th Amendment, which would kickstart the process of removing an "unfit" president from office. The allegation mirrors those made in the anonymous op-ed published by the Times earlier this month, in which a senior White House official said that they considered invoking the Amendment against Trump early on in his presidency.
Rosenstein also allegedly offered to secretly wear a wire to record his meetings with Trump in the Oval Office. The recordings would have demonstrated the dysfunction in the White House following Trump's firing of former FBI Director James Comey in the spring of 2017.
The report was based on anonymous sources and Rosenstein has denied the accusations. In a statement, the deputy attorney general said that the story is "inaccurate and factually incorrect." He also accused the sources of being "obviously biased against the department and are advancing their own personal agenda."
A report in the Washington Post suggested that Rosenstein had made the suggestion sarcastically.